Use the Company Certified in Advanced Search Engine Optimization
Search engine optimization (SEO) helps increase traffic to your website with the ultimate goal of increasing your sales leads.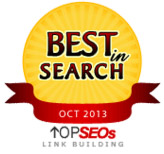 Xcellimark Ranks Best in Search by ↑OPSEOs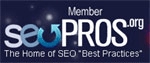 Xcellimark is a member of SeoPros, a national leading
SEO consultant directory
Over 80% of Web surfers use a search engine to find information, products, or services. Search engine optimization is critical to delivering qualified sales inquiries and increased traffic to your website.
The ultimate goal of search engine optimization (SEO) is to bring you high volumes of targeted traffic. This is accomplished by optimizing your website with the search terms most appropriate for your business.
We start by developing an appropriate search engine marketing strategy for your company. This includes:
Determining the most appropriate search phrases for your company.
Researching the effectiveness of the search phrases.
Determining and eliminating technology barriers within your website.
Composing strong, effective titles and descriptions for your website.
Writing and editing compelling "search engine friendly" content.
Reviewing and recommending link arrangements.
Handling search engine and Directory submissions.
Ensuring ongoing performance management, analysis, and website optimization.
The New Generation of Search Engine Optimization
While there are tried and true practices of search engine optimization, you need to incorporate the latest techniques in the industry to keep your business presence strong in the search engines. With the continual algorithm changes that happen in Google, including Panda, Penguin and Hummingbird, knowing what works in today's environment is important. Increasing inbound links in a natural way involves using content marketing that include blog articles, social media marketing and online press releases.
Combining all of these components into your internet marketing strategy makes a lasting impression not only on your customers but in the search engines as well.
Certified Search Engine Positioning Specialists
Xcellimark, headquartered in the metro Orlando Florida area, is certified in Advanced Search Engine Optimization Strategies.