HubSpot Marketing Hub [2021 Updates]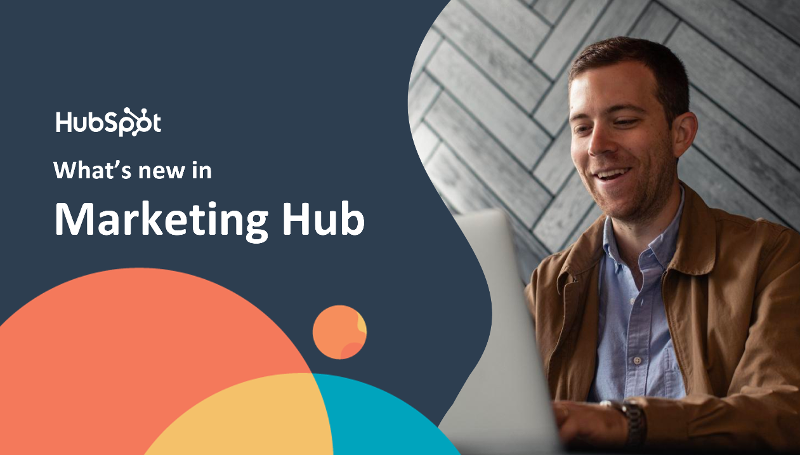 Inbound is always an exciting time of year for HubSpot customers. Why? Because every year at Inbound, HubSpot announces new updates released in the current year as well as ones releasing in the coming year.
Thanks to COVID, Inbound 2020 was different from other Inbound events in years past. Instead of being an in-person, face-to-face event, attendees participated virtually from the comfort of their own homes.
If you were not fortunate enough to attend Inbound 2020, you're in luck. We are recapping all the newest updates HubSpot announced so you can get a quick rundown on the changes to the different Hubs.
This article covers the changes to the HubSpot Marketing Hub. You can view the changes to the Sales Hub here.
Keep reading for 11 new updates for 2020-2021.
1. Marketing Contacts
Availability: Available Now
Level Required to Access New Feature: Marketing Hub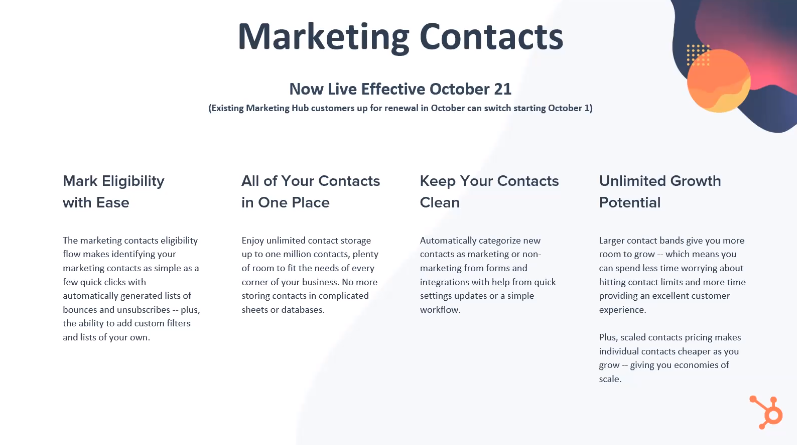 In the past, many HubSpot users chose to use a separate CRM or spreadsheet for contacts that only the sales team talked to in order to avoid paying HubSpot for those contacts
According to Nancy Lambert, co-founder of Xcellimark, "HubSpot billing for marketing contacts has been a major pain point for a lot of Marketing Hub customers for years. That's because HubSpot customers that use the HubSpot free CRM are told they get free unlimited contacts, which is true. But when you use the Marketing Hub along with the CRM, HubSpot's been charging you for all the contacts in your HubSpot CRM, whether those contacts are being used for marketing or not."
To fix this problem, HubSpot released a new pricing tier (marketing contacts), allowing you to only pay for contacts that you send marketing emails or ads to. You can mark your contacts as either marketing contacts or non-marketing contacts in the HubSpot system, which allows you to only pay for the marketing contacts.
Contacts designated as non-marketing contacts can still be contacted individually by the sales team in the CRM or Sales Hub without being charged for those contacts. So you only pay for the contacts that are marketed to in the Marketing Hub. In addition, with the new pricing tier, individual contacts get cheaper as you grow, and you can store up to one million contacts in the free CRM.
2. Account-Based Marketing
Availability: Available Now
Level Required to Access New Feature: Starting in Marketing Hub Professional and Sales Hub Professional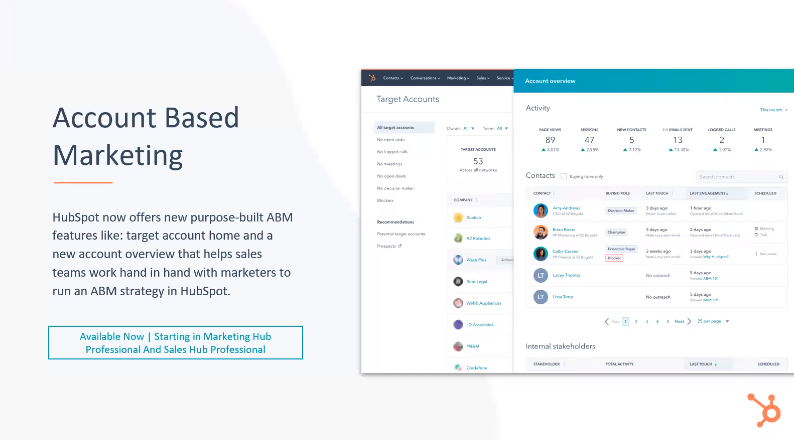 If you haven't turned on the account-based marketing tools in your HubSpot account yet — go do it now! With these new tools, your marketing and sales teams can work more closely together and target more high-value accounts.
Simply create an ideal customer profile and you can automatically identify the perfect prospects in your sales pipeline, allowing you to monitor your marketing and sales efforts' effectiveness.
3. Multi-Touch Revenue Attribution
Availability: Available Now
Level Required to Access New Feature: Marketing Hub Enterprise
Typically, marketers have a difficult time proving ROI on content — which is crucial for retaining clients. HubSpot released multi-touch revenue attribution in January 2020 to help you do just that. On top of that, they've continued to make improvements to it since it's release.
Nancy explained how this worked in a recent webinar. She said, "For example, your blog articles, your emails, your ads, your landing pages, and your website pages can now all have revenue attributed to them. So, you can see which blog article is helping to drive the most revenue and which one is helping you gain more customers. Now your marketing team can prove the ROI of their marketing efforts."
4. Team Management
Availability: Available Now
Level Required to Access New Feature: Marketing Hub Enterprise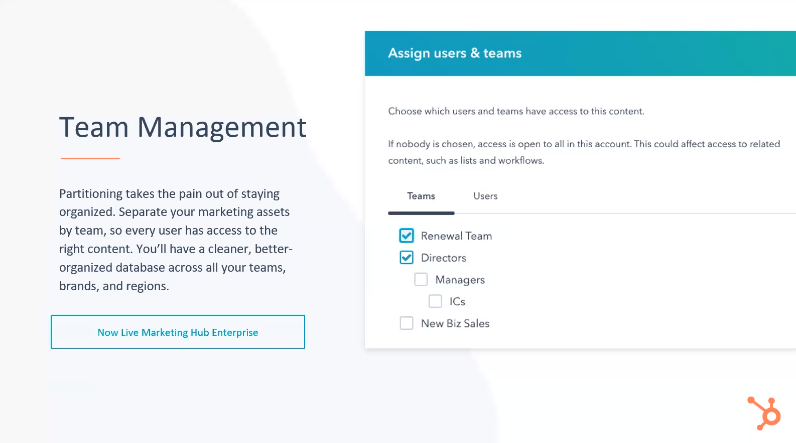 For HubSpot customers who have a Marketing Hub Enterprise account, you can separate your marketing assets from other assets. In doing so, your team only sees the information and content you want them to see — keeping your database cleaner and more organized across teams, brands, and regions.
5. Advanced Delays in Workflows
Availability: Available Now
Level Required to Access New Feature: Starting in Marketing Hub Professional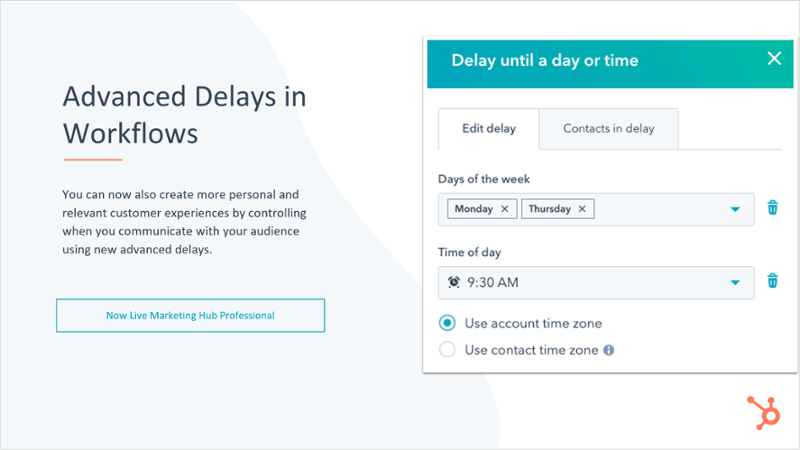 HubSpot has also rolled out some fantastic new features in their workflow tool, giving you more flexibility over the kind of workflows your team can create. With the new improved advanced delays feature, you can better control when you communicate with your leads, allowing you to create a more personal and relevant customer experience for them.
Nancy explains this further by saying, "For example, let's say that you had a lead fill out a form on your website at 8:00 pm on a Friday. You've set up your workflow to send a follow-up email a day later at the same time, which is great. But do you really want to send an email to them at 8:00 pm on a Saturday night? Probably not. So with the new update, you can now delay that step until Monday morning at 9:00 am."
6. New Workflows Editor
Availability: Available Now
Level Required to Access New Feature: Starting in Marketing Hub Professional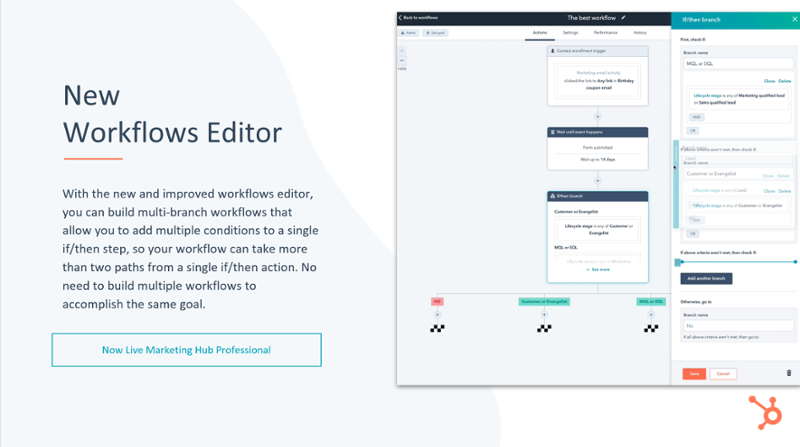 With HubSpot's new and improved workflow editor, you can build multi-branch workflows that give you the flexibility to add multiple conditions to a single issue, so your workflow can take more than 2 paths from a single-event action.
You can also create Go To actions to move to another area of the workflow if a particular condition is met, such as a no response on an If/Then branch. Go to actions allow you to connect multiple branches to the same step within the workflow, saving you from having to build multiple workflows or If/Then branches to accomplish the same goal.
7. Custom Objects
Availability: Available Now
Level Required to Access New Feature: All Enterprise Hubs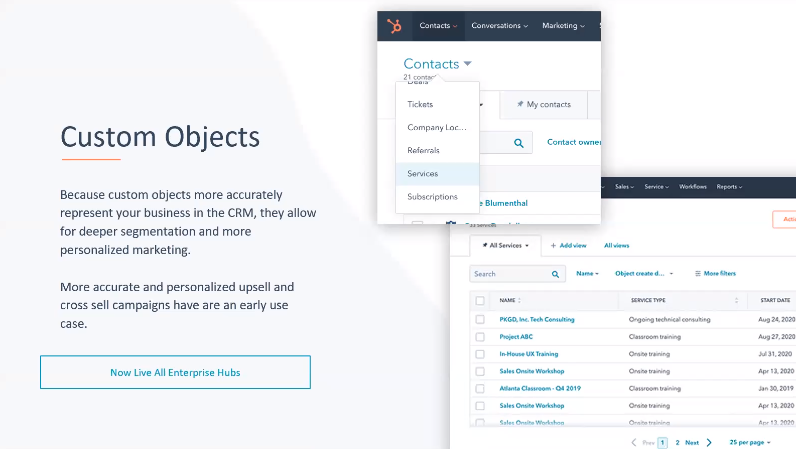 Custom objects gives you the ability to architect your business within HubSpot to suit your needs. They work just like ordinary objects such as contacts and deals, but you can store data other than just contacts, companies, and deals within your custom objects.
The ability to build custom objects allows you to capture more powerful and granular data. You can run highly-personalized upsell and cross sell campaigns by defining new customer segments to target based on parameters individual to your business - and there's no limit to how granular you can get. That means a better ROI for marketers, a more tailored and engaging experience for your customers, and faster growth.
You may want to set up a custom object for subscriptions, shipments, students, real estate listings, or anything else you need to create to help manage your business.
8. Programmable Email
Availability: Private Beta
Level Required to Access New Feature: Marketing Hub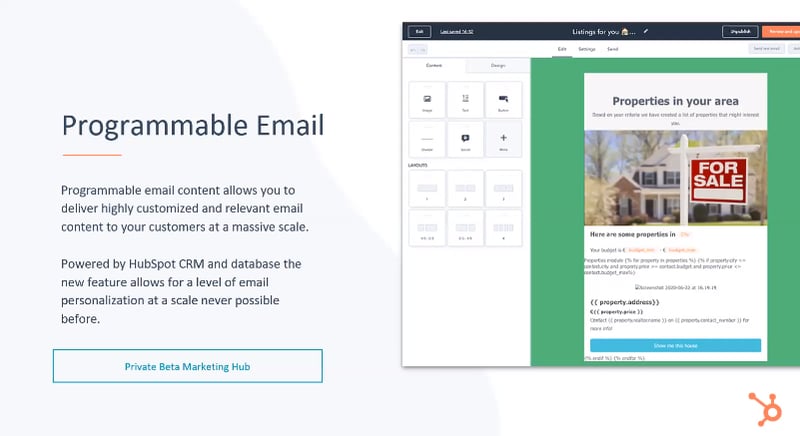 Did you know that organizations that focus their personalized messaging around helping consumers can expect 16% more impact on commercial outcomes than those that don't?
This statistic means that consumers actually want to receive relevant and helpful information from marketers that can help them get a better deal, save time, learn something new, or simplify the purchasing process.
With programmable emails and HubSpot's CRM-powered marketing tools, you can build one single email template that leverages conditional logic to deliver a personalized version to every contact on your marketing contacts list.
9. Behavioral Events
Availability: Available Now
Level Required to Access New Feature: Marketing Hub Enterprise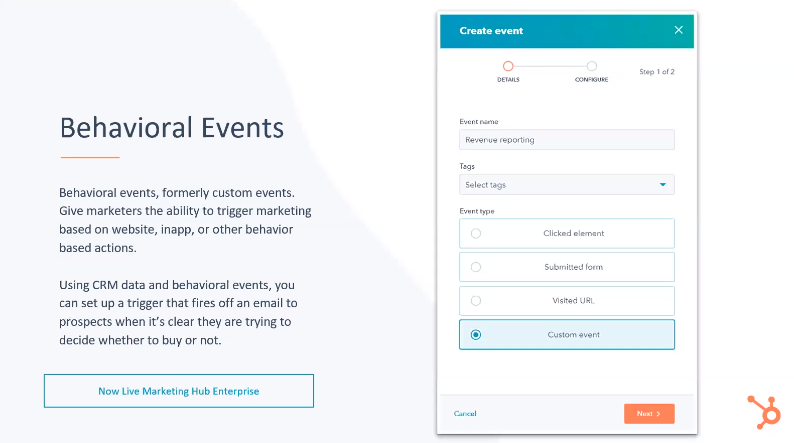 When it comes to your website visitors, Nancy says, "One thing is clear. They're trying to decide whether to buy or not. You know this because maybe they visited your pricing page, used the ROI calculator on that page, and started a free trial for your product. All of that together is a good signal that they're thinking about buying and might need some encouragement."
For visitors who are that interested in your products and services, behavioral events let you trigger pre-defined marketing based on the actions your visitors take while interacting with your website. For example, you could set up a trigger that sends an email with more details about your products depending on what they clicked on within a web page.
10. CRM-Powered Ads
Availability: Available Now
Level Required to Access New Feature: Starting in Marketing Hub Professional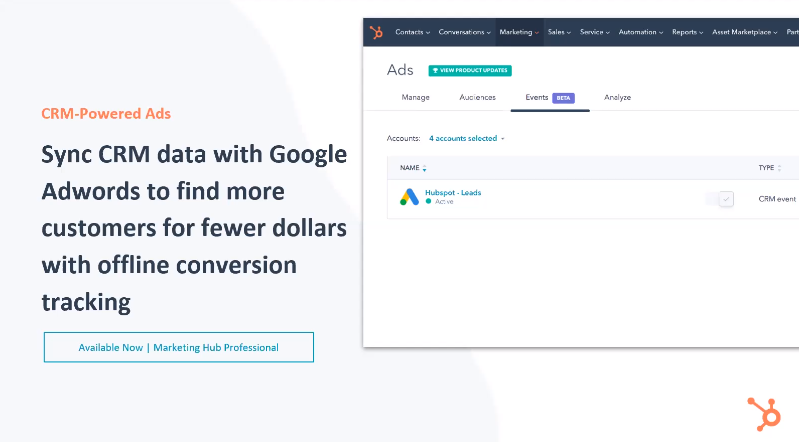 When placing ads, most ads get optimized for clicks — not conversions — so you really don't know which ads are encouraging your customers to buy. That means you're wasting more of your marketing budget on these types of ads because conversion rates will be lower than ideal. It's much more important to know which ads are creating sales as opposed to simply clicks.
Now, with CRM-powered ads, HubSpot sends a signal to Google any time a contact's stage changes — better informing their algorithms which contacts are more likely to buy vs. just click.
11. Custom Report Builder
Availability: Available Now
Level Required to Access New Feature: Professional and Enterprise Plans for All Products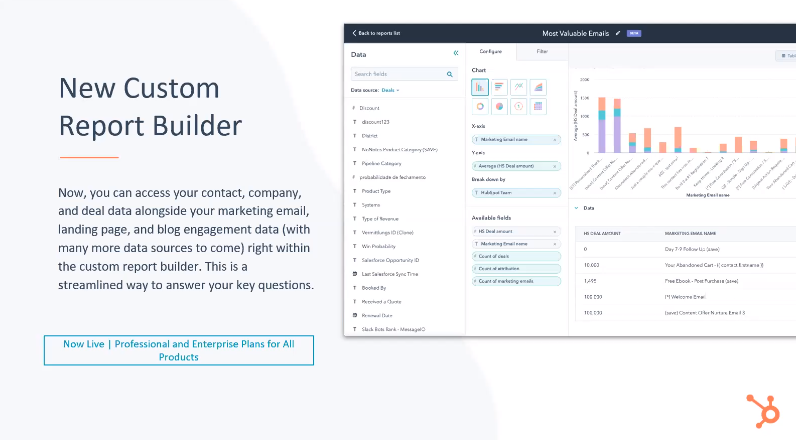 All HubSpot Pro and Enterprise Hubs can test out the new custom report builder that's in beta. The custom report builder lets you access all of the data stored within your account in a more visually pleasing and streamlined workspace.
You'll get access to 10 data sources — with more coming soon — making it much simpler to answer key questions that drive your business's growth.
Get Help With HubSpot
Are you thinking about buying HubSpot or new to HubSpot? Or, maybe you've had HubSpot for a while, but you need assistance setting up and using all the new features we mentioned in this article.
No matter which one best describes your unique situation, we can help. Here's what one of our clients had to say about their experience working with us:
"Our firm's professionals have varying degrees of HubSpot expertise. We discovered Xcellimark through their HUG meetings and reached out. From the first minute, it was obvious that their training services went far beyond the traditional onboarding and basic training capabilities HubSpot Academy provides. Their intimate knowledge revealed capabilities of which we were previously unaware. Their communications skills during training made it easier for all levels to learn this robust technology platform. We were so impressed with our initial training that we will be adding additional sessions." - Lizz H.
Click here to schedule a free consultation with our HubSpot experts to get the help you need now.
A Note About Forward Looking Statements
This article includes statements regarding planned or future development efforts for HubSpot's existing or new products or services. These statements are not intended to be a promise or guarantee of future availability of products, services, or features but merely reflect HubSpot's current plans based on factors currently known to them.
They also are not intended to indicate when or how particular features will be offered or at what service tier(s) or price. These planned and future development efforts may change without notice. Purchasing decisions should not be made based on reliance on these statements.
These statements are being made as of September 22nd, 2020 and HubSpot assumes no obligation to update these forward-looking statements to reflect events that occur or circumstances that exist or change after the date on which they were made.
If this presentation is viewed after this date, these statements may no longer contain current or accurate information.
Free Consultation
Get your free consultation with digital marketing & sales experts.
Get Started