Taking it Back to Where it all Began: 1983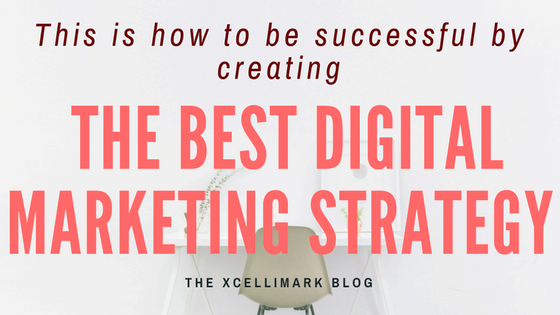 I have been in marketing and sales for the technology industry since 1983. I understand that 34 years dates me a bit, but I have always thrived on helping to push towards greater innovation, especially in the product development sector of technology.
One of my most exciting roles was in 1994 when the Internet was in its infancy.
I was the Product Manager leading the product development team at BellSouth.net that launched one of the first public ISPs (Internet Service Provider) in the nation.
After helping various corporations get a grasp of this whole "Internet" thing throughout the years, Xcellimark came to life in 2001.
Being one of the first few firms out there pushing the unknown concept of "digital marketing" and "SEO," it is fair to say that through many trials and errors we have successfully built out a comprehensive digital marketing framework for you to use to grow your business.
The Marketing Agencies & Strategies of Today
There are thousands of digital marketing agencies out there that gradually jumped on the digital marketing trend.
I cannot speak for all of them, but I have now come to realize that Xcellimark shares a common mentality with the other digital marketing companies that started their business around the same time as we did.
They too viewed the Internet as an untapped gold mine containing an incredible potential to grow businesses unlike any growth strategy before.
Our commonality is how we define, create, develop and implement a digital marketing strategy.
As more digital marketing agencies jumped on the trend of marketing a business online in order to reach customers where they spend most of their time, the views of what a digital marketing strategy involves split into so many different directions I get dizzy thinking about it.
So, to avoid any confusion, let's get it straightened out before we get into examples, mistakes, and the digital strategy breakdown.
What is a Digital Marketing Strategy?
The What
A digital marketing strategy is an outcome of what needs to take place in order to:
Achieve your top business goals and objectives
Overcome your business' top challenges and roadblocks that are keeping you from accomplishing your goals and objectives
Successfully get your ideal buyers to choose your company as their solution instead of your competition
Once you understand the complexities and the competition that you need to beat, you will have a better idea of what to do to stay competitive in your industry.
These key insights are crucial to your business strategy because now you can realistically determine your specific goals, objectives, and milestones that are required to produce a profitable growth for your business.
These "goals" are what you explicitly view as a "success" for your business. These "goals" are your key metrics to measure in order to know if your marketing performance has been successful or unsuccessful.
To intelligently identify the goals you should be setting for your marketing strategy, you need to grasp these two key components.
The 2 Key Components You Cannot Afford to Miss:
Your top business challenges you need to eliminate.

You first need to identify your weaknesses, roadblocks, and problems holding you back from growing.

If you choose to ignore these factors, you will be working extremely hard yet blind to the direction that gets you where you want to be.

Not only is knowledge incredibly powerful, but it is also a huge time and money saver for your company and you.

The businesses you are competing against and their digital strengths and weaknesses.

At the very least, knowing who your top online competitors are gives you critical insight into where the bar sits for your company and industry.

For you to remain reasonably competitive in your industry, your business must run an evergreen strategy that calibrates to the dynamic requirements set by the demand in your industry.

It's when you start to rise above average that you start to cultivate a change in your business growth.

That change is measured, tracked and analyzed by the key performance metrics that represent your business' "success."
Knowing the intricate details about your key metrics that determine what you are striving to accomplish, and knowing who your competition is, instantly starts to bring the insights you have been lacking into your marketing strategy to transform your idea of "success" into a reality.
Once you identify your business targets (i.e. yearly, quarterly and monthly), you need to determine the strategic and specific activities on which to focus your efforts based upon your current business assessment along with additional research and analysis.
Knowing the Difference Between a Digital Marketing Strategy vs. a Digital Marketing Plan
You may be asking yourself at this point,
"Wait! Did you just say digital marketing plan? What the heck is the difference?"
No, worries. I will explain below.
Because, if you are confused, you are not alone.
The How
Digital Marketing Plan:
A digital marketing plan is the detailed set of tactics and deliverables to be developed and effectively implemented in order to achieve your business goals and objectives. This "plan" details exactly how you are going to implement your Strategy.
Digital Marketing Plan Example from a Classic Movie
For example, it is similar to the moments in Oceans 11, 12 and 13 when they reveal their incredibly detailed, well-thought out plan. Their plans are always about laying out how they will pull off being able to outsmart the people in power, and the roadblocks that seem "impossible" to beat.
The keyword there is "outsmart." The plan is how to overcome the insurmountable challenges they are up against to ultimately attain their identified target determined from the beginning.
Granted, they are stealing from casinos in those movies, but the overall concept of strategy planning are still the same.
Digital Marketing Strategy:
The digital marketing strategy determines what you need to do to achieve your goals and your challenges.
After you determine what you need to do, you then determine how you are going to do that (which is the digital marketing plan).
Basically, your digital marketing strategy talks about what you need to do (your goals). And, your digital marketing plan is the blueprint of how you are going achieve the goals you just set in your digital marketing strategy.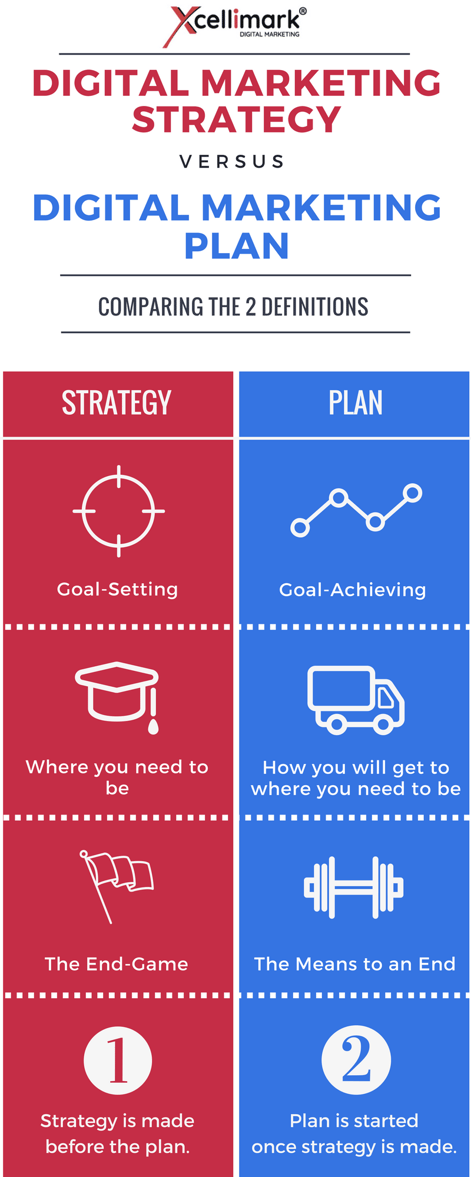 The Where
If you are one of the countless business owners or marketing executives that are trying to determine where to find the best digital strategy, out of all the digital strategies published out there, you may be wondering,
"Okay, so…is this finally the Holy Grail of how to effectively develop a Digital Marketing Strategy?"
I will not mislead you by telling you what you may have been hoping to hear…
My honest reply to that question is:
No.
There is no such thing as a Holy Grail to developing a Digital Marketing Strategy…Yet.
The reason I say that is because of where we are as a digital marketing industry.
The ugly truth is that we are in an industry where we have no unified vision, definition or distinction in the use of the terms:
digital strategy
digital marketing strategy
digital marketing plan, or,
digital marketing tactics.
These words are all consistently used interchangeably by agencies, CMOs and the vendors of what I like to call "the silos of technology."
A few examples of these "silos of technology" are SEO, social media, and email marketing.
To give you context to this disconnect within the industry as a whole, I will tell you about a conversation I encountered with another professional in our industry:
Recently, I had a private online debate with the manager of a major LinkedIn Group for digital marketing.
The LinkedIn Group Manager had stated that there is no difference between a digital strategy and social media strategy. He claimed that they are very much the same thing!
Whew!
What is being touted by so-called "online digital marketing experts" at times is…
I will just stop there.
Always Keep the Bigger Picture in Mind
The bigger picture is the ability to view a Digital Marketing Strategy as a whole.
As a whole, the Digital Marketing Strategy is a blueprint that is made up of individual components. Just like the plans for a house.
Example of a Digital Marketing Strategy vs. Individual Tactics:
Social media is simply one component that factors into the full digital marketing strategy.
Social media alone is not a complete digital marketing strategy.
Still, there are "digital marketing experts" that claim a "Social Media Strategy" is all you need to accomplish your business goals.
These components are purely separate elements that factor into getting you to the end goal. Even though these factors are critical to implementing and carrying out the strategy, they are only a small piece of the entire plan, not the whole strategy in itself.
When people fall into the trap of losing sight of the bigger picture, they tend to find themselves jumping from an "SEO Agency" to a "Social Media Agency" to a "Website Developer" or "Content Marketing Agency."
In the end, they are frustrated and tired of marketing agencies promising great results and never seeing the results happen.
In fact, most of our clients come to us in this state of frustration. We are usually the third or fourth agency they hire.
Fortunately, we focus on being a performance-driven digital marketing agency. Our secret is to integrate a holistic, all-encompassing, performance-driven strategy with the purpose of reaching the desired outcome.
It looks a little something like this:
(click image for larger veiw)

Viewing Digital Marketing As A Holistic Approach
With all that said, a lot of these problems boil down to two major mistakes consistently made when digital marketing service decisions are made.
The Top 2 Mistakes Made in Digital Marketing Service Decisions
I have seen many changes occur throughout the years. I've seen people trying to figure out how to beat the search engines to get ahead of their competition.
In fact, there are two consistent mistakes I have seen business owners and executives make about digital marketing services
And, as it turns out, the same two errors have also been proven to be the top reasons online marketing efforts fail by Ascend2, in a conducted survey of business owners and marketing professionals in October 2016.
Mistake #1: A Lack of an Effective Strategy To Reach Goals
When business owners or marketing executives make decisions about digital marketing services, they very rarely take the time to develop a digital marketing strategy.
According to the Ascend2 Survey:
"A lack of an effective strategy is one of the top 2 significant barriers to online marketing success."
The lack of an effective strategy has consistently ranked as one of the top reasons why business owners and marketing professionals say their digital marketing efforts fall short of their goals.
Mistake #2: A Lack in Budget
Supporting your marketing team with the critical resources and budget for them to be able to make an impact with their marketing efforts is essential.
However, the second significant barrier to their marketing success is the "lack of an adequate budget."
"The lack of an adequate budget."– Ascend2 2016 Survey
The Typical Phone Conversation
Today, when we receive calls from business owners and marketing executives, I feel like I am in a fast-food restaurant.
The standard initial phone calls usually sound similar to the two listed below based on two characterizations.
Characterization 1: Call From a Business Owner
A characterization of the initial call from a business owner typically goes something like this:
"I want a website redesign with SEO, a little social media, and some email marketing on the side."
Characterization 2: Call From a Marketing Executive of a Medium to Large Business
A characterization of the initial call from a marketing executive of a medium to large business goes something like this:
"I understand you do SEO, how much does that cost, and how fast can I get ranked #1 in Google."
The Problem:
Ordering up digital marketing tactics is not a strategy or a plan.
You are going to continue to fall short of attaining your goals and objectives until you create an effective digital strategy that ties to your business goals and objectives.
It is not to say that the tactics mentioned in the phone calls I have just characterized are not part of your digital marketing strategy and plan. They are or can be if you successfully integrate them into an overall digital marketing plan of action.
This plan of action is still based upon a credible digital strategy that ties to your business goals and objectives.
My Reply to the Initial Call Questions
So my first response to the caller when I get these calls are,
"Why do you think you need this?

At the end of the day, what is the result you want to get from these efforts?"
Usually, at this point in the call, there is a pause or brief silence from the caller. I sense a little bit of a "deer in the headlights" look.
It may be that they think it is a stupid question, or frankly, they have not given deeper thought to it.
The Typical Business Results Desired by Most the Callers
After a short silence, I hear their real reason for calling when they answer my question.
The answers to the business results that they want to achieve tend to fall in one or more of these categories:
Increase my sales revenue
Generate more customers
Generate more leads
Beat my competition
Ok. Now we know what the real need is and we can start our conversation about how to address their needs.
So, I then like to ask if they have developed a digital marketing strategy for their inbound content marketing efforts.
They usually respond with,
"Yes. I gave it to you just a minute ago."
Now, let's take a step back.
There's that pesky problem again of having an infinite number of definitions as to what is a "digital marketing strategy."
In defense of our callers, many digital marketing agencies are proclaiming that these silos of digital marketing tactics (SEO, social media, email marketing, website design, blogging, online press releases, sponsored or native content, and so forth) are all strategies.
However, these silos of digital marketing tactics are just a subset of the digital marketing strategy.
So lets talk about the components that make up a digital marketing strategy.
The 12 Components that Make Up a Digital Strategy Framework
1. Marketing Assessment
The primary activities in the marketing assessment include identifying the key performance indicators (KPIs) currently in place or that need to be put in place.
The KPIs are used to measure the critical marketing and sales activities that contribute to your business goals and objectives. They also identify all the key marketing campaigns and their performance.
2. Market Demand Analysis
The Market Demand Analysis includes conducting research activities to determine:
The online demand for your products and services.
The key questions your buyers are asking online about your products and services.
The most popular related content that people are consuming online that is highly relevant to your business.
Who the key influencers are in your market
An evaluation of your social networks and profiles
Your social media reach
Your current social engagement levels
3. Analyze and Research Your Ideal Buyer Personas
This activity results in the development of your ideal buyer personas and their evaluation journey (or the stages of their decision-making process).
Your ideal customer goes through a particular process to ultimately make a purchase or engagement decision.
As a result, if you understand the information they need and are searching for throughout that process, you can then design an effective digital marketing strategy that ultimately generates more customers.
5 Rings of Buyer Insight to Create a Buyer Persona:
(developed by the Buyer Persona Institute)
1. Priority Initiatives
What triggers a prospect to start looking for a product or service such as yours?
What are their priorities and what caused these to change?
2. Success Factors
What are the results they expect from your product or service?
What would a "successful" experience look like?
3. Perceived Barriers
What are their perceived barriers to choosing you?
4. Decision Criteria
What features will they use as decision criteria to evaluate and compare alternatives, or to do nothing?
5. Evaluation Journey
What is their decision process like and what is this person's role in that process?
In a recent webinar we presented for the Orlando HubSpot User Group about how to use the HubSpot Sales Platform to better sales prospecting, I explain the 5 Buyer Persona Development Rings first developed by the Buyer Persona Institute:
2-Minute Video: 5 Rings of Buying Insight
2-Minute Video: Orlando HUG Webinar by Xcellimark about Buyer Persona Development
4. Competitive Analysis
This activity goes beyond the traditional 4 Ps (Price, Product, Promotion, Placement) taught in traditional marketing academia. While these are still valid, by themselves they form an incomplete picture and plan of what you need to do to beat your competition.
Instead, you need a competitive analysis from a digital marketing perspective that compares your top competitors to your company in the following areas:
Website Strength Evaluation
Inbound Link Analysis
SEO Content Analysis
Conversion Optimization
Social Media Reach and Engagement Analysis
Top Content Shares in your industry
Most Popular Content for your industry
Mobile User Optimization Analysis
Competitive Recommendations
The Infographic below explains how performing a competitive analysis like the type we have developed and tested with great performance results is a game-changer to gaining a competitive advantage over your competitors.
Source: Infographic Originally Posted on the Xcellimark Blog
5. Content Audit and Assessment
It is important to identify all of your available content for marketing and sales purposes.
What to include in your content audit and assessment:
Your website content
Videos
Audio files
Offline content such as:
PowerPoint decks
Brochures
Research
Reports related to your company, customers, industry, products, and services
This information is useful in helping you identify any opportunities to repurpose and repackage content needed as a result of developing your buyer personas and your content marketing strategy.
For example, by using the insight you've gained through your content audit and assessment, you can then take that knowledge and strategically repurpose your content in various ways for maximum exposure and benefit. Check out the SlideShare published by CoSchedule that lists 50 ways to repurpose your content.
Source: SlideShare by CoSchedule: 50 Places To Repurpose Your Content
6. Marketing Technology Assessment
This activity includes conducting an assessment of all marketing-related technologies currently in place and their application in support of achieving your business goals and overcoming your challenges.
Technology assessments typically cover the following applications:
Website Content Management System (CMS)
Blog
Social Media publishing and monitoring
Search Engine Optimization (SEO)
Email Marketing
Conversion Optimization capabilities such as Calls-to-Action (CTA), Landing Pages, Forms and Lead Management.
Marketing Automation
Analytics
CRM
3rd-Party Software integrations
Advertising platforms
The results of the first 6 components above will help identify key factors that will make up the remaining 6 components of your digital marketing strategy below.
7. Value Proposition
Your Value Proposition is crucial in order to quickly communicate a compelling reason why your typical buyer should choose your company as their solution.
You have to be able to clearly communicate in a compelling way,
"Why buy or engage with you?"
8. Content Marketing Strategy
Your Content Marketing Strategy will help you identify the key content tactics needed to communicate your value proposition, key benefits of your solutions to your buyer's needs, and the content types that need to be developed and implemented through your digital assets and your digital marketing channels.
Content Marketing & Creation Examples
A sample of potential content types to create, optimize, execute, publish and distribute are:
Value Proposition
Web pages
Blog articles
eBooks
White Papers
Guides
Checklists
Newsletters
Press Releases
Infographics
Webinars
Podcasts
Landing pages
9. Marketing Channel Strategy
Your Marketing Channel Strategy will help you determine your digital marketing channels that are the gateways to your ideal buyers based upon how they research, educate and engage themselves online.
Content is the blood that flows through the veins that drives life into your business, and these marketing channels are the veins the blood flows through.
4 Strategies Your Digital Marketing Channel Strategy Should Include:
10. Marketing and Sales Strategy
Your Marketing and Sales Strategy outlines how you will actually create awareness, generate traffic, convert your traffic to leads, qualify and nurture your leads to create more sales opportunities, and close more of those opportunities into customers, subscribers or members.
The strategy also includes the digital process of delivering the information that your typical buyer seeks during each stage of their decision-making journey. It should identify an integrated marketing and sales enablement process that improves the efficiency and effectiveness of generating new customers.
In fact, here's the latest statistics that prove how effective the marketing and sales alignment truly is:

(click image for larger view)
Source: State of Inbound 2017 by HubSpot
Ultimately, this process will:
Qualify the quality of the leads that you generate through your digital marketing channels


Identify the top, middle and bottom of your marketing and sales funnel


Determine the workflows that move your typical buyer through each stage of their journey and your funnel.


Identify the content offers, emails, and incentives that are a part of your workflows to generate engagement with your sales team and ultimately help the prospect become a customer, subscriber, member or whatever your final goal is for your business or organization.
11. Technology Strategy
Your Technology Strategy identifies the key digital marketing and sales tools that integrate into a more holistic operational platform that allows you to cost-effectively market and sell your products and services.
These digital marketing and sales tools will likely need the following digital capabilities:
Website Content Management System (CMS)
Blog
Social Media monitoring and publishing
SEO tools
Calls-to-Action (CTA)
Landing Pages including Forms, Smart Fields, Thank-You Pages, and Auto-responder emails
Lead Management
Email Marketing
Content Calendar scheduling and publishing
Marketing Automation
CRM
Integrated Analytics that compiles all data across all marketing channels and tools to supply actionable intelligence, not just aggregate data.
How USC Used the HubSpot Platform and Inbound Marketing Strategy to Cut Costs by 85%
(click image for larger view)
Source: HubSpot Case Study for USC

When you use a digital tool that contains these powerful features, you will be better equipped to reduce costs, generate faster sales while minimizing the time spent on sales productivity, and ultimately have access to substantially smarter insights into your business, digital marketing efforts, and customers.
An excellent example of this type of tool is the HubSpot Platform. You can see an overview of their features below, produced directly from their website :
(click image for larger view)
Source: HubSpot | "What Is HubSpot?"
12. Website Optimization Strategy
Your Website Optimization Strategy identifies what needs to be on your website to:
Attract your desired target audience
Communicate a compelling and credible value proposition
Provide a superior user experience over your competition
Deliver the information your ideal buyer seeks throughout their buyers' journey
Convert your qualified prospects to leads
Nurture the qualified leads into sales opportunities
Identify any specific needs for a website redesign and/or functionalities to present a compelling online brand image and superior user experience
How To Ensure a Quality Website
(From the Google Website Guidelines)
(click image for larger view)
Source: The Basic Guidelines from Google Webmasters
So What Does All This Mean?
Recently, Jeff Matthews, an MBA Student at the University of North Carolina, chose to use Xcellimark as the company to write about for his in-depth research report into marketing, small business, entrepreneurship and digital presence.
Here are a few insights and take-aways that he determined to be important for companies to stay ahead of the game.
"Knowing your industry and where you can obtain competitive advantage is a crucial place to start."

"The key for a firm is to keep evolving with the changes in the industry and recruiting talent that can keep them on the leading edge."

"Americans are going online to research, explore, and purchase goods and services; as that need expands, so will the need for digital marketing."

At this point you might even have some questions. Therefore, I will try to answer some common questions on this topic below, and if you have anything else you would like to have answered, please feel free to comment below or schedule a one-on-one meeting with me so we can address everything you would like to discuss.
Some of the questions you may have at this point are:
This all sounds like a ton of work. How long does it take to develop a digital marketing strategy?
How often should I develop a comprehensive digital marketing strategy?
Can I skip any of these components but still develop a good digital marketing strategy?
Are there parts that need to be updated or evaluated more often than other components?
Answering each of these questions could be an entire article in itself.
However, I will try to briefly give my thoughts on each one below.
How Long Does it Take to Develop a Digital Marketing Strategy?
It typically takes us 3 – 4 weeks to develop a digital marketing strategy for a client.
For us to to do this effectively for our clients requires us to have access to:
Key analytical tools for the research
A proven research methodology
An experienced marketing strategist
From our client's specifically, we also need access to:
Key personnel in our client's organization including interviewing a sample of existing customers who classify as ideal buyers.

Client engagement in the digital strategy process

Feedback from client

Responsiveness to requests for key information.
These are all critical success factors in promptly developing a digital marketing strategy.
How Often Should I Develop a Comprehensive Digital Marketing Strategy?
If you have never developed a comprehensive approach like the one we have presented here, then I recommend implementing it as a good initial starting point.
A complete re-evaluation of your digital marketing strategy should occur on either a 1 or 2-year basis depending upon your business performance and the dynamics of your industry.
To stress the importance of ensuring your company has an updated and fully comprehensive digital marketing strategy, here is what other industry professionals are saying about the future of digital marketing:
The Future of Digital Marketing

"Our respondents believe that having a website and blog is no longer enough to attract the attention of their buyers. Nor is a salesperson the go-to resource for when a business needs to make a purchase. These are significant changes for multiple parts of the business."



"…In marketing, forward-thinking respondents are prioritizing research and meeting their buyers where they 'live.' One respondent wrote, 'As the method to target and attract customers continues to evolve and becomes more precise, it will disrupt the way in which traditional marketing operates.'"


"...Online is the new mainstream, so I think we will see less of 'digital' marketers and more just 'marketers.' Competition from peers will also increase as more people become trained in digital marketing."
- State of Inbound 2017 by HubSpot
Can I Skip Any of These Components but Still Develop a Good Digital Marketing Strategy?
Maybe.
Many variables need to be taken into consideration before you skip anything. It is all based on what you currently have in place, what is working and what is not working, as well as your current goals, objectives, and challenges of your company.
Typically, when we are faced with a request for a scaled-back approach to developing a digital marketing strategy, we prioritize the components to be completed in a phased approach over time to ultimately deliver a customized digital blueprint for generating business marketing success.
Are There Components that Need to be Updated or Evaluated More Often Than Other Components?
Some components are more dynamic in nature than others when determining what is working and not working based upon the digital marketing plan you developed and implemented.
You will want to continue to update your buyer personas on an annual basis to make sure you are continuing to understand the buyer behavior and content consumed throughout their evaluation journey.
You will also need to update your market demand analysis and competitive analysis on an annual basis.
The marketing campaigns implemented from your digital marketing plan will be evaluated on a monthly basis and serve as an indicator of the effectiveness of your digital marketing channel strategies related to SEO, Social Media, Email and Digital Advertising.
Your Most Logical Next Step to Get Your Strategy Started
So what is the next most logical step if you realize you need a proven digital marketing strategy to achieve your goals and objectives?
Well, the good news is that even though it is a lot to take in, you do not have to be overwhelmed with everything at one time.
Your next logical step is to take a baby step that is beneficial in helping you identify the current state of your digital presence and to ultimately determine where you want (and need) to be.
At Xcellimark, we make this knowledge readily available to you. We do this by giving you the option to set up a free 30-minute consultation that will not be a sales pitch.
We will solely focus on your goals, challenges and how you can strategically and efficiently approach them.
No need to try to accomplish everything we have gone over in this article alone when you can easily have someone help you.