Xcellimark Launches OrlandoTravelHotels.com in Partnership with WCT, a Division of Travelocity Part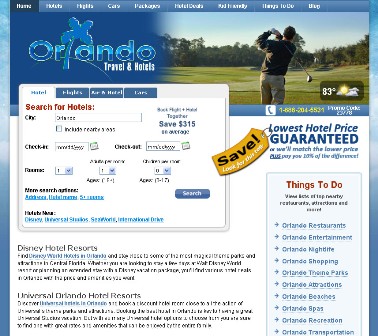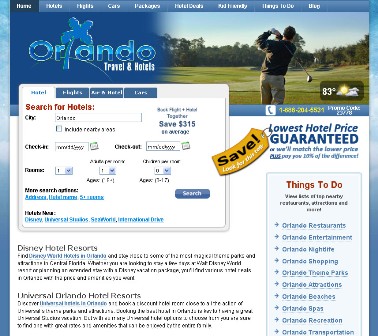 Orlando, FL - OrlandoTravelHotels.com is a new destination travel site launched by Xcellimark in partnership with WCT, a division of Travelocity Partner Network. OrlandoTravelHotels.com provides everything visitors need to plan their vacation or travel to the Central Florida Orlando area such as information on hotel accommodations, favorite restaurants, local insight into events, local activities, attractions, entertainment, nightlife, shopping, theme parks, beaches, spas, recreation, transportation, parks, museums and science centers, water parks, tours and sightseeing.
"Xcellimark designed OrlandoTravelHotels.com with the unique needs of the travel consumer in mind. Visitors can book a room online using an intuitive hotel search widget to help them select the best hotel option based on price, rating, proximity to landmarks and more. There is also the option to search by type of hotel such as Family Friendly, Luxury, Disney, Universal, Orlando Airport, and Downtown Orlando hotels. For price conscious travelers, Hot Deals and Last Minute Deals in Orlando are available and updated continuously to help travelers save even more on their travel plans or vacation packages," said Scott Lambert, President of Xcellimark. "Visitors can also purchase tickets to local attractions without ever leaving the site. This makes for a convenient and personalized vacation planning experience."
Once visitors secure their flight to Orlando and Orlando hotel, they can look around at the comprehensive information listed on the site to plan the rest of their trip. OrlandoTravelHotels.com provides everything travel consumers need to know about hotels, car rental companies and local area attractions with complete contact information including an address, telephone number, and map to make getting around Orlando as convenient and easy as possible.
"When travel consumers book their Orlando vacation package online, they want a comprehensive travel website that has everything they need in one location. From the beginning, Xcellimark set out to create a travel website that would be a one stop destination website for anyone looking to travel to Orlando Florida. From the blog that features highly recommended, top rated restaurants, luxurious spas, popular attractions, thrilling entertainment, and more, to being able to purchase tickets to theme parks online, OrlandoTravelHotels.com offers every feature travelers desire," said Nancy Lambert Vice President of Xcellimark.
In addition to providing travel and vacation planners with everything they need to plan a trip to Orlando on one convenient website, OrlandoTravelHotels.com is also backed by a 110% Best Rate Guarantee from WCT. What this means for vacation planners is that if they find a lower rate on another website for the same room, at the same hotel, on the same dates, within 24 hours of booking, a price match is guaranteed, plus the traveler gets paid 10% of the difference in price.
Free Consultation
Get your free consultation with digital marketing & sales experts.
Get Started