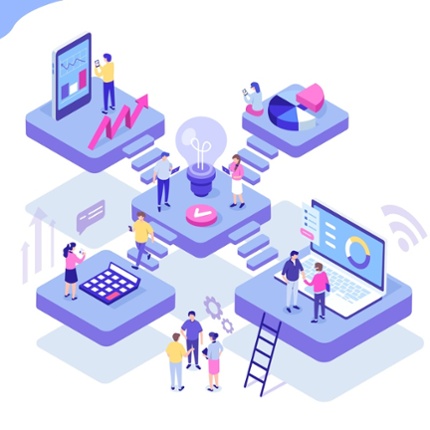 Digital Marketing & Sales Services
Get the digital marketing and sales support services you need to help attract more prospects, generate more leads, close more sales, and serve your customers better.
Digital Marketing Strategy
An effective digital marketing strategy will help you achieve your business goals. The key components of developing your digital marketing strategy include: Marketing and Sales Assessment, Market Demand Analysis, Competitive Analysis, Buyer Persona Development, Content Marketing Strategy, and Inbound Marketing Plan.
Inbound Marketing
Attract and engage your ideal buyers more effectively through the digital channels they use to find information that addresses their challenges and achieves their goals. Inbound marketing attracts your target buyers through search engines, social media, email, video, podcasts, and key referring websites.
Search Engine Optimization (SEO)
Customers and prospects use search engines to find the information they need throughout their buyer's journey to choose the companies they want to contact, purchase from, and engage with. SEO helps your website pages rank high in the top search engine results pages related to keywords, topics, and questions your target audience uses to find information relevant to your brand, products, and services.
Pay-Per-Click Advertising
Paid ad campaigns in search engines and social media can be an effective way to quickly generate interest, prospects, and leads. Testing and conversion optimization of your campaign's supporting assets, such as: Landing Pages, Calls-To-Action (CTAs), Forms, Thank-You Pages, and Autoresponder Emails, are critical to ensure you attain your desired results with an acceptable ROI.
Email Marketing
Your email campaigns can be key to engage your target buyers, qualify your leads, and keep your audiences updated with information that interests them. Personalization drives greater results in your email marketing efforts. It's also important that you are compliant with the increased regulations that relate to privacy and the personal information you acquire.
Content Marketing
Creating great content is critical to your success and affects all stages of your buyer's journey. It is essential to creating awareness of your company, generating leads, educating your buyers, and converting them to customers. Your content needs to be relevant, personalized, and educational, while addressing the needs of your audience and demonstrating that your products and services are the solution.
Social Media
Increase your brand, product, and service exposure in real time by building meaningful relationships on the social media networks your buyers use most often. Connect with your target audience and attract them with helpful content that they are interested in consuming. Your content should address relevant issues and show how your products and services help overcome their challenges in order to reach their goals.
Website Content Management System (CMS)
Your website is the most important platform for your marketing, sales, and customer service efforts. It's imperative to have a highly-secure CMS that is optimized for all mobile devices and provides a fast-loading personalized experience for your website users.