3 Ways to Make Customers "Stick" Around on Your Website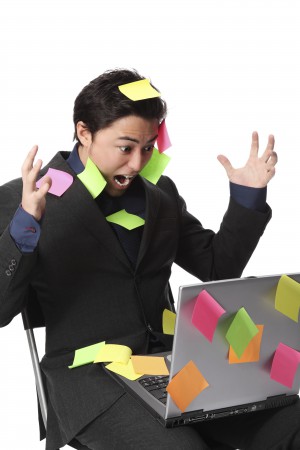 Have you ever heard of Speed Dating? It's a group of strangers in a room moving from table to table within a prescribed time limit. The purpose of the event is to meet as many people as possible then drill down to find the ones you connect with so you can go on future dates.
Today's Internet experience is a lot like Speed Dating. You Google something, quickly scan through the search results then land on a webpage and, within seconds, you make a decision to stay and look around or go and never return.
If you like what you see, you may read an article or two on the company blog, download a special content offer for more information, maybe even give up your precious contact information by signing up for the company newsletter or filling out a form on a promotional landing page.
But if you don't like it - poof! You're gone! That's why your website should be "sticky" to keep those visitors around.
When I say "sticky," I'm talking about (in the context of web content) your site's ability to keep visitors on your website.
Your site's stickiness is dependent upon several things such as:
the quality of your content,
the visual appeal of your website,
and how responsive it is when viewed on mobile platforms (smart phones, tablets, etc.)
In a crowded Internet landscape, filled with speed searchers and endless piles of content, here are three things you can do to increase the stickiness of your website and keep your new (and current) customers coming back for more.
1. Improve Website Content. The web is becoming an extremely visual medium to satisfy consumers' short attention spans. While there is a ton of content out there, the amount of quality content is minimal.
When you take the extra time to create unique content in the form of a fresh article published on your company blog or a case study illustrating how others have benefited from your products and or services, that not only adds value to your website but it helps you separate yourself from competitors by turning casual visitors into repeat visitors who hopefully turn into leads that generate more sales.
2. Become More Visual. The Web is a highly visual medium - just look at websites such as Pinterest that focus primarily on the sharing of images or statistics on Tweets with images for proof.
But these images aren't there just to look pretty – they're helping generate business, traffic and engagement as well. According to BizRate, 69% of online consumers who visit Pinterest have found an item they've purchased or wanted to purchase. And Twitter research has shown that Tweets containing a link to an image get retweeted 35% more than plain text Tweets.
The image trend has trickled down to design as well and more and more websites are using big, bold and beautiful images on long scrolling pages. This design trend helps keep users on the site by giving them large quantities of visual information with text scattered in to help refine the message. A great example of this is Apple's iPhone 6 page. A beautifully simple long scrolling page filled with fantastic images and text that highlights the important information.
3. Make Sure Your Design is Mobile Ready. The recent hubbub about Google's mobilegeddon enforces the notion that if your website isn't built with mobile users in mind, you will be left in the dust.
The design trend towards long scrolling pages makes it easier for mobile users to navigate your website and helps simplify the amount of pages needed to convey the information you want users to see. Some basic things to consider are what type of simplified navigation do you need and what is the most important content for visitors to see.
It's easy to become overwhelmed by a long laundry list of things to fix on your website, but start small to keep it doable and manageable,then go from there. The three tips mentioned above are a great place to start and put you on the path to convert your website visitors into leads and leads into customers ready for you to delight.
Free Consultation
Get your free consultation with digital marketing & sales experts.
Get Started