Sharpen Up Mobile SEO For 2014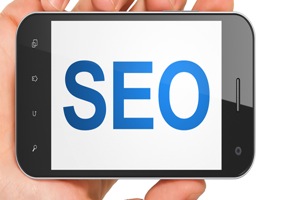 With mobile use growing more common, new strategies are being developed by search engine optimization experts to make mobile-friendly sites more attractive to search engines while streamlining them for users. The key to this is to understand the different ways in which individuals search on mobile. 48% of mobile searchers start with search engines, rather than with favorite websites, branded apps or casual surfing; therefore, it is all the more important to get it right.
Key things to keep in mind when designing sites that will appeal to mobile users include:
Shorter search phrases – key phrases are different because smaller, awkward keyboards mean that users want to type less. "Text speak" should be avoided, as some search engines penalize sites that do not use standard lexis and grammar; however, it is worth thinking about tighter ways to phrase things, using contractions (such as don't instead of do not) and choosing shorter word options (such as see rather than observe).
Natural questions – increasingly, mobile users are utilizing voice-based search. Spoken queries tend to use natural language. A good way to make a site appealing in this context is to include a list of FAQs with short, snappy answers.
Hasty searches – people searching on mobile devices are usually in a rush. They may be on the move or dealing with several other things at the same time. To keep people from giving up on them, sites need to load on a mobile device within one second.
Mobile optimization is one of the factors driving the new trend of simplicity in web design. This does not mean sites have to be dull, but it does mean stripping out unnecessary content if needed for the mobile version of the website. When browsing on a small screen, people may have a hard time reading large blocks of text and viewing complicated graphics or tables that are hard to scan. Keeping it simple both speeds up load times and makes it easier for users to find what they are looking for, increasing the chance of conversions.
With these issues in mind, some companies opt to have a separate mobile-optimized version of their site instead of using the responsive web design approach. The stripped-down mobile version can be well suited to small screens and can may be ideal for multi-platform conversion scenarios where people search on one device but end up buying on another.
You can also achieve the same result using responsive design and choosing what is displayed on a screen depending on it's size. Graphics and tables can be stripped away and content can be reformatted in a different manner so it can be more easily viewed on a small screen. Google likes the idea of using responsive design, but there are pros and cons for both choices - responsive design or mobile version sites. You need to review the goals of your site, how the mobile version will be used, and what will then work best for your audience. Then you can make the right decision for your company.
Free Consultation
Get your free consultation with digital marketing & sales experts.
Get Started