Manage Your Twitter Accounts with TweetDeck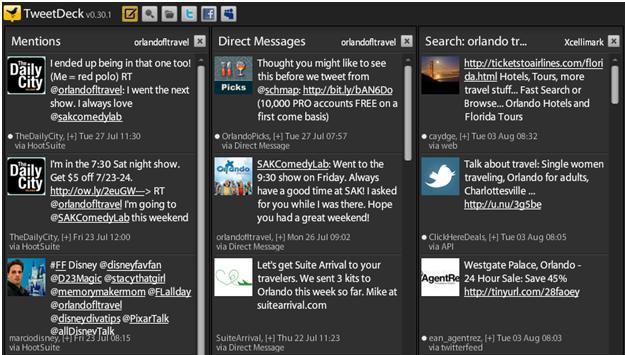 Managing multiple Twitter accounts can be fun yet time-consuming. Enter TweetDeck: a desktop application that helps you manage your daily Twitter routine. TweetDeck has several features such as writing and posting status updates to various social media networks from one main dashboard, viewing friend's updates in real-time and more but the following three features are my personal favorites.
Columns - One of the most helpful features on TweetDeck are its columns. Columns can be set up to track mentions, view replies, and monitor and respond to direct messages.

Search - Keep an eye out for your business name by creating a search around it and any other keywords related to your industry. The search column helps you stay on top of your industry and discover people looking for your product or service.

Facebook Integration - Whether you're writing status updates or monitoring your news feed, Facebook integration in TweetDeck gives you more opportunities to communicate with your audience and manage your brand.
There are other Twitter desktop applications available such as Seesmic, HootSuite, and Twhirl each with their own set of unique features. The only way to determine the best fit for you is to test them out like I did. Afterwhile, you'll be able to figure out which one works the best for your social media management needs.
For more helpful hints, checkout TweetDeck's YouTube channel.
Free Consultation
Get your free consultation with digital marketing & sales experts.
Get Started