Xcellimark Launches New Website & Integrations for PlusOne Solutions®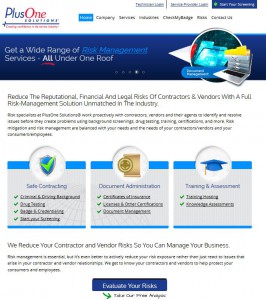 Orlando's award-winning digital marketing agency Xcellimark recently worked with PlusOne Solutions® to launch an updated and responsive website optimized for all mobile devices such as smart phones and tablets.
The company also needed a fresh design that better communicated their value proposition and risk management services to perspective clients, as well as an easy-to-use content management system for their internal staff.
A must-have feature of the website included required integration into their applications for background screening, drug testing, training and certification programs. Like all of the other websites Xcellimark has designed and launched, engaging copywriting that appeals to and attracts PlusOne Solutions® target market and professional search engine optimization strategies were included to help drive traffic to the website and help it rank well in the search engines.
PlusOne Solutions® also needed a separate website devoted to their industry breakthrough product called CheckMyBadge.com that gives homeowners the security of prescreening contractors and technicians before they enter their home.
It is a critical component of PlusOne's Safe Contracting Program for companies that put the safety and security of their customers first. To help them with this initiative, Xcellimark built a custom website that included many of the break-through features of their new corporate website but also required new branded marketing collateral for trade shows, RFPs, marketing and sales teams.
"Xcellimark provided all of these marketing services as a turnkey solution. It was exciting to be a part of advancing PlusOne Solutions® to the next level of digital marketing for their corporate website, and also being a key part of their new product launch of CheckMyBadge.com," said Scott Lambert, President of Xcellimark.
About Xcellimark
Xcellimark focuses on growing their clients' business through an inbound marketing approach that includes custom web design and integrated search engine optimization, social media, email and content marketing solutions. For more information on how Xcellimark can help you improve your bottom line, contact Scott Lambert at 407-678-3062 ext. 210 or visit www.xcellimark.com.
About PlusOne Solutions®
As the industry's only comprehensive risk management and mitigation services provider, PlusOne Solutions® protects you from the financial, legal and reputational risks associated with your contractor and vendor relationships. PlusOne understands significant business strategies carry significant risks, and the decision to outsource in-home and on-premises services is no exception.
PlusOne Solutions® develops and manages Safe Contracting, Document Administration and Training & Assessment programs that establish you as an industry leader whose safe, productive and effective services provide customers with the peace of mind they want and need.
Free Consultation
Get your free consultation with digital marketing & sales experts.
Get Started