Orlando Interactive Agency Xcellimark Launches a Redesigned Website for Gran Pacifica; Features Ni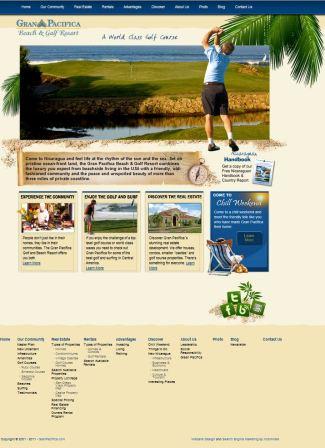 Hot on the heels of a new website for GrandBaymen, award-winning Orlando Interactive Digital Agency Xcellimark recently launched a second new website for another ECI Development - this time in Nicaragua: www.granpacifica.com
Like its sister-site GrandBaymen, ECI's goals included rebranding Gran Pacifica's property image online and generating leads from people interested in purchasing oceanfront real estate in Nicaragua.
"Our goal was to significantly increase the quantity of qualified leads, develop a more compelling online image and improve the content management and marketing capabilities of their online operations. Since we have launched the new website, the online conversion rate has increased 438%. That is a significant improvement in online performance," Scott Lambert, President of Xcellimark.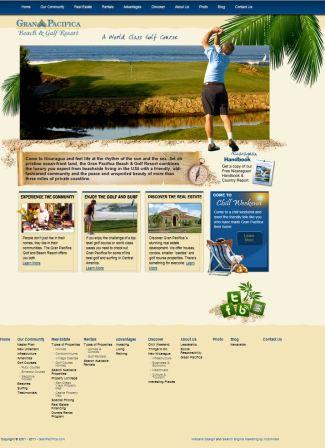 Gran Pacifica's website was developed and programmed with several new programming and search features and functionality to help visitors and potential residents find properties. The Real Estate Search Module is an extremely user-friendly tool that makes it easy for visitors to search for Nicaraguan real estate in Gran Pacifica including lots, houses, casitas or villas that sit on miles of beach.
In addition to the Real Estate Search Module, Xcellimark programmed and installed a Rental Search Module. This module allows Gran Pacifica property owners to list their home or condo for visitors seeking vacation rentals in Nicaragua or to test-drive living in Central America. The Gran Pacifica website is also a robust source of information on things to do in Nicaragua including surfing and golfing.
"During our planning we knew that the website for Gran Pacifica would be one of our more complex projects as the site needed to be user friendly not only for visitors, but for the administrators that would take over updating the website. We met this challenge by engaging in several customized features that are easy to use for both visitors and administrators," said Rochelle Curbow-Wheeler, Project Manager. Those customized features included:
• Searchable Real Estate and Rental Property Database with customized search widget and inquiry request form
• SEO-friendly Photo Gallery
• Testimonial component programmed to interface with assigned pages
• Complex Contact Us form programming that provides an easy user experience while sending automated responses for single or multiple inquiries
• Completely customized administrative area that takes the guesswork out of website updating and record or image uploading
Overall, Gran Pacifica's new website has the theme, design and information to put visitors interested in visiting Nicaragua at ease. The website is simple to use and guides visitors on a simple path to get more information about visiting, living or retiring in Nicaragua and renting or purchasing a vacation home, beach or oceanfront condo, village casita home, or golf course home.
"Xcellimark is fantastic. They were able to help me, a tech novice, understand the mechanism that delivers higher rankings and how to produce them on a consistent basis. They were patient as I had to 'repeat class' to catch on, but the results speak for themselves. Our ranking is higher, but more important, our conversions have skyrocketed, up 438%, " said Mike Cobb, CEO of ECI Development.
About Xcellimark
Xcellimark is an award-winning Internet Marketing firm based in Orlando, Florida. Xcellimark specializes in web design and development, search engine marketing and rich media, providing clients with the means to receive qualified sales leads using a skilled online conversion process. Through their unique approach to Internet marketing, Xcellimark has significantly increased its client's qualified sales inquiries and has helped clients grow their businesses. For more information on how Xcellimark can help you improve your bottom line, contact Scott Lambert at 407-678-3062 or visit www.xcellimark.com.
About Gran Pacifica
Gran Pacifica is a 2500 acre master-planned community stretching along 3.5 miles of Pacific beachfront. With North American style infrastructure, a golf course, restaurant, and club amenities, property owners and visitors alike are enjoying the good life right now for a fraction of the cost up north. Homes start under $100k close to the beach and under $120K on the golf course. To arrange a long weekend, visit www.granpacifica.com and sign up for a Chill Weekend.
Free Consultation
Get your free consultation with digital marketing & sales experts.
Get Started