Xcellimark Develops Website for DirectBuy Conference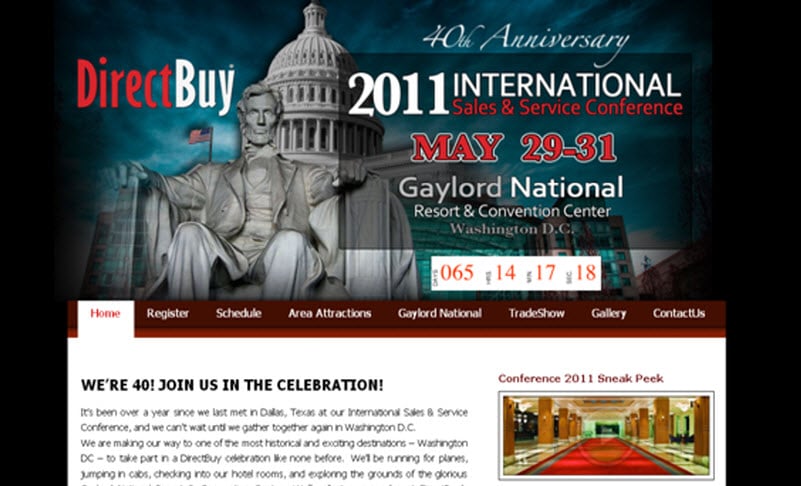 Celebrating their 40th anniversary, DirectBuy is holding the 2011 International Sales & Service Conference in Washington D.C. and has partnered with Xcellimark for a 3rd year to redesign and develop their conference website.
Customized Programming Makes Online Registration Possible
Prior to last year's conference in Dallas, DirectBuy and Xcellimark entered into discussions about setting up an online registration process for individuals and groups attending the conference.
Utilizing the Opensites Web Development Platform, Xcellimark tailored a database module to work exactly the way DirectBuy needed, exceeding DirectBuy's expectations with customized programming that captures information based on multiple, inter-dependent criteria. All attendees register online with a streamlined process, even though the registration process is different depending on the person or group registering.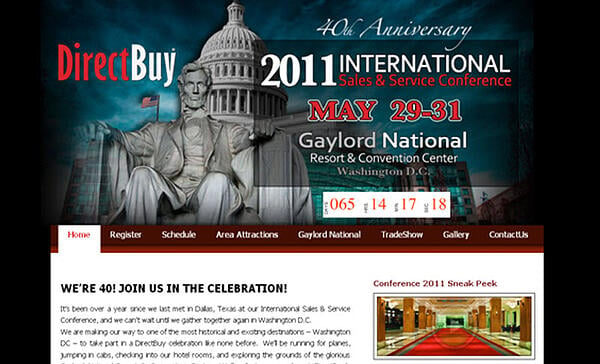 Simple User Interface Allows Automated Check-Ins
The check-in process was another activity that needed improving. During conversations with DirectBuy last year, Xcellimark discovered that the database structure they used did not allow them to "check-in" people at the actual event, forcing event staff to download and update Excel spreadsheets manually at the end of each day.
Xcellimark took the initiative and developed a simple user interface that provides logins to event staff, allowing them to quickly and easily check-in individuals and groups attending the conference as they arrive.
Portable Device-Friendly Website
In addition, understanding the tremendous growth in mobile Internet users (predicted to be 1.7 billion by 2013), this year, Xcellimark updated Directbuy's conference website for its 2011 event to allow attendees to view the website and register and check-in from multiple portable devices. The overall increase in productivity for DirectBuy has been a tremendous help to the company and to the success of the conference.
Contact Xcellimark to find out how a web-based solution can help your company increase productivity, increase leads, or improve your overall image.
Free Consultation
Get your free consultation with digital marketing & sales experts.
Get Started