Steve Jobs once said: "Sometimes when you innovate, you make mistakes. It is best to admit them quickly, and get on with improving your other innovations." That's the beauty of innovation though, right?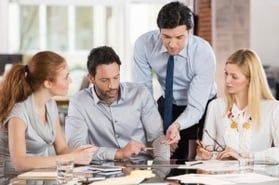 Making the mistakes, risking failure, improving because of them, trying again, creating something new, doing something someone has never done before, going places never been reached before, attempting, doing it over and over until…success.
But wouldn't it be easier if within that process of innovation - whether it is innovation in engineering, architecture, information technology, marketing, business, or any other industry – people would share their mistakes so that you can avoid the same roadblocks?
Mistakes are like treasured secrets once you think about it. They're lessons learned. They're wisdom formed. They're weathering the storm. Trial and error. Seasoned veterans. Until you are finally the expert at what you were trying to do.
So after being asked by Anthony Fasano, PE on The Civil Engineering Podcast to talk about some of the mistakes engineering firms make when they're trying to market themselves online, I decided to go into further detail on what our seasoned, wise experts have learned over their trial and error years.
>>>Learn How To Boost Your Sales Using These 8 Critical Ingredients<<<
1.The Blueprint to the House
How many engineers or architects begin building a house or building with no blueprint? No CAD drawings, no strategy or measurements, nothing to tie it all together. Sounds crazy right?
Well, this brings us to our first mistake:
The number one reason why online marketing efforts fail is due to the absence of an effective marketing strategy.[1]
Now I say this for all industries across the board. But I think that the industries where online marketing efforts and strategies are most lacking are in the engineering and architecture industries.
Some industries, and some engineering firms as well, view online marketing efforts as silos of technology. The silos are the individual technology platforms that make up an entire marketing strategy. Email marketing, SEO, social media marketing, content marketing, website design, and marketing automation platforms are just a couple of the examples I am talking about. So some companies will only focus on SEO, or only on social media, forgetting the bigger picture.
The bigger picture is that, yes, these technologies are all extremely important. And I emphasize the word "all" because you should incorporate all of these efforts into your overall marketing strategy.
The marketing strategy is the marketing blueprint that maps out all of these components and how they will effectively tie together for optimized performance in order to make your business catapult above your competitors.
But how can you effectively implement your strategy once it's mapped out?
The HubSpot marketing automation platform integrates your marketing activities with a CRM all in one platform, allowing you to create a strategy from beginning to end, from marketing all the way through to sales. All within one place and one platform. Simple and easy for the user. Finally.
Now add in an inbound marketing agency and you get the ultimate power couple. The Queen B and Jay-Z. An inbound marketing agency certified with HubSpot, such as Xcellimark, are not only experts with the software and can help you and your team, but they are also the experts in online marketing in all the various ways possible.
2. Blog! Blog! Blog!
I know it sounds a little ridiculous trying to convince engineers to blog, but really, when you think about it, I'm only saying to write about what you love. What you're passionate about.
Which brings me to the second mistake:
60% of engineering firms are not writing or posting blog articles.[2]
I was not a writer when I was an engineer in the U.S. Navy or when I was getting my Civil Engineering Degree at the University of Florida (Go Gators!). But you will have an editing team behind you (your marketing team) and they will appreciate you more and more in your company for handing them content they are thirsty to publish.
Write what you know. If you have just finished a project, write the lessons learned. Share your mistakes. If you just developed a new product, write a blog about the product and why you think someone should be interested in it. The more detailed the information the better.
Here are some interesting facts to back up why this is so important:
Companies that increase blogging from 3-5x/month to 6-8x/month almost double their leads.

[7]

Blogs give websites on average 434% more indexed pages and 97% more indexed links.

[8]
So don't be one of the companies who make the mistake of joining the blogging game too late. Be proactive and get out there with your content, highlighting your innovative, seasoned knowledge. The world is thirsty to read it. And you're a hot commodity.
3.Be Mobile-Friendly or Be Voted Off the Mobile Search Island by Google
Xcellimark was hired by a large engineering firm to do a competitive analysis for them to determine how they compared to their top competitors online. This competitive analysis not only opened the firm's eyes, but it opened our eyes to one of the largest mistakes engineering firms are making online.
We found that 70% of the engineering firms we looked at do not have their websites optimized for mobile devices. Mistake three.
You may know this already, but to cover all bases, Google changed their algorithm last year for how they rank websites on their search engines. The major change was that if your website is not mobile friendly or optimized for mobile devices, then they will severely lower your rankings on Google. So I'll give it to you straight. If you can't easily view your website on a mobile device, if it is not responsive or optimized, you will not be found on search engines when someone is searching for your area of expertise.
It just makes me think of the famous line from the movie Mean Girls, "You can't sit with us!" But in online terms.
To really emphasize the importance of ranking on Google, here's some more straight numbers from some seasoned people:
If you do not know how to optimize your site for mobile devices, talk to an agency in order to fix your website in a quick and painless way. It's worth it in the end to get your website set up for mobile. Trust us.
We Have All Made These Mistakes (It's How We Have The Stats)
Do not be ashamed or frustrated if you fall within any of these pitfalls. That's okay. We have all been there and we have all recovered, and so can you. The good thing is that now you know the importance, and now you know how to move forward to fix the problem. There's only up from there, right?
Thomas Edison said, "I have not failed. I've just found 10,000 ways that won't work." We've just shared 3 ways that won't work. And it's only because others, including us, have sometimes learned the hard way. So learn from other's mistakes and enjoy the easy way!
[1] Sherpa.com
[2] Xcellimark.com
[3] HubSpot.com
[4] HubSpot.com
[5] HubSpot Science of Blogging, 2010
[6] HubSpot State of Inbound, 2014
[7] HubSpot.com
[8] Inbound Writer
[9] Infographic Design Team
[10] Search Engine Watch
[11] Marketo
[12] HubSpot
[13] HubSpot
[14] HubSpot