5 Inbound Marketing Strategies CMOs Can Use to Convert More Leads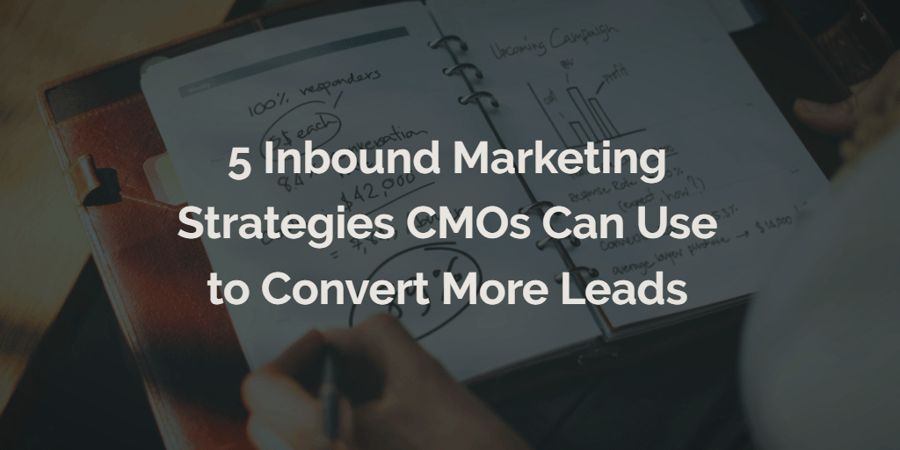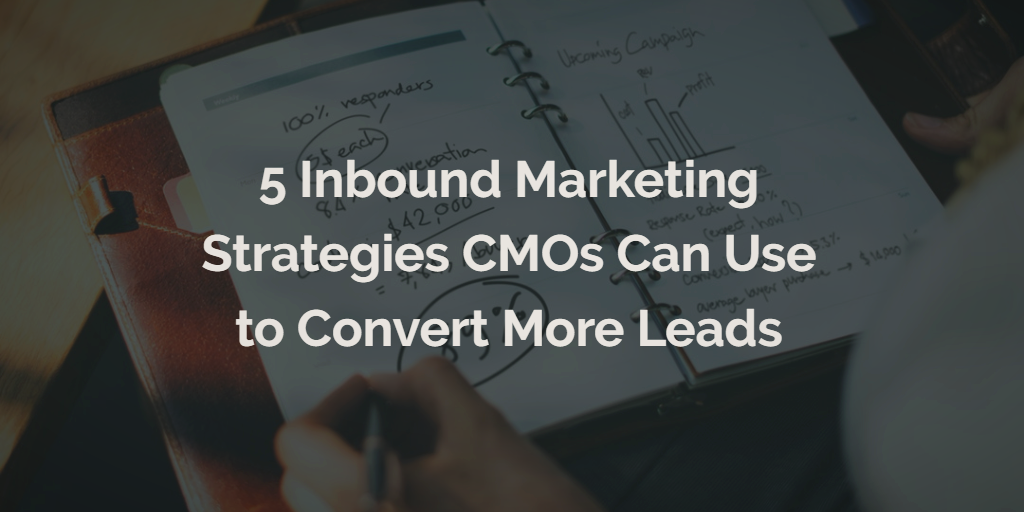 Every month, thousands of businesses discover and implement inbound marketing strategies to improve their lead generation metrics and close more sales. To create a conversion-centric inbound marketing plan for your own business, check out the following five CMO strategies.
1. Develop a Behavioral Email Strategy
Email marketing is a powerful, yet often overlooked inbound strategy. Here's how to take it to the next level with a behavioral email strategy:
Create a "top performing page" report to identify your five highest-performing (in terms of conversions) website pages
Set up event tracking on each of your top performing pages to measure actions such as call-to-action (CTA) clicks and form completions
Conduct a marketing analysis and choose an email automation strategy that fits your marketing plan
Implement your chosen automation workflow
Periodically measure and test the performance of your workflow, making tweaks as necessary
2. Invest in Conversion Optimization
If you already have a content-offer in place, take it to the next level with an advanced conversion optimization strategy:
Analyze each aspect of your content-offer campaign to determine which types of content produce the best conversion rate
Optimize your call-to-action, taking special care to improve how it's worded, where it's placed, its structure, color scheme and more
Optimize each content offer's landing page with a concise description of the offer's value
Follow the same sequence with associated forms
Analyze the email campaign's current performance and optimize as appropriate to align with your campaign's goal metrics, including open rate and click-through rate
Optimize your blog posts for SEO, CTA effectiveness and other factors
Analyze and optimize your associated social media campaigns' messaging
Schedule your next review
3. Optimize Your Forms
Forms are one of the most important aspects of inbound marketing. Without properly optimized forms, you'll struggle to entice prospects to enter or move through your sales funnel nor will you be able to measure their progress. To optimize your campaign forms, choose your highest-performing form and do the following:
Determine the form's place in the buyer's journey
Align the form's fields with its place in the buyer's journey
Add hidden fields to the form to indicate its place in your marketing campaign - for instance, "marketing qualified lead"
Use "smart" fields that change based on the visitor's persona or profile
Optimize the aesthetics and content of your form as necessary to align with the rest of your online brand and marketing campaign
Repeat these steps as necessary for future forms
4. Set up a Conversion Path to Generate Leads
Zooming out a bit from the details of optimized forms, a clear, comprehensive conversion path is a great way to widen your sales funnel and entice prospects to convert in greater numbers. Follow these steps with a single content offer, and apply to other offers as necessary:
Create a landing page to draw prospects into the content offer
Create an enticing call-to-action that links to the landing page
Place the CTA on the home page of your website (and anywhere else you wish to pull in leads from)
Gate your content with a form
Create a "thank you" page that displays after the content has been requested
5. Re-engage Dormant Subscribers
"Dormant" subscribers, including past customers, dropped prospects, list members and others, represent a potentially huge source of untapped revenue. If you're serious about drawing wayward prospects back into the fold, follow these steps to re-engage them:
Identify all of your inactive blog subscribers based on a set period of time elapsed since their last action
Use this information to build an "inactive list"
Determine the email campaign you'll use to re-engage them
Choose an appropriate email template
Create and send your email
Automate your email process to save time in the future
Measure and tweak your re-engagement campaign as necessary
Schedule regular re-engagement emails
Learn More about Conversion-Centric Inbound Marketing Strategies
These five inbound marketing strategies are just the tip of the conversion iceberg. As you get deeper into your inbound marketing campaign and become more comfortable with the tools of the trade, you'll discover a host of new strategies and initiatives that can further improve your lead generation and conversion metrics.

If you're feeling overwhelmed by the amount and detail of resources available to you, you're not alone. We're happy to guide you through your inbound marketing campaign.
Give us a call or contact us online to learn what we do for your company's inbound efforts.
Free Consultation
Get your free consultation with digital marketing & sales experts.
Get Started