5 Tactics to Attract More Visitors to Your Website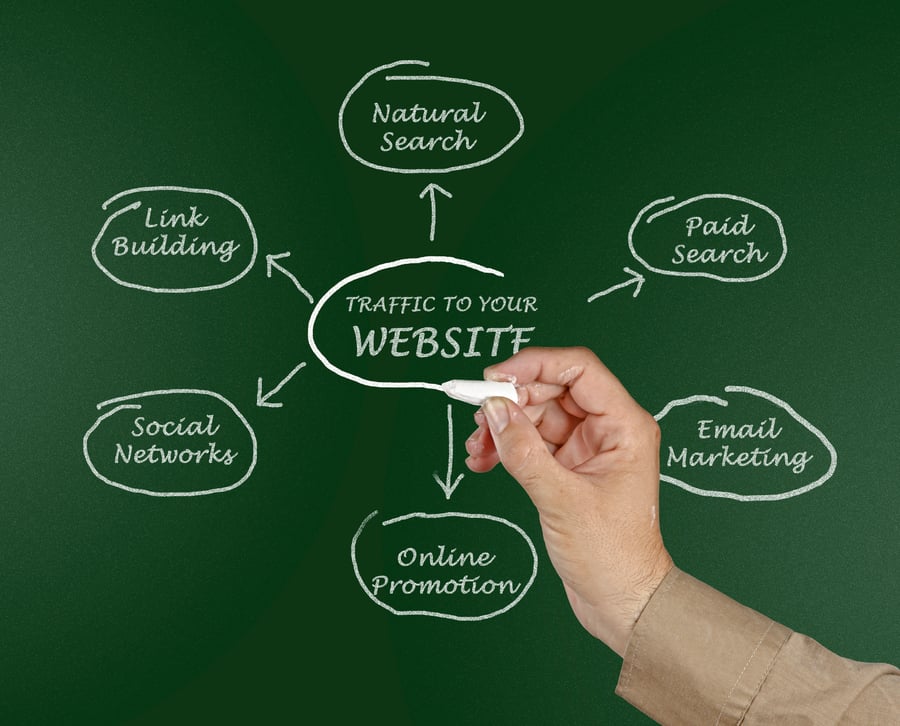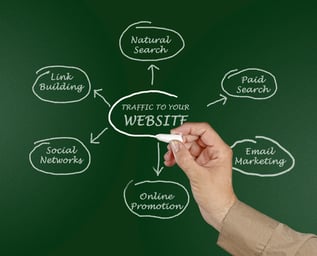 Inbound marketing is the science of attracting, converting, closing and delighting prospects. It's the most cost-effective means of turning casual Web surfers into committed customers. Right now, thousands of businesses, and perhaps even a few of your competitors, are planning and executing inbound marketing campaigns that drive real results for their bottom lines.
Take a moment to learn about five (5) inbound marketing tactics that are designed to attract visitors to your website in greater numbers than you ever thought possible, and keep them there once they've arrived.
1. Analyze and Optimize Your Traffic Channels
This is an "all of the above" approach. It involves analyzing all of your inbound traffic channels and determining which, if any, are under-performing or in decline.
To determine whether a particular traffic source is in decline, look at a rolling average of its performance metrics over the past three months. If you spot consistent decreases in inbound traffic, you're dealing with a declining source.
To determine whether a source is under-performing, analyze its metrics relative to the amount you're spending on it. If your per-visitor or per-lead costs are higher than other sources, you may need to curtail spending or figure out a more efficient way to allocate your hard-earned marketing dollars.
2. Optimize Your Blog
To optimize your blog, start with a single post. Follow these steps:
Determine which buyer persona you're targeting with the post
Identify one primary long-tail keyword that aligns with the persona
Optimize the post around that keyword
Format the post and add appropriate links
Insert a call-to-action at the end of the post
Insert a sidebar with one or two additional calls-to-action
Add social sharing buttons
3. Conduct Keyword Research
Keyword research is critical to paid search advertising and organic search marketing.
Keyword research begins with extensive research on your own business, your product lines, your prospect and customer population and your ideal buyer personas. As you research, add relevant keywords to a master list.
Search for synonyms of all the keywords you've collected so far and determine which keywords, if any, people are already using to find you. These should have additional keyword ideas and variations. Finally, analyze your keywords to find those with the most marketing value.
4. Build Inbound Links to Your Website
Building quality links to your website is a time-intensive process that won't happen overnight. However, the payoff is well worth the wait.
Get off on the right foot by:
Adding your business to top business directories in your industry
Creating a Google+ Local listing page
Establishing relationships with influencers and thought leaders in your industry
Creating frequent content, including blog posts and visual content, on topics that appeal to these thought leaders
Promoting your content on social media and other channels
Approaching thought leaders with guest blogging offers to further boost your visibility
5. Take Advantage of Local SEO
If your business operates in a specific geographical market or has multiple locations catering to local customers, you can't overlook the power of local SEO. Local SEO best practices include:
Optimizing your About and Contact pages with location keywords and contact information
Placing your address, city-state location and phone number at the header and/or footer of all website pages
Optimizing blog and website content for your specific location
Joining location-specific social media groups and advertising your location through your own social media channels
Removing duplicate listings from Google Local
Building relationships with other local merchants, media publications, industry thought leaders and more to attract inbound links from authoritative local sources
Adding your business name to top local directories
Ensuring that your company is listed in all local Internet Yellow Pages and local accounts
It's important to think of your location as a mission-critical keyword. Also, remember that Google and other search engines typically list your contact information in their SERPs, ensuring that searchers won't have to go far to figure out how to get in touch.
Learn More About How to Attract New Website Visitors
While inbound marketing is not rocket science, there are a lot of moving parts involved with any inbound marketing campaign. Moreover, there are numerous additional tactics that may or may not benefit any given marketing campaign. Knowing just where to start and where to go from there isn't always as simple as it seems.
If you're serious about positioning your company for inbound marketing success, do yourself a favor and talk with a team of experts that really know what they are doing.
We're looking forward to evaluating your needs and setting you on a path to inbound success. Give us a call or contact us online at your convenience.
Until then, download the free guide "8 Critical Elements of a Digital Marketing Plan."
It outlines the steps and elements necessary to help you create a blueprint for an integrated online marketing strategy that will increase your revenue while reducing costs.
Free Consultation
Get your free consultation with digital marketing & sales experts.
Get Started