An Xcellimark Christmas Carol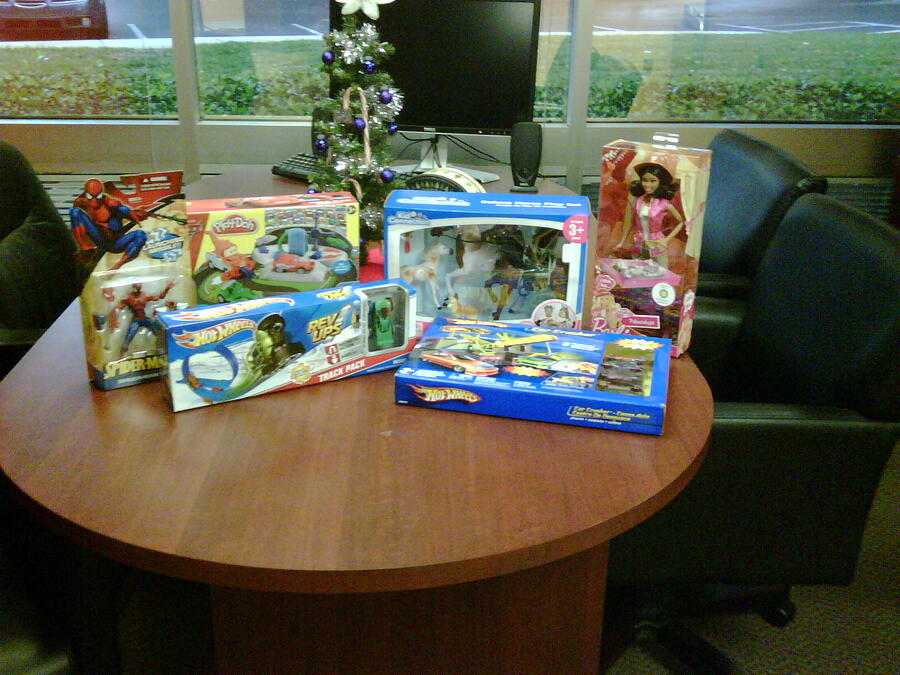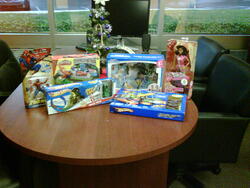 Here at the office, we have been enjoying our annual 12 Days of Xcellimark Christmas. A tradition since 2005, the Xcellimark team comes together to celebrate the holidays 12 days before Christmas by decorating the office with holiday cheer and participating in various events, games and activities. Kris, Veronica and I have had a blast planning this year's activities.
What We've Done So Far

Thursday, December 8 – Kick-Off/Christmas Party – Our benevolent bosses hosted the annual company Christmas party at their home. It was a night filled with delicious food, fun and fellowship.
Friday, December 9 – Toys for Tots – Everyone in the office brought in a gift to donate to Toys for Tots. Xcellimark's resident marine, Kris Taff, coordinated the toy drive and delivered the toys to the drop off location.
Monday, December 12 – Christmas Around the World Quiz – We learned how to say "Merry Christmas" in different languages such as Navajo and Icelandic. No Google cheating was allowed.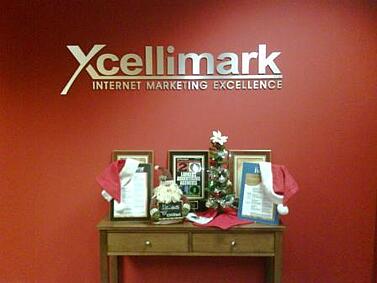 Tuesday, December 13 – Cookie Day – We brought in cookies, chocolate chip and sugar, to share with the office.
Wednesday, December 14 – Christmas Thanks to the Troops –To show support and appreciation for the troops we mailed them letters of appreciation and thanks. Let's remember our troops!
Thursday, December 15 – Salvation Army Donation Day – We cleaned out our closets and garages to donate gently used clothing items and more to the Salvation Army.
Friday, December 16 – Feliz Navidad – We enjoyed queso dip, tostones and more. It was a big hit that made our taste buds very happy.
This Week's Activities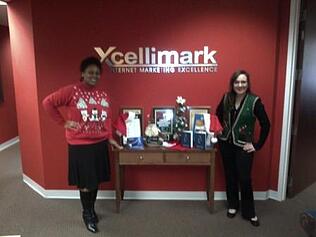 Monday, December 19 – Ugly Christmas Sweater Contest – We wore the most hideous, cheesiest Christmas sweaters we could find.
Tuesday, December 20 – Holiday Food Fest – Today we each brought in something to share and eat with the office. The menu included turkey, mashed potatoes and gravy, green beans, corn, sweet potato pumpkin pie and fruit.
Wednesday, December 21 – Egg Nog & Hot Chocolate Day – Rochelle and I bring in these delicious holiday beverages with extras such as marshmallows and whipped cream.
Thursday, December 22 – You'll Shoot Your Eye Out Kid Contest – We're reliving A Christmas Story, Xcellimark style!
Friday, December 23 – Christmas Trivia – The Xcellimark Christmas Trivia Quiz brings out the competitor in all of us. We've even had fellow friends and family take the quiz who find themselves stumped! It's definitely not for the faint of heart. Do you have what it takes to score big? We'll post this year's quiz on our Facebook page so you can get a copy and later that day, we'll post the answers too so you can see how you did. After you grade your quiz, leave a comment on our fan page or Tweet us @Xcellimark to share your score with us.
Our offices will be closed on Monday, December 26 in observance of the Christmas holiday. We'll reopen on Tuesday, December 27.
Happy Holidays!
Team Xcellimark
Free Consultation
Get your free consultation with digital marketing & sales experts.
Get Started