Xcellimark Employees Celebrate One Another with the Captain America Award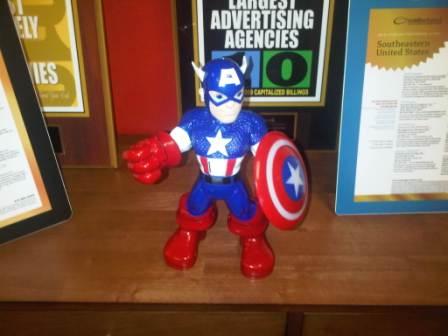 There's a new member on the Xcellimark Team and his name is Captain America! The Captain America award, in the form of a figurine modeled after the patriotic superhero himself, is a way for individuals in the Xcellimark office to openly show their appreciation for another employee and commend them on job well done.


"The goal is to have employees publicly recognize one another for doing something great. Teamwork is essential in our work environment so we want to encourage our employees to look for things that their fellow teammates are doing right and honor them for it,"
said Nancy Lambert, Vice President of Xcellimark.
After being awarded with Captain America, the individual gets to keep him for at least a day before he can be awarded to someone else. After that time period, any employee can award Captain America to someone else as a "Thank You."
"Having Captain America in the office has been a great boost in company morale. The employees are having fun deciding who gets the honor of having Captain America on their desk next and are going out of their way to celebrate their co-workers," said Scott Lambert, President of Xcellimark.
So far, Captain America has made the rounds from the Communications department to Design and Marketing. Where will he end up next? Check out our Facebook Fan Page to find out!
Free Consultation
Get your free consultation with digital marketing & sales experts.
Get Started