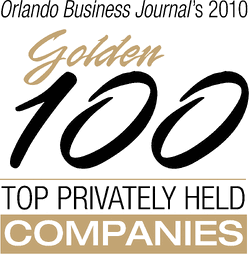 Orlando Interactive Digital Agency Xcellimark has received recognition as one of the Orlando Business Journal's Golden 100: Ultimate Newcomer.
To be eligible for the award, a company must be on OBJ's annual list of the 100 largest privately held companies in Central Florida, based on gross revenue for the most recent year-end. Other qualifications include having headquarters in Orange, Seminole, Osceola or Lake counties and not being a subsidiary of a company based outside of Central Florida.
"Xcellimark is one of OBJ's Golden 100: Ultimate Newcomers. As an Ultimate Newcomer, Xcellimark has joined the ranks of Central Florida's top companies who, through hard work, diligence and great leadership, have held steady and grown despite the difficulties of these economic times," said Denise Hicks, Orlando Research Center Director for the Orlando Business Journal.
Making the list is no small feat, considering many long-time companies who have made the list in the past have now fallen off due to being bought by a non-local firm, dramatically plummeting revenue or having gone out of business completely.
"We are honored to be recognized as part of the Ultimate 100 businesses in Central Florida. As the only Interactive Digital Agency to make the list, it demonstrates our ability to make a significant contribution to real tangible growth of our client's business even in the most difficult business climate. Our approach of cutting through the industry hype and applying only proven Internet marketing solutions allows us to grow as we enable our clients' business to grow," said Scott Lambert, President of Xcellimark.

About Xcellimark:
Xcellimark is an award-winning Interactive Agency that creates and delivers customized strategies to enhance customer growth and branding through proven Internet marketing solutions such as custom web development, digital marketing, Internet consulting and campaign conversion optimization. For more information on how Xcellimark can help you improve your bottom line, contact Scott Lambert at 407-678-3062 ext. 210 or visit www.xcellimark.com
*Image from http://orlando.bizjournals.com/orlando/