Here are the Latest Greatest HubSpot Software Updates for 2020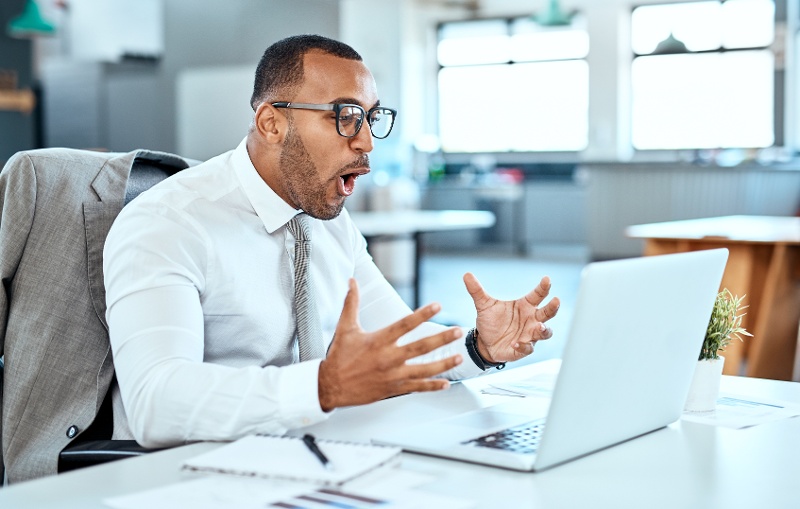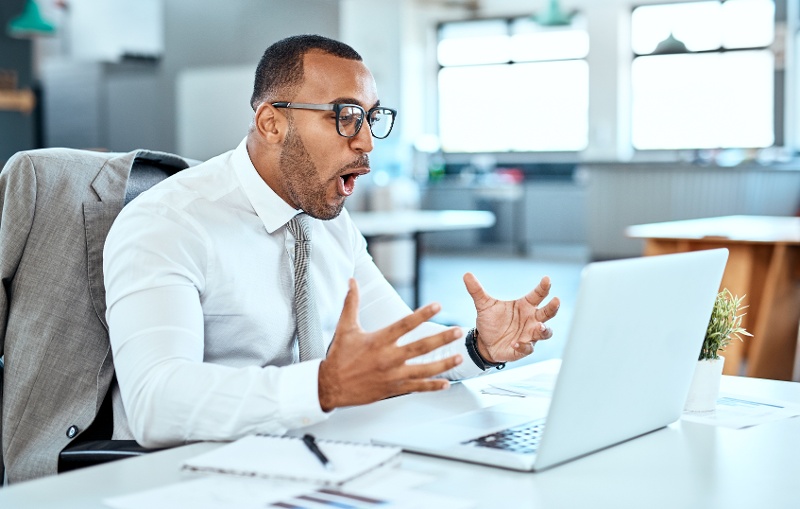 For those of you who are fortunate enough to use HubSpot as your marketing, sales, and service automation platform, discovering the latest updates that have been added to the system can be very exciting.
(Ok, maybe my idea of exciting is different from yours, but these really are some great upgrades to the platform, and I think you'll love them! So, exciting, right?)
HubSpot is constantly updating and improving their platform to make it an even better tool to help you grow your business. The updates rolled out this month are no exception.
Let's dive into the new opportunities you have to automate and improve your sales, marketing, and service capabilities.
HubSpot Updates Include:
Facebook post boosting
SEO prioritization
Content editor updates
Revenue attribution reporting
Workflow improvements
Quote improvements
Mobile app improvements
Task improvements
Updated permission settings
Knowledge base improvements
Chat improvements
Here are the details and how each of these updates will help improve your operations and, hopefully, your sales!
Facebook Post Boosting
Many of you already know that HubSpot allows you to create and manage your Google Ads, Facebook Ads, and LinkedIn Ads directly from your HubSpot system.
Not only will you be able to tell how many conversions you get from your online advertisements, but by connecting your ads to your HubSpot system, you can also know the actual person that clicked on your ads and converted on your website.
That type of intelligence is a gold mine, helping you to understand what is really working and not working within your ad campaigns.
Now you can also boost your Facebook posts directly from HubSpot.
Boosting a Facebook post increases the reach to your targeted audience and bolsters your social media engagement on the platform.
To boost a Facebook post from inside your HubSpot system, simply click on Marketing -> Social in the main navigation menu, choose a Facebook post that you want to boost, click on Actions, and choose Create Ad.
It's that simple!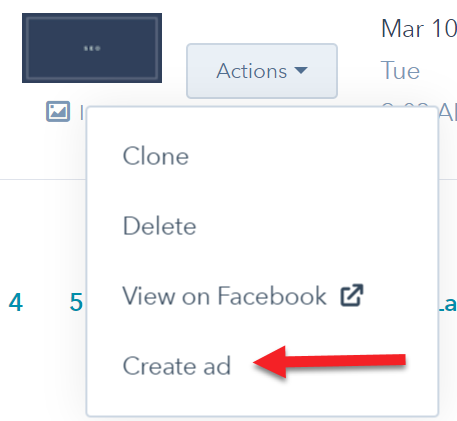 SEO Prioritization
Search engine optimization (SEO) is a concern for most businesses. With Google constantly making algorithm changes (estimated to be more than 500 per year), keeping up with SEO updates is challenging.
Even without all of these updates, many people don't really understand the basics of good SEO.
I get it. SEO is not your business, so why do you need to know so much about it?
Luckily HubSpot has you covered.
You can click on Marketing -> Planning and Strategy in the main navigation menu and then choose SEO -> Recommendations.
HubSpot lists out different recommendations that need to be addressed on your website. The system indicates whether the issue is a high, medium, or low priority and it even tells you which pages are affected.

When you click through to view the pages, the system lists each URL, what the issue is (in the case below, the word count was lower than the recommended 300 or more words), and how many views the page has had.
With the click of a button, you are taken to the page to make the needed updates.

So, there's no need to be an SEO expert when you have HubSpot.
Take a moment and look at the SEO recommendations inside your HubSpot system. You may find some insights you didn't know about and now you can easily fix them!
Content Editor
You may have noticed lately that it's easier to go from your website pages to your landing pages and your blog pages.
In the past you had to go back up to the menu bar, choose Marketing -> Website -> and then select one of the pages.
Now, HubSpot allows you to move between website pages, landing pages, and the blog by simply clicking on a convenient tab at the top of those pages. While the capability came out prior to this month, it's a great feature that we wanted to be sure you knew about.

Notice that the Content Editor has been reorganized for website, landing, and blog pages so that all of the tools are alike, regardless of the page being edited.
Even the Content Editor for marketing emails look the same as your website pages.
Once you understand how to use the new Content Editor, you will know how to create and update all of your pages and emails.
The new Content Editor includes easy drag and drop modules that you can add to any page or email. Commonly used modules are displayed by default or you can click the arrow (>) to view all the content modules available to you for adding to the page or email.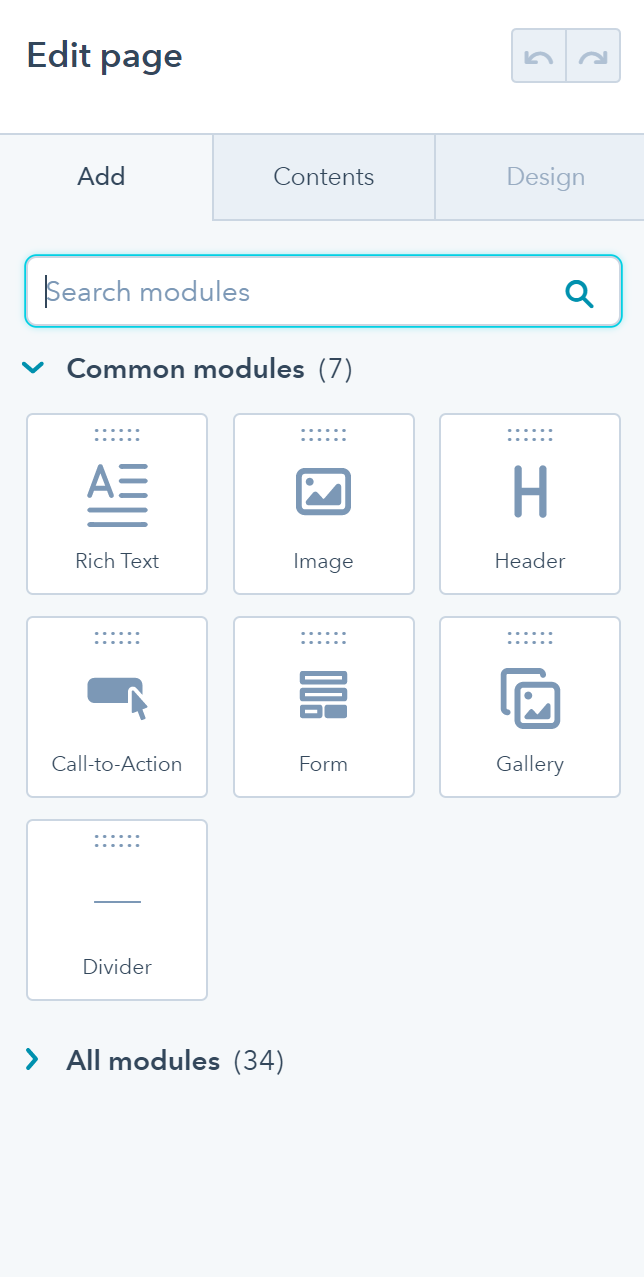 If you want to edit existing content on the page or email, simply click on the Contents tab in the middle.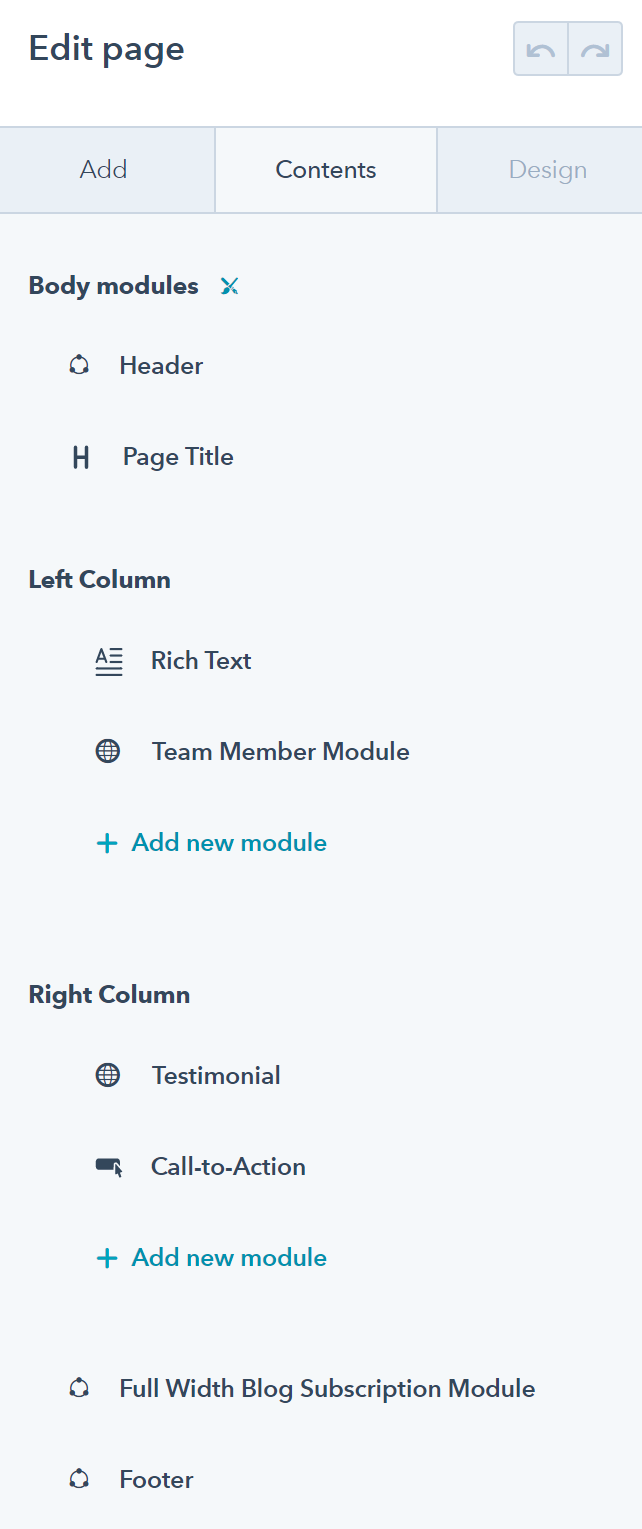 The Contents section includes all modules currently on the page or email.
An exciting new benefit to this layout includes the ability to edit Global Content directly from a page without having to jump into the Design Manager.
If you click into a Global Module in the Content Editor, a pop-up box displays which allows you to go directly into the Global Content module to make any updates.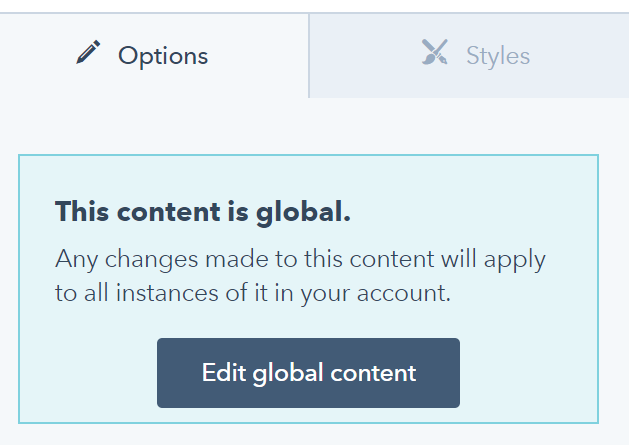 Once the update is made to the Global Content, you can go back to the original page you were editing.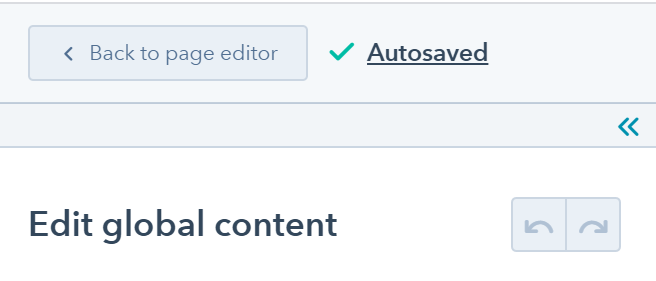 HubSpot alerts you to how many pages will be affected by the updates made to the Global Content.
Revenue Attribution Reporting
For those of you who have Marketing Hub Enterprise (or are thinking about getting it), Attribution reporting is now available on the Campaign level.
With multi-touch revenue attribution, marketers get credit for driving business growth by tying revenue to every marketing effort. It automatically connects every customer interaction to revenue.
You can compare how successful your recent campaigns are and you can filter attribution by Marketing vs. Sales.
Here is an example of an Attribution report: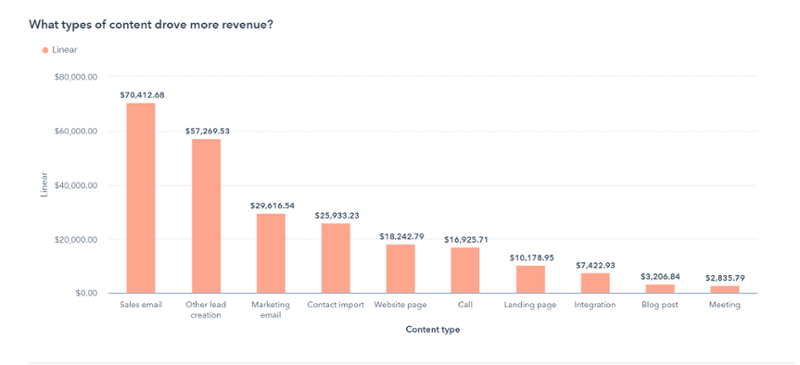 HubSpot has already pre-loaded Attribution reports in your Reports Library if you have the Marketing Enterprise Hub. Be sure to check it out.
Workflow Improvements
Contact workflows now have the same user interface as do Company, Deal, Quote, and Ticket workflows.
Some of the features include:
Automatically copy Contact properties to Tickets, Deals, and Quotes
Set and clear Quote, Deal, and Ticket properties from Contact workflows
Add more than one condition for an if/then branch in a workflow, allowing you to consolidate branches
Create an Asana task when a contact does something that merits a follow-up action
Quotes
Quotes is a wonderful tool for sale reps, allowing them to send a quote to a prospective client with the ability for the client to e-sign the quote online and pay for the quote with a connected app.
You can now find the Quote feature under the Sales navigation tab in the main menu.
In addition, you can recall and edit a previously published quote without having to create a new quote. Once a quote has been signed and paid, that particular quote cannot be recalled or edited.
Try creating a new Quote yourself – I think you will love it.

Updated Mobil App
If you have used the mobile app in the past, you know that it's a very convenient, and scaled-down version of the full HubSpot app that you have on your desktop. It's a great app to use when you are on the go and need to quickly respond to customers or prospects.
The new updated app includes improvements to the activity feed and a new cross-object search experience that helps make the app seem more like the desktop experience.
The app has been updated with a refreshed task experience, making it easier to filter, sort, set priority, and access all of your task queues.
Go to the App store today to download the latest version!
Tasks Updates
There is a new Task property called "Task Completion Date" which makes it easy for managers to report on task completions. This helps to ensure that your assigned tasks are being completed on time.
There is also a new Task Queue experience that gives sales reps the option to complete a task, skip it, or reschedule the task right from the top Task Queue bar. It's a great new feature.
Permission Settings
Ready to have more control over your permission settings?
Now, with Sales Pro or Sales Enterprise, you can decide which templates, sequences, and documents you want to share with others on your team and which ones you may want to keep private just for you.
Who said we must always share?
Password Protected Articles in Knowledge Base
The Knowledge Base has been updated with the capability to password protect articles inside your Knowledge Base in order to share them with a unique group of users. Simply create a list of users that you want to provide access to your password-protected articles and then invite them to register and create a password in order to see the articles.
These password-protected articles will not be crawled by search engines and can only be seen by the group of people in your list who have registered and logged in.
New contacts who are added to the list of people who have access to the Knowledge Base articles will automatically be sent an email inviting them to register and log in to view the articles.
Once a contact has logged into the restricted area, a cookie will be placed on their computer so they will not have to log in again.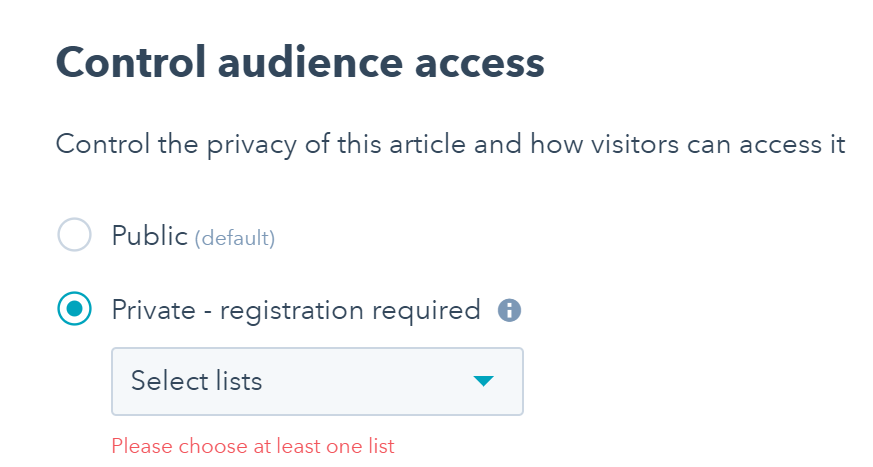 Search Tags Added to Knowledge Base Articles
You can now add search tags to your Knowledge Base articles to help visitors more easily find the information they want. Tag your articles with words or phrases that people may use to find the information featured in the article.
You can add the tags in the Settings area when you create or edit the article, or from the Knowledge Base Insights screen.

Search Articles in Chat
Ready to put your Chat feature on steroids? Connect your Knowledge Base with a Chat Flow to allow people to search your Knowledge Base articles within the Chat box.
You need to first create both the Chat feature and your Knowledge Base.
Once you have both active, edit your Chat Flow and turn on "Enable knowledge base search" during the Build stage. This is a great way to help your website visitors find fast answers to their questions.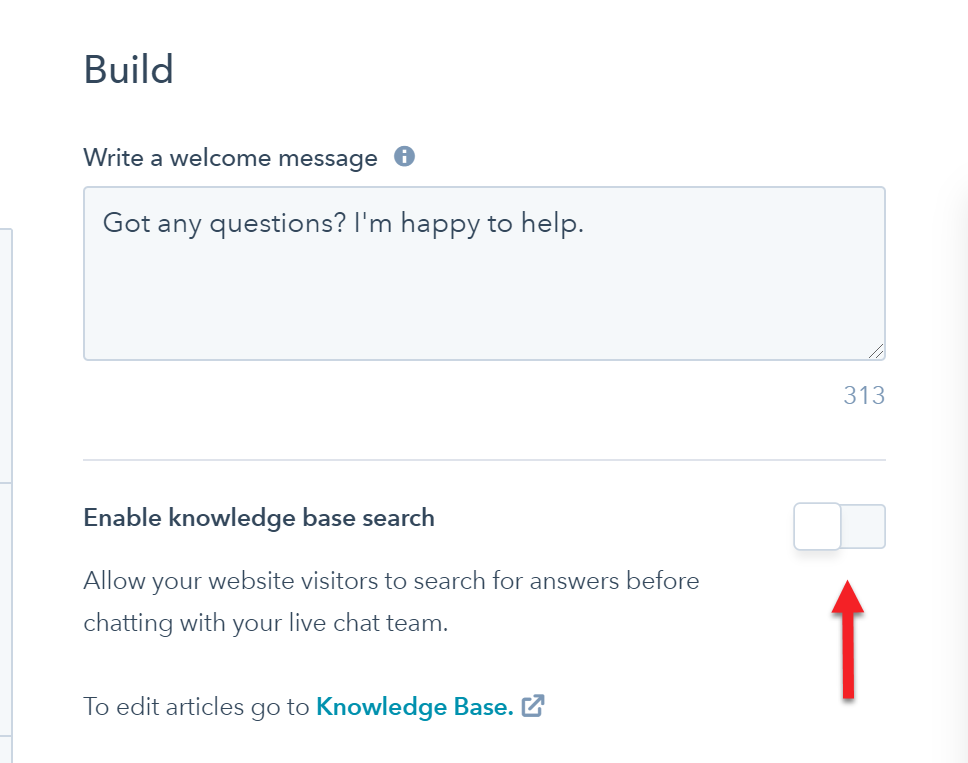 Need Additional Training on How to Use Your HubSpot System?
Xcellimark offers both live, customized HubSpot training as well as online HubSpot video training on specific HubSpot features.
Get the most out of your HubSpot system with in-depth training and consulting.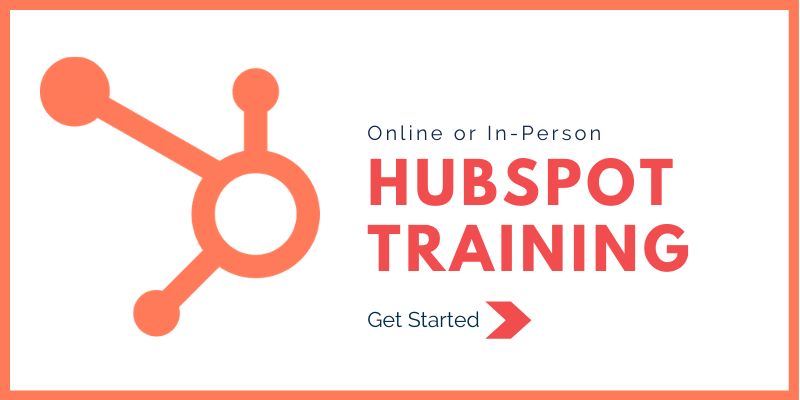 Free Consultation
Get your free consultation with digital marketing & sales experts.
Get Started