[SlideShare] Warning: 25 Reasons Your B2B Lead Generation Is Failing (And How To Fix It)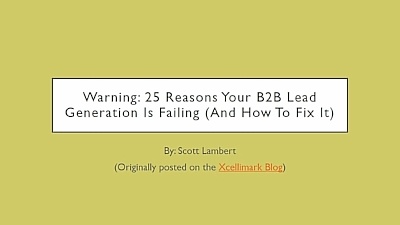 In B2B and complex B2C types of businesses, generating quality sales leads is a critical part of your Marketing department's efforts. In fact, Xcellimark conducted a survey to businesses asking them to rank their marketing challenges. "Lead generation" ranked as the second greatest marketing challenge falling closely behind "content creation," both of which are inextricably linked.
The traditional model of having the Marketing department "send leads" over the wall to the Sales team is significantly flawed for modern-day buyers and their buying evaluation process.
Since such a large number of marketers struggle with lead generation, I have listed the top 25 reasons why your lead generation efforts are failing. Also in this SlideShare, I have provided you with numerous resources listing tangible and realistic strategies to show how you can improve your lead generation.
Free Consultation
Get your free consultation with digital marketing & sales experts.
Get Started