Warning: 25 Reasons Your B2B Lead Generation Is Failing (And How To Fix It)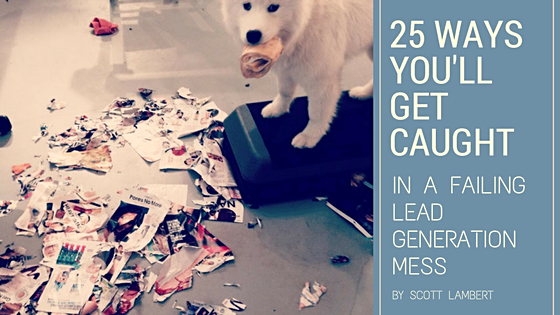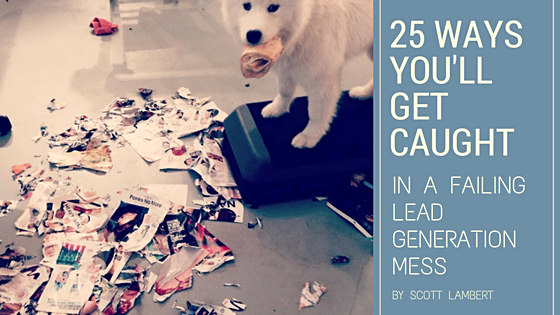 Lead generation is a key part of your company's marketing and sales efforts in order to grow revenue. Whether your company sells in a B2B market or handles complex sales in the B2C markets, effective lead generation is critical to your marketing and revenue growth. But many companies struggle with producing enough leads to help increase their sales.
Here are 25 reasons why your lead generation efforts may be failing, categorized under 4 main principles:
You May be Lacking an Effective Lead Generation Strategy
Ascend2Research revealed that the #1 reason why lead generation efforts fail is due to a lack on an effective strategy. Signs of an ineffective marketing strategy include:
Your lead generation process is not mapped out from top to bottom with a full understanding of your ideal buyer persona's "buyers journey."
Your buyer persona (or qualified lead) has not been accurately defined and developed. To understand your ideal buyer you need to have identified the aspects of their buyers' journey, which includes information that relates to their:

Priority initiatives
Success factors
Perceived barriers
Decision criteria
Evaluation journey

The focus is on "quantity" of leads instead of "quality" of leads, wasting precious sales and marketing resources chasing down bad leads.
Realistic expectations were not accurately set upfront based upon a proven marketing process and key understandings of your Key Performance Indicators (KPI).
Purchased or rented email lists were used in your marketing campaign. These lists only serve to upset people and are not good for your branding or your company. Think about your own emails this past week. How many emails did you receive that you think were spam? Enough said.
There are content gaps in what you are providing your ideal buyer persona at each stage of their evaluation journey or decision-making process. That may be because the content hasn't been created or you are not sure what types of content should be published and where each content type fits into the different stages of the lead generation process.
Content that your ideal buyer is seeking is not being developed and published on a consistent basis.
You may be creating content that is too self-promotional, meaning it's all about you, your company, your products and your services instead of publishing content around your ideal buyers' challenges, pain points and opportunities. You need to be educational and helpful first before the buyer will allow you to move in for the close.

You Are Not Generating Enough Inbound Traffic
If you do not have enough market reach and are not attracting enough of your ideal buyers at the point where they are interested in what you have to offer, then your lead generation efforts will suffer. Not generating enough traffic may be because:
You are not being found in search engines for the most relevant keyphrases related to your company, your buyers and the information they seek.
You may not be reaching your target buyers at the point in time when their needs or interests are greatest.
There is no real social media marketing strategy. You might have a Facebook, LinkedIn or Twitter account (most people do at this point), but there is no real strategy to make effective use of your social media. Why this is so important:

Social media is the #2 tool your buyers use to research and educate themselves on the products and services they seek to buy.
In fact, when making a purchase, 75% of B2B buyers use social media as part of their decision-making process, according to International Data Corporation.

There is a lack of key content publishing efforts

that buyers read during their buyers' journey and evaluation process,

such as:

Whitepapers
Guides

You don't have a subscriber base and have not created a system to gain a subscriber base in order to send them relevant newsletters, announcements, and valuable content offers.
You Are Not Converting Enough of Your Inbound Traffic to Leads
The Inbound Marketing methodology, along with a robust Marketing Automation Platform, is key to converting website traffic to leads. Here are some reasons why you may not be converting your traffic to leads:
Your content does not focus on your buyer persona's pain points and challenges, or the opportunities they seek. And you may lack compelling incentives or relevant content offers to encourage your prospects to convert to a lead.
The content that you have is not aligned with your buyer persona's evaluation journey. Here are some examples of how this alignment would work:

Non-branded educational offers, such as buyer guides and eBooks, tend to do well when a buyer is at the Top of the Funnel in their buyer's journey.
Case studies, white papers and webinars tend to do well in the Middle of the Funnel.
Product comparison guides, consultation offers, free assessments, and free trials do well at the Bottom of the Funnel.

Your website pages, landing pages, and emails lack Calls-to-Action [CTAs] to encourage your visitors to act.
Your CTAs send your visitors to unappealing or seemingly unrelated landing pages that do not sell the value of your offer.
You allow visitors to download content offers without having them complete a form to capture basic information. Your content offer should be free, however it should cost your visitors a little information about themselves so you can continue to market to them.
Your forms do not feed a marketing and sales contact database that enables you to track everything your visitors, prospects and leads do.
You do not promote compelling content offers to your visitors based upon your buyer personas.
Even though you are writing good content geared towards your buyer personas, you may not be putting your best foot forward due to silly grammatical mistakes that undermine your credibility.
Your conversion process may not be optimized for mobile users. Google has stated that 50% of all their searches are from a mobile device, and according to Webbiquity, 50% of B2B buyers are using smartphones for business purchases. So you must optimize everything for mobile.
Your Sales Team is Not Closing Deals or Opportunities
This may be primarily due to a lack of an integrated Inbound Marketing and Sales approach within your company. (You can no longer effectively grow by simply throwing leads over the infamous marketing and sales wall.) So your marketing and sales team may not have an integrated marketing and sales approach because:
Your marketing team is not effectively qualifying leads for your sales team through a lead nurturing process. Not all leads are qualified or sales-ready. Expertise in lead nurturing results in a 50% increase in sales-ready leads with a 33% decrease in costs. (Forrester Research via HubSpot)
You are not testing and tracking which blog articles, CTAs, landing pages, content offers, email subject lines, and social media posts are generating the best leads. That may be because you are lacking a marketing automation system that optimizes your lead generation efforts.
Your sales team is operating blind by not having key tools, such as a CRM, that allows them to track everything a prospect or lead has done when interacting with your company's digital assets (website pages, landing pages, content offers, social media, emails, etc.). Key marketing and sales tools such as a marketing automation program and CRM help provide actionable intelligence for both your marketing and sales team.
So What are the Keys to the Success of Your Lead Generation Efforts?
Here is what you need to do:
Not sure where to start?
Start by trying out the free tips and strategies laid out in the eBook below.
Editor's note: This post was originally published in Aug 2016 and has been updated for accuracy and freshness.
Free Consultation
Get your free consultation with digital marketing & sales experts.
Get Started