What Do People Want From Your Website Design?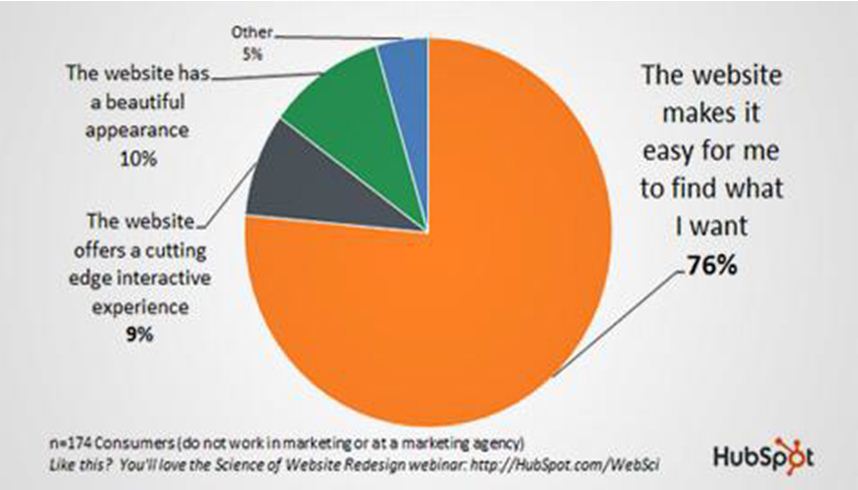 Do you know what your visitors really want from your website? I can tell you. It's not flashy, animated graphics. It's not a talking video, unexplainably blaring through their speakers. It's not a cutting-edge interactive experience. It's not a minimal design, requiring people to click or engage in order to find out what you're about. It's not even a beautiful appearance.
Even though it is important that your website be professional and maintain an online image that is congruent to your product and/or service's quality, it is not even close to what people want from your website.
Make it Easy for Your Visitors to Find What They are Looking For
According to HubSpot's survey, 76% of consumers said they want a website that makes it easy for them to find what they're looking for. It's important to note that the folks surveyed did not work in marketing or at a marketing agency because people inside the industry tend to forget what visitors really want from a website. Instead, they try to out-do themselves with flashy bells and whistles, and forget the importance of easy navigation, a clear value proposition, and primary call-to-action.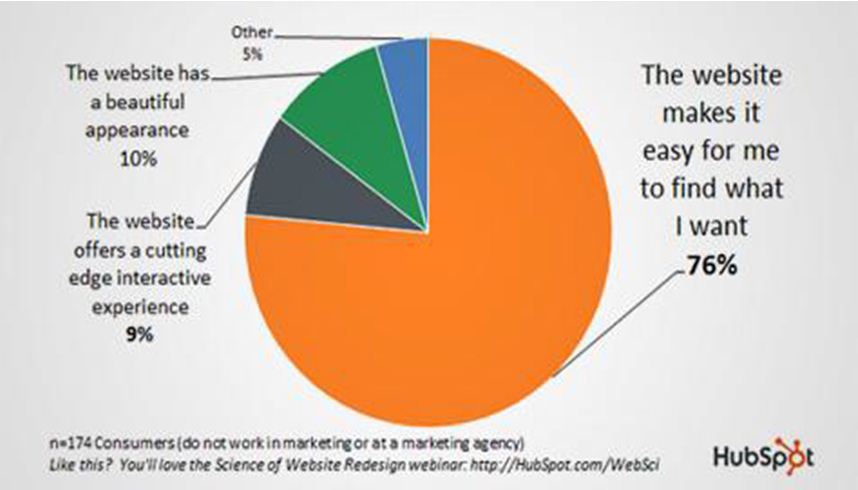 So, What Do People Want from Your Website?
They want to know where they're at. Make it clear to them that they're on your website whether it's the home page or a landing page. This limits confusion and unsupervised thinking.
People also want to know what they're supposed to do on your website. Are they supposed to contact you? Download something? Buy something? Learn something? Connect with somebody? You have their attention. Tell them what you want them to do.
And finally, people want you to explain to them (clearly and succinctly), why they should take that desired action on your website. It must be clearly communicated why they should buy that product from your website, as opposed to anywhere else. Saying that it is the best is not good enough.
Mediocrity Limits Revenue Generation
If your website is merely an online brochure for your sales people to reference or give credibility to your company, then you're not addressing your website visitor's needs. When someone lands on your site, they want to know what quantifiable benefit they will get by downloading your whitepaper, requesting to be contacted, or signing up for an online account. Your copy, design, and layout should support this.
If you want a website that provides a clear path for your visitors and actively generates a demand for your products and services that result in increased leads and revenue for your business, contact Xcellimark.
Free Consultation
Get your free consultation with digital marketing & sales experts.
Get Started