In combat, the rules of engagement dictate the terms on which rivals fight. They're meant to create a level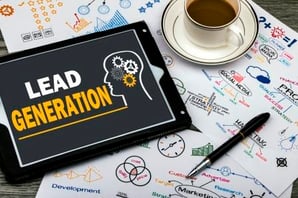 playing field and prevent humanitarian abuses that could have serious legal consequences down the line.
Website rules of engagement are somewhat different. For starters, the stakes aren't quite as high as in war. Then again, creating a compelling website that attracts and converts visitors is a life-or-death proposition for businesses in an increasingly digitized world.
If you're wondering how to make a great website that supports your broader digital marketing campaign, follow these three "rules of engagement" for website lead generation.
1. Give Them What They're Looking For
You've heard a lot about "relevant content" lately, but what does that really mean?
In a nutshell, relevant content is content that your website's visitors, also known as your prospects, find worthwhile. It answers their questions and provides them with clear solutions to their problems. Most importantly, it needs to do this better than similar content found on your competitors' websites. Otherwise, your prospects have no compelling reason to continue to seek you out for solutions to their problems and answers to their questions.
Creating relevant content that clears this seemingly high bar might appear to be a daunting task, particularly if you don't have much content marketing experience. Fortunately, it's easier than you think to generate topics that speak directly to your prospects and keep them coming back for more. As a business owner or decision-maker, you're endowed with unique expertise that facilitates this sort of nose-to-the-grindstone marketing work.
For starters, your website needs to clearly communicate what your company is about. Each product or service that you offer should be outlined in clear, compelling detail. Your website's design elements and interactive features should support your message.
For instance, a product page outlining your company's line of lawnmowers might include a feature that lets users zoom in on different parts of each machine for more detailed specifications and imagery.
Your website's content should also address the most common problems that bring visitors to your digital doorstep. The nature of these problems varies from company to company, but the best way to address them is typically in a "FAQ" or "About Us" section. For existing customers, your website content should also answer questions related to common user experience issues. Relevant content resources include in-depth tutorials, help topics, "how-to" videos and more.
Throughout your website, the content you create should pull in your visitors, encouraging them to spend more time interacting with your online presence. This will leave them with more than the feeling that you've answered their questions. It'll also create more opportunities to convert them, which is a critical objective of the second website rule of engagement.
2. Tell Them Why They Need to Choose You
Creating relevant content is a great first step towards turning your website into a lead generation machine. For website-driven content marketing to truly take flight, you need to "sell" it. Even if you don't think of your niche as particularly competitive, it's a foregone conclusion that other companies - perhaps many other companies - are looking to capture some or all of the prospects and customers you hold dear.
In addition to explaining what your company does, you need to demonstrate why you do it better than anyone else. For starters, play up any and all awards you receive for your products or services.
Do the same for past or current customers' testimonials. If you don't have customers banging on your door to tell you how great you are, reach out to repeat clients and ask them to provide genuine feedback about their experiences. Use online surveys and questionnaires to scale your feedback-gathering operation. If you have an external ecommerce platform, such as Amazon or Etsy, use its built-in features to attract and promote positive reviews.

Perhaps most importantly, your website should include and reiterate throughout a compelling value proposition that boils down your competitive advantage to a few punchy lines of copy. Your value proposition should concisely explain why your company's solutions are superior to the competition and lay out a clear case for your prospects to act on.
3. Offer a Compelling Incentive to Act Now
Once you've developed a compelling website replete with relevant content and a powerful argument for your company's unique solutions, it's time to close the deal.
There are numerous ways to incentivize prospects to act, some of which require you to integrate outside properties or assets with your website. For instance, you might broadcast a Facebook-only deal to your followers with a link that connects directly to a payment portal on your website. In another case, you might end a blog post or website content page with a compelling call to action: "Enter your email address to receive a FREE e-book on XYZ Solution."

Regardless of the strategy you employ, your incentive should be compelling enough to prompt an acceptable fraction of your website visitors to act on it. However, you don't have to close the sale on the first attempt. A lower-stakes call to action, such as an entreaty to sign up for a newsletter or download an e-book, could also lead to higher sales rates in the long run.
Put Your Website Rules of Engagement to Work
It's easy to remember the website rules of engagement for better lead generation. First, create compelling, relevant content: In other words, give your prospects what they're looking for. Next, make a clear case for your solutions by telling your prospects why they need to choose you over your competition. Finally, compel your prospects to act now by providing a powerful incentive that won't last forever and seems hard to turn down.
There's no guarantee that you'll convert every website visitor by following these simple rules. On the other hand, it's hard to argue that your website and your website lead generation operation won't be better off for it.
To learn more about other marketing strategies and tactics you can put in place to grow your business, request a free inbound marketing assessment .