How Inbound Marketing Impacts Business Growth – Part 2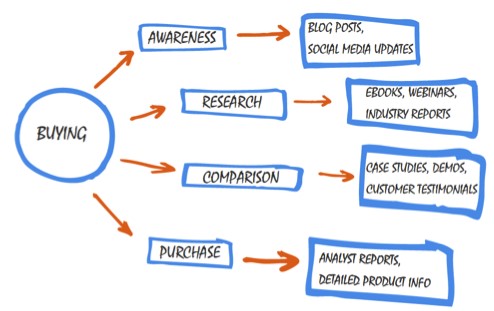 In last week's article we outlined the inbound marketing components and the inbound marketing stages of attracting, converting, closing and delighting customers. The key to this methodology for growing your business is how well you match the content to your ideal buyer needs in the different stages of the buying cycle, also known as the buyer's evaluation journey.
Face It - You Are Not In Control
To a large degree you don't control the education or sales process for your buyers anymore - the buyer does. Consider the following facts:
97% of consumers now use online media when researching products and services in their local area. (BIA Kelsey)
90% of consumers say their buying decisions are influenced by online reviews. (Dimensional Research)
Consumers are 5x more dependent on content than they were 5 years ago. (Nielsen)
Consumers engage with 11.4 pieces of information or content prior to making a purchase decision. (Google ZMOT)
84% of buyers engage in online information consumption and education. (Google ZMOT)
70% - 90% of the buyers' journey is complete BEFORE they contact a sales representative. (Forrester)
Understand The Decision-Making Process of Your Ideal Buyers
Therefore, the first thing that each business needs to do is to identify the decision-making process of their specific buyers for their product or service.
It is typical for a business to have different types of buyers. Each of these buyers go through a specific process to ultimately make a decision to implement the solution that your business offers.
If you understand the information they need throughout the process, you can design an inbound marketing program that helps convert information-seeking leads to customers.
Your Customer's Buying Cycle
Your ideal buyer's buying cycle will probably look something like this:
Awareness – Prospect gets acquainted with your brand or realizes they have a need for your product or service.
Research/Education – Prospect identifies the problem or need in more detail and researches potential solutions, including your product or service.
Comparison/Validation – Prospect examines the options available to them and begins narrowing the list of suppliers.
Engagement or Purchase – Prospect decides who to engage with or buy from.
The key is creating and delivering the information that your ideal buyer seeks at each of these stages.
Here is an example of what this may look like for your business: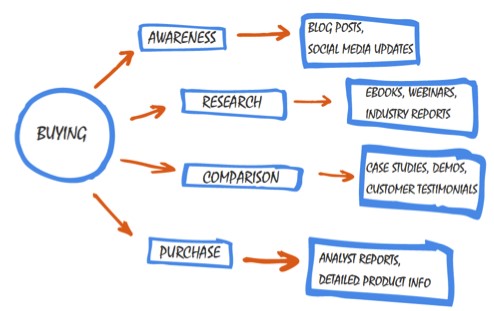 Let's Walk Through a Scenario
An illustration of this is when your ideal buyer is in the awareness stage and they see a blog article from a search engine results page, social media post, or on an authoritative website that attracts them to your website. The article has the information they are seeking at this point in their buying cycle – and you are the one providing it to them.
The blog article is very educational (not salesy) and includes a Call-to-Action (CTA) to get even more information about the subject matter in the form of a guide or eBook.
Your ideal buyer then clicks on the CTA in the blog article which takes them to a custom landing page that highlights the value of the information contained in your content offer, presented to them in a downloadable format.
In order to download the eBook or guide, they need to provide you with some basic, but very important information, specifically their name and a valid email address. You can make other fields optional for them to fill out but I would encourage you to keep your form short at this stage.
They have now become a possible lead and have given you permission to email them additional information.
Help Them Continue to Move Through Their Buying Cycle
All leads are not the same so you will need to set up a lead nurturing process to engage them through the research and comparison stages of their buying cycle.
The lead nurturing process needs to be automated, allowing you to stay engaged with your lead by offering them additional information in various formats such as webinars, testimonials, or demonstrations that will ultimately lead them to connect with your sales team. This allows your sales team to focus only on qualified leads so they can close more of them to customers.
You will also want to stay engaged with your existing customers after they have purchased your products or services. This gives you the opportunity to continuously delight your customers who will hopefully become promoters of your business. They will be more likely to provide you with a testimonial, referral and additional sales in the future.
To learn more about how you can keep your customers coming back so your business' engine stays revved up for accelerated growth and revenue, get your free copy of the Digital Marketing Plan now.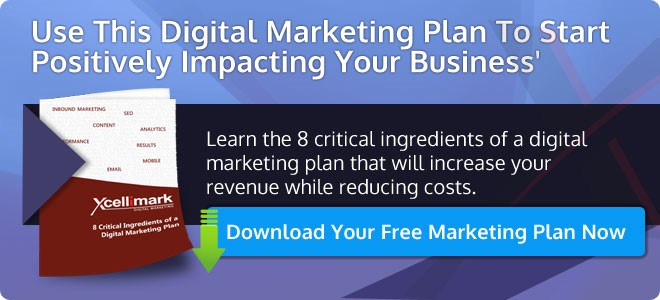 Free Consultation
Get your free consultation with digital marketing & sales experts.
Get Started