How Inbound Marketing Impacts Business Growth – Part 1
In our last article we talk about how Inbound Marketing is a critical element within your broader Digital Marketing Plan.
Inbound marketing is an integrated marketing methodology of creating and distributing content that your ideal target audience desires at each stage of their buying cycle through various digital marketing channels such as search engines, social media and email.
Inbound Marketing Components
We also identified the key components that make up inbound marketing such as:
Creating targeted content that answers your ideal prospect's basic questions and needs.
Identifying the key decision making stages that your ideal buyer goes through when making a decision to engage or buy.
Personalizing the content your buyers need at each stage of their buying cycle.
Distributing that content through the key marketing channels that your ideal buyers choose to engage.
Integrating your marketing and sales process with publishing and analytical tools so that they work together, delivering the right content in the right place at the right time for your ideal buyer.
One of the most common mistakes I see made in the SMB market is the lack of a proven methodology that integrates their marketing and sales efforts in order to stimulate business growth.
Marketing staff cannot specifically tell which customers came from specific marketing campaigns. Sales people don't know which marketing efforts stimulate each lead or prospect that contacted them.
Many businesses have resigned themselves to think this is just the way things are and continue on in hopes that somehow it will just work out. They lack an inbound marketing methodology and they will eventually pay a price by continuing to lose market share to their competitors who do embrace inbound marketing.
Inbound Marketing Stages
The inbound marketing methodology consists of the following stages:
Attracting your ideal buyer to your branded website as a visitor.
Converting your ideal visitors to a qualified lead.
Closing your qualified leads through a lead nurturing process that gives your sales representatives the best opportunity to turn your leads into customers.
Delighting your customers by continuing to engage with them to keep them informed on matters that are relevant and important to them.
Goal Related Process
The inbound marketing methodology is goal driven. Goal setting is important and it is critical that you have a process for tracking progress towards your goal(s).
Each of these stages can support your progress towards your goal.
For example, let's say your marketing goal is to increase the quality and quality of sales qualified leads for your sales team by 50% within the next 12 months.
At a high level each stage should include the following:
Attract – Create, promote and distribute highly relevant and high-value-based content to attract your ideal target buyer through blog articles and press releases that are optimized for search engines.Distribute your articles through the Internet via search engines, authoritative websites and social networks to create significant awareness of your business with links back to the content on your website.This results in your ideal prospects visiting your website.
Convert – Create and promote high-value content offers to your ideal prospects through downloads (such as guides, how-to's, lists, white papers, reports, case studies, product comparison guides, presentations, etc.).These offers should be on specific landing pages with Calls-to-Actions (CTAs), forms and thank you pages that trigger a workflow of emails with follow-up offers.
Close – Nurture your leads throughout their buying cycle through automated email-driven content that further qualifies your leads and moves them from their consideration stage to their decision making stage where they want to talk or engage with your sales team or representatives.
Delight – Continue to engage and serve your customers through monthly newsletters and your social networks with content that is highly relevant for their interests.
Your effectiveness in applying the tactics for each of these stages will determine how well you meet that goal.
Within our own customer base, our clients who have fully implemented this inbound marketing methodology have averaged a 93% increase in website traffic and lead volume within 12 months.
Other benefits of Inbound Marketing for businesses that use it are that it:
Increases the brand awareness with their ideal target audience through inbound channels.
Demonstrates thought leadership through their content offers that are created, promoted and downloaded.
Stimulates greater engagement with their ideal prospects and buyers.
Provides a more effective and efficient method for a lead nurturing process that generates a greater volume of high-quality sales leads for their sales team and representatives.
Provides a more cost effective method of delivering high value content and communications with their target buyers.
In the next article, we will talk about the various stages of the buyer's cycle your prospects will go through and what you can do to help them each step of the way to becoming a new customer for you.
Until then, get the inside scoop on what you need to do to grow your business in the next 12 months by downloading the "8 Critical Ingredients of a Digital Marketing Plan."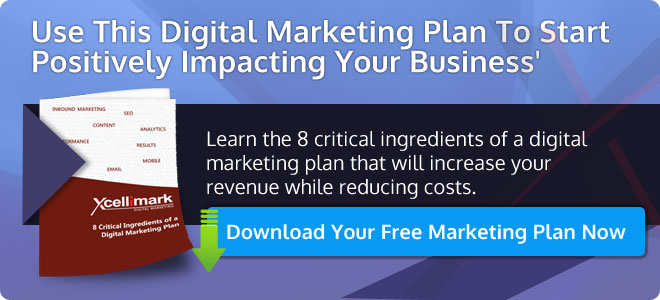 Free Consultation
Get your free consultation with digital marketing & sales experts.
Get Started