Local Search Becoming Dominant SEO Initiative
I remember speaking several years back to a group of business owners about the growing importance of initiating a Local Search campaign for their businesses. Google had launched MAPS. Yahoo had their own version of Yahoo Local and both made no secret they wanted to take over the Yellow Pages market. At the time, Google had reportedly determined that 30% of all online searches were of "local intent," meaning people were using search engines to find a local provider of products and services by using a location-related phrase in their search string.
Fast Forward to 2010
Google, Yahoo and Bing significantly enhanced their local search offering. Google MAPS evolved into Google Places with the ability to add a significant amount of information in your Places page. Google was also importing reviews throughout the web to the Places page.
In addition, Google announced that 70% of all searches have "local intent". They even implemented an algorithm change that incorporated local Places pages into the top portion of the organic search results.
This has had a huge impact on search rankings, website traffic results and the resulting business growth for those businesses who have implemented an effective Local Search campaign.
2011 Brings Even More Changes
Now in 2011 Local Account Listings are dominating the organic SEO search results throughout almost all industries. You can add images, videos, and coupons in addition to a significant amount of textual content.
comScore and the Local Search Association released a study that clearly demonstrates how online search portals such as Google, Yahoo and Bing are now used by U.S. Internet users 74% of the time when looking for a local business. Internet Yellow Pages are used 7% of the time. It appears that the game is over for the Yellow Pages companies.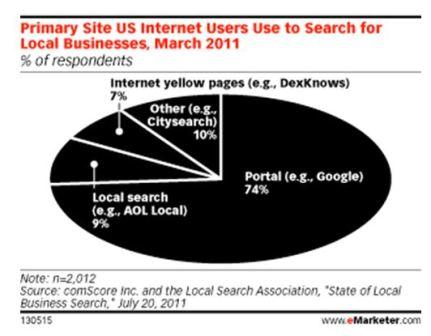 What About Traditional SEO?
What I find surprising is that so many businesses are still trying to do traditional SEO without incorporating an effective Local Search strategy. Let me be clear – SEO has become Local Search for many industries and businesses. Of course it is dependent upon the keyphrases being used so you may find that the search engines have predetermined that some of the keyphrases that are relevant to your business are being dominated by Local Search listings while others are not.
What I find even more surprising is the volume of so-called SEO service providers who offer services without an effective Local Search campaign for their clients. MarketingSherpa found in April 2011 that only 37% of total U.S. marketers have a local business listing in the search engines. Wow! What a missed opportunity.
Businesses need to aggressively implement a Local Search campaign if they want to grow their business revenues. But you better move quickly. This train has left the station and frankly a business may not be able to catch up with those who have already implemented an effective SEO/Local Search strategy.
We will talk more in an upcoming post on the most effective conversion strategies for making your Local Search campaign produce qualified leads and customers. Please contact Xcellimark if you have any questions or if you are interested in Local Search for your business.
Free Consultation
Get your free consultation with digital marketing & sales experts.
Get Started