I still encounter businesses that have their website managed by their IT (Information Technology) Department. Here's the problem with that: IT Departments are usually not made up of great marketers.
While IT specialists are usually very good at ensuring connectivity, data protection, and assessing equipment needs, they're usually not the best at articulating a company's value proposition or understanding the business' target market and how that market interacts with a company's brand.
For this reason, managing the company's website design , functionality, usability and analytics should be a function of the Marketing Department.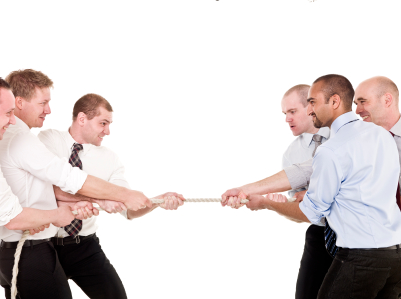 Learn more about marketing your website by downloading the Free eBook, "8 Critical Ingredients of a Digital Marketing Plan."
Don't Leave Your Marketing in the Hands of IT
I understand that the line gets blurry, especially when the IT Department is responsible for fixing computer crashes or other Internet-related errors. Or even when the IT Department is responsible for procuring website hosting and server needs.
So, somewhere in delegating those responsibilities, the role of managing "all-things-website" was kicked over to the IT Department, including messaging and how the company's online brand extension engages its target market online.
These increasingly important strategies have been handed over to people who have never even taken a Marketing class in their life. This is like allowing your printing vendor to be in charge of managing your direct mail pieces.
How a Controlling IT Department Can Impede Performance
IT Departments usually keep their hands firmly gripped on the control of the website because of the fear of someone messing something up, causing problems or errors that will undoubtedly result in trouble tickets and more work for the IT Department.
So, requested design changes or functionality upgrades from the Marketing Department are funneled through the IT Department's work-flow, essentially restricting or impeding the Marketing Department's ability to effectively improve or assess the website's performance.
3 Ways to Effectively Market Your Website
This problem can only be solved if the marketers acquire the skills necessary to effectively manage a company's brand online. Effectively marketing a website calls for a new skill-set that involves design, analytics, SEO, usability, communications, and more. This gap can be filled by one of three ways:


Invest in the training and sophisticated tools to equip your current staff to take on these new and important competencies.
Hire online marketing experts to add to your internal resources (designer, coder, copywriter, analyst, etc.).
Either way you approach it, when the website's steering wheel is finally handed over to the Marketing Department, the company's online brand can effectively be managed and measured to align with the strategic direction of the company. Only then will the company's online marketing efforts have the flexibility and control required to be successful today.
Discover secrets to marketing your website through the Free eBook, "8 Critical Ingredients of a Digital Marketing Plan."