5 Inbound Marketing Tactics Engineers Need Now More Than Ever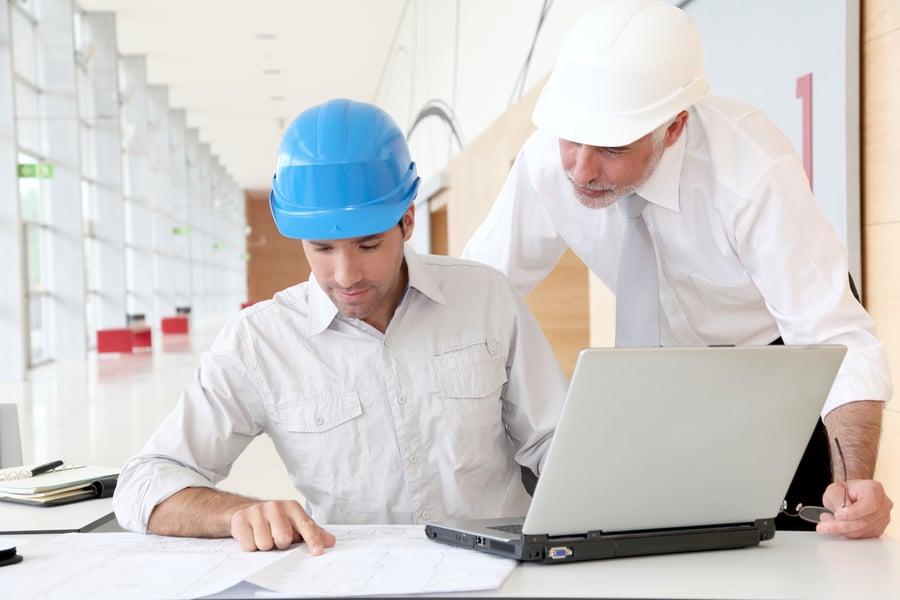 The RFP-driven sales environment in which most engineering firms operate is a blessing and a curse. It's a blessing because it creates some measure of predictability: To win a particular project, your company knows what it has to do. On the other hand, it's a curse because it doesn't necessarily make allowance for inbound marketing. There's no such thing as a conversion-centric RFP.

Because of this, many engineering firms assume that they don't have to invest in marketing activities beyond traditional outbound selling. While many firms still make a tidy living the old-fashioned way, it's getting harder and harder to do so in a B2B world that's increasingly driven by quality content delivered through Inbound Marketing.
Engineering firms that don't adapt to the changing reality of marketing, sales and the rise of inbound marketing risk missing prospects that have no patience for traditional sales tactics.
So what exactly is Inbound Marketing? It's building awareness of your company and attracting your ideal clients by creating and publishing the type of content that they are searching for online. As your potential clients research answers to their engineering issues, your company will be the one that is providing the answers they need.
According to a study by AdWeek, 81 percent of consumers conduct online research before making a buying decision. That's more than four in five individuals. No matter what prospects you're targeting, most are likely to be conducting online research.
According to Acquity Group's 2014 State of B2B Procurement study, as reported by Brafton, the numbers are even more impressive in the B2B world: 94 percent of B2B buyers conduct online research prior to making a purchasing decision.
Engineers are a particularly savvy bunch. According to engineering.com, engineers are twice as likely to find information online than in trade shows. Nearly 80 percent conduct keyword searches to find work-related content. Perhaps most impressively, 93 percent indicate that online resources, including websites and search engines, are valuable sources of information for the latest engineering trends, products and technologies.
These numbers paint a clear picture: If you're not investing in Inbound Marketing designed to attract, convert and delight the prospects who are researching your company right now, you're already at a disadvantage to your competitors, and the situation is only going to get worse.
Fortunately, engineering firms can definitely benefit from setting up and executing an Inbound Marketing campaign Use these five (5) Inbound Marketing tips to craft a comprehensive process that attracts and converts more prospects than you ever thought possible and keeps them coming back to your firm time and again.
1. Segment Your Audience into Buyer Personas
The first step to a successful engineering firm marketing campaign is to segment your potential clients into buyer personas. Buyer personas are representations of ideal buyers. Each persona includes information about the buyer's demographics, work role, motivations, personality and overall receptiveness to sales overtures.
Remember, "people" within a company are the ones making buying decisions, not the company itself. So you want to fully understand the persona of the person making the buying decision.
This information helps you create compelling marketing messages for each persona. Because you can't expect a middle-aged, C-level executive to have the same mix of motivations, pain points and sales receptiveness as a young government buyer, it's important to keep your personas straight and tailor your content accordingly.
2. Optimize Landing Pages to Target Each Persona
Once you've identified your core buyer personas, set up and optimize landing pages that cater to them. The content on these landing pages should speak directly to each persona's profile, attracting them into your sales funnel and converting them into legitimate leads. These landing pages should also be set up to track traffic sources and analyze the effectiveness of the various marketing campaigns that lead to them.
3. Fill Your Landing Pages with Compelling Content Offers
Every prospect that arrives on a landing page represents a conversion opportunity. Make the most of this opportunity by presenting compelling and irresistible content offers.
In this context, successful content marketing materials tend to be comprehensive, authoritative and highly educational. They actively educate your prospects, communicating concepts and facts that they either weren't previously aware of or had never thought about in that particular fashion. Case studies of clients relevant to the targeted persona and eBooks about engineering trends or concepts tend to work well as successful content offers.
For your purposes, it's critical to make your content offer conditional on an email signup. By collecting contact information for every converted prospect, you clear your sales funnel of friction-causing obstructions and set up a straight path to close the deal.
4. Use Email Marketing to Keep Prospects Engaged
In the engineering world, converted prospects need time to come around and close the deal. Use an email marketing tool to organize and schedule regular emails in a variety of formats: company newsletters, product updates and personalized reminders. Although it's important to not over-email, regularly delivering fresh content to prospects' inboxes can make the difference between a high close rate and a frustrating number of abandoned sales.
5. Keep Your Blog Fresh and Engaging
A blog on your website is another great way to keep prospects and customers engaged with your company. Use it to highlight company-centric news as well as industry trends that might be of use to your audience. And you can use the other Inbound Marketing tactics listed above such as email marketing, search engine optimization and social media, to attract readers to your blog.
Ready to Learn How to Market Your Engineering Company?
With these five marketing tactics for engineers, you'll find yourself well on your way to a comprehensive, effective inbound campaign that keeps your engineering firm one step ahead of the competition.
Of course, there's more to Inbound Marketing than these five tips. If you're serious about giving your engineering firm the edge it deserves, you'll want to dive a bit deeper into the inviting waters of B2B lead generation and conversion optimization by downloading the free eBook "Discover How to Grow Your Engineering & Construction Firm Through Inbound Marketing" now.
Sources: AdWeek and Acquity Group
Free Consultation
Get your free consultation with digital marketing & sales experts.
Get Started