Xcellimark Launches a New Website with Modern Design & Third-Party Integration for Averett Warmus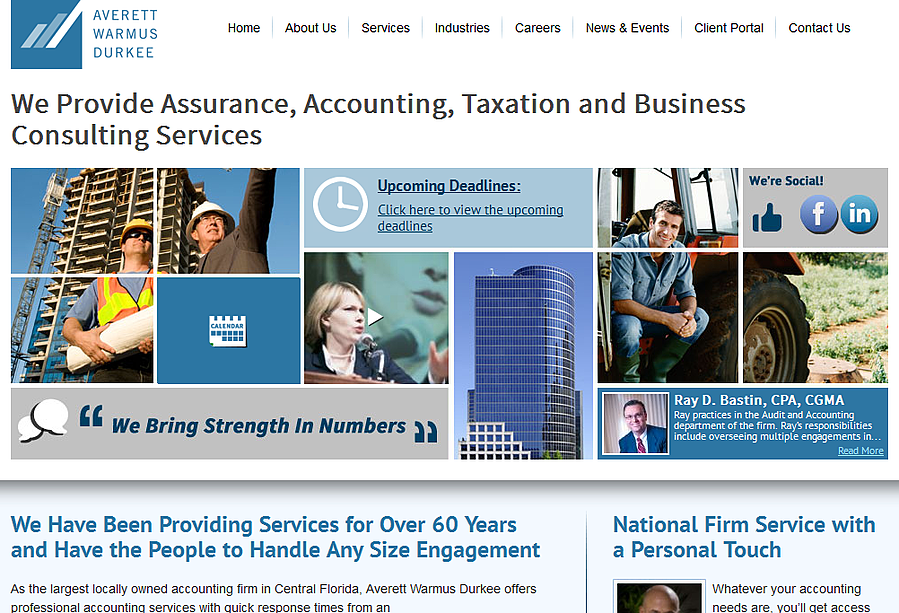 Orlando interactive digital agency Xcellimark recently launched a new website for one of the largest CPA firms in Central Florida, Averett Warmus Durkee (AWD). The new site's design now matches the quality of service that the firm has been providing for clients for over 60 years. In addition to the improved design, there is new functionality that allows content to dynamically change and update, so that the user-experience is never stale or repetitive.
"It was an honor to work with one of the leading CPA firms not just in the Orlando metro area but throughout Central Florida. Our goal was to upgrade their online brand image to match the superior financial services offered by AWD. In addition, we wanted to incorporate valuable resources such as their guides and customer portal so that their website could provide customer service when its convenient for their clients. We also incorporated social media networks and video into their website to not only expand their reach but communicate with their target audience in their preferred online communities and media formats. You see very few CPA firms engaging with their clients in this way today. It's just another example of why AWD is one of the top CPA firms in Central Florida," said Scott Lambert, President of Xcellimark.
Custom Design
The most noticeable difference from the previous site is the tiled header on the home page. AWD requested the site resemble the new Windows 8 layout, with easy to use tiles or blocks that hyperlink to different areas within the website. These blocks are interactive and respond to the rollover of the mouse's cursor. One of the blocks dynamically pulls in staff bios from the "Our Team" directory, so that a different employee is featured on the home page at any given time. This happens automatically, with no manual initiation required.
Third Party Integration
Xcellimark also integrated third-party widgets from BizAction (http://www.bizactions.com/) that dynamically feed in syndicated content to AWD's new website automatically. This way, site visitors can read new articles or watch new videos. This makes the website "sticky," i.e. giving visitors more reasons to come back to the website or to refer friends. Visitors can also subscribe to receive multiple e-newsletters based upon different industry-related topics. The subscription information entered by the user automatically feeds into BizAction's e-mail marketing management and deliverability system.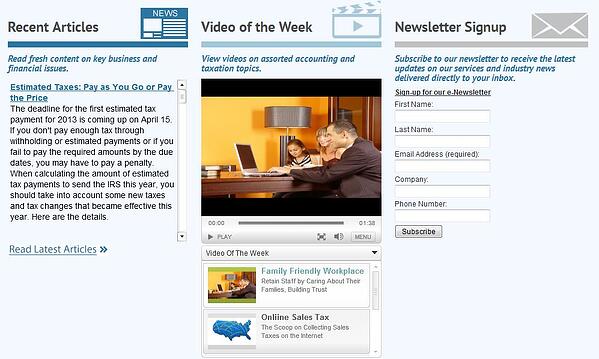 Search Engine Optimization
Search engine optimization comes standard with any Xcellimark web development project so extensive research was done on AWD's ideal prospect and how they go about searching for CPA services online. Targeted keyphrases and search terms were identified, then strategically placed within the website coding and content to optimize the website for search engines. This makes it easy for search engines, such as Google, to easily identify the relevancy of AWD's website and increase its likelihood to rank for targeted search terms and keyphrases.
Easy-to-Use Content Management System
AWD requested the ability to add, delete, and edit pages on their own so they could make changes to the website after the launch. Xcellimark built in an easy-to-use Content Management System (CMS) that allows non-technical AWD employees to make content changes to editable regions within the site. After some training provided by Xcellimark, AWD employees already added several pages on their own, easily adding their own content and uploading their own images.
About Xcellimark
Xcellimark focuses on what really works in custom website design, search marketing, social media, email marketing and campaign optimization to improve clients' online image & performance, increasing online leads and improving branding. For more information on how Xcellimark can help you improve your bottom line, contact Scott Lambert at 407-678-3062 ext. 210 or visit www.xcellimark.com.
About Averett Warmus Durkee
Averett Warmus Durkee was established in 1989 when the founders left an international accounting firm to start their own company. Today, they take great pride in delivering a broad range of services to their clients.
In July 2010, the firm merged with Osburn, Henning and Company. The merged entity, Averett Warmus Durkee (AWD), now has approximately 100 employees and provides assurance, accounting, tax and consulting services to clients throughout Florida and the Southeast.
Free Consultation
Get your free consultation with digital marketing & sales experts.
Get Started