Conduct an Online Competitive Analysis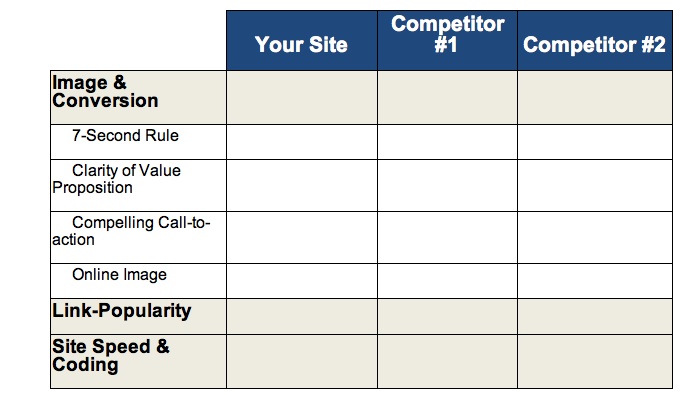 Most people believe they know who their competitors are. Your offline competitors are often the companies that you run into at the tradeshow or in the RFP process. However, your offline competitors can be entirely separate from your online competitors.
Your online competition is the businesses that appear in the search engine results when your ideal prospect is using relevant search terms or keyphrases related to your business. These businesses may not even offer the same services you provide; however, they are getting the attention of those that you need to engage. So, it's important to identify who these companies are and evaluate them from a competitive perspective.
Once your online competitors are identified, compare their websites to yours. How well do they communicate their value proposition? What incentives do they offer? What are their call-to-actions?
There are tools available that will help you identify characteristics of your competitors' websites that are not perceivable within the user experience that impact the company's ability to rank among the search engines. These variables include the website's link popularity and site speed.
It is important to evaluate your competitors from every angle when putting together your blueprint for success. This will ensure that your plan is relevant to your market's competitive landscape.
You can use the spreadsheet below to compare your website to those of your competitors. Input a grade into each field to see how you measure up on each category and/or element. Let us know how your website scored in the comment section below.
And don't forget to come back to the blog next week for Part IV of this article.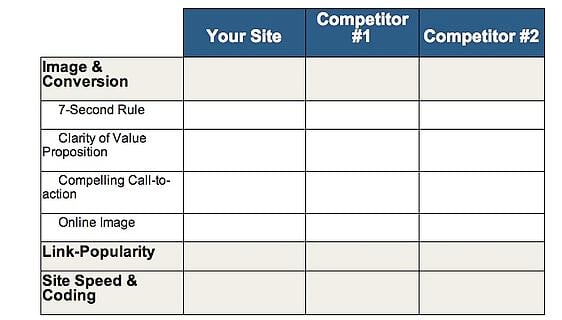 Free Consultation
Get your free consultation with digital marketing & sales experts.
Get Started