Do Your Customers Trust You? Here's What You're Missing If They Don't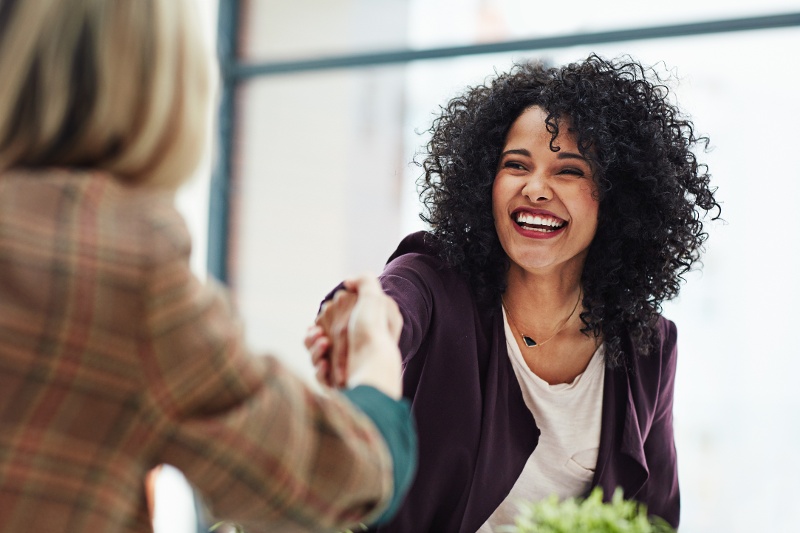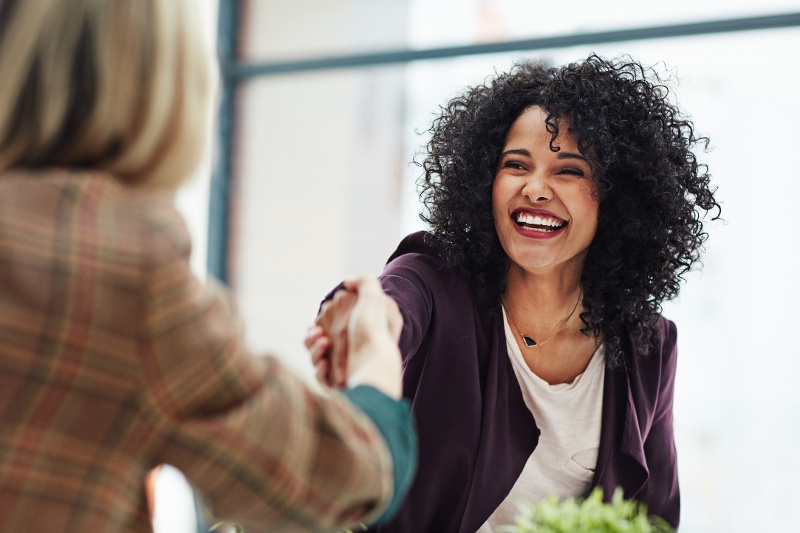 2020 has been a year of change and adaptations.
Customers are now more skeptical than ever due to a rise in scam calls, webpages, social media, and even job scams.
Privacy is thinner now that Zoom sales calls are inviting strangers into your home. Your customers now know all about your decorating style, pets, children, and more.
Most people are uncertain about their future and, as a result, are more careful with financial or investment decisions right now.
Some customers are thriving, while others are struggling. Everyone is trying to figure out how to build customer trust and convince them to move forward in the buyer's journey.
Customers universally agree that they want companies to put their needs first. They want to know:
their data is protected
your services will generate the results you promised
you'll do whatever is needed to live up to your promise to them
In 2020, "89% of consumers want brands to shift money and resources to producing products that help people meet pandemic-related challenges to earn or keep trust." They want to know that you hear their problems and you're willing to help them.
However, there is one simple truth — the problems in your sales and marketing process weren't caused by 2020. As the world shifted around us — trust-related problems were simply magnified.
At a young age, we're taught not to trust strangers who want something from us. As we grow, we learn not to trust in anything that sounds too good to be true.
"Don't take candy from strangers" became a part of our core decision-making foundations. That mantra followed us into adulthood.
We are taught things like:
Salespeople are just trying to rip us off
Not to trust links in emails
Don't trust anyone wanting your credit card information
Don't give out your phone number
— just to name a few.
The solution?
STOP being a stranger. Focus on building trust with your customers before you ask for a sale.
"On a fundamental level, a consumer will only buy from a business if they believe they will fulfill their basic promises by delivering the service or product with the promised parameters (time, quality, returns, etc.)" — Neil Bayton, Head of UK Partnerships, Trustpilot
We know you're asking yourself right now — how do I do that, how do I build trust?
That's what we're going to help you with.
In the following article, we'll:
Discuss why brand trust is essential
Show you some companies who have earned trust in creative ways
And discuss 7 ways in which you can start building your brand trust today
So… let's get started!
What is Brand Trust?
Brand trust is the trust a customer, client, or consumer has for the company's products or services. In the past, people tied brand trust to practical things like a product's durability and safety.
We've seen a shift in brand trust, as these days, it's strongly tied to a business's values. Edelman's Brand Trust in 2020 report shows the change in values and the consumers' need for authenticity from the company.
Only 24% of respondents stated that they find celebrities to be a credible spokesperson for brand trust. 59% said they would trust a person more like themselves. 77% said that trusting a brand in today's pandemic is more important than it was in the past.
Why is Brand Trust Important?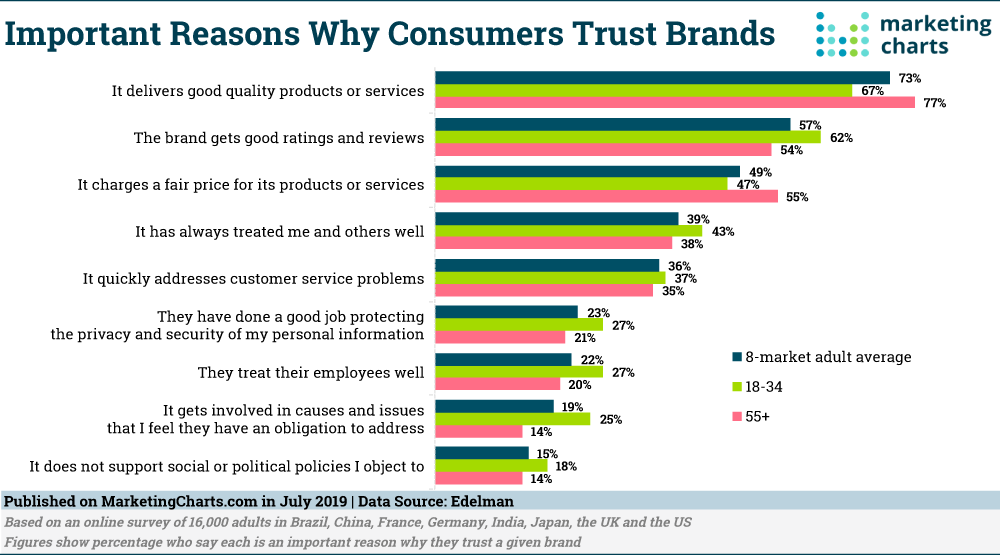 In 2019, 33% of Americans said that "trusting a brand is important because they are struggling financially and cannot afford to waste money on a bad purchase."
In 2020, it's fair to say that this number has likely increased due to the events around us. Jobs were lost and employee's pay got decreased. While many turned things around and are thriving, this is not the case for everyone.
Brand trust is more important now than ever. Here are 2 reasons why:
Brand Trust Impacts Buying Decisions
81% of consumers stated that trusting a brand to do the right thing is a deciding factor in their purchase decisions. Quality, convenience, and value were the most commonly cited reasons.
Brand Trust Drives Loyalty
If a customer trusts a brand, they tend to remain loyal to that brand. 82% of consumers reported that "they will continue to buy a brand they trust, even if another brand suddenly becomes hot and trendy."

Consumers will also recommend the brand if someone asks. More than 50% of consumers said they would pay more for a product/service they trust even if a competitor is getting better reviews.
4 Companies Who Have Built Trust Creatively
Think it's impossible to create brand trust today? Think again because these companies got creative and did just that.
Example #1. Daymond John
Daymond John, known as "The People's Shark," is an entrepreneur that started his career by turning a $40 budget into FUBU — a $6 billion fashion company. He is an investor Shark on the 4-time Emmy Award-winning show Shark Tank. He is also a New York Times best-selling author, guru of branding, and a highly sought-after speaker.
Daymond was interviewed during the Digital Marketer 21for21 Challenge. He shared a powerful example from a company that pivoted and grew.
In the interview, Ryan Deiss asked Daymond:
"If you look back at 2020, thinking about everything that's happened this year — what's one really big thing that you've learned or had to relearn this year that you plan to take into 2021 and even make a theme of 2021?"
Daymond responded:
"Know your why. What are you really selling in your business and in your brand? What are you promising somebody? If you're a gym, you may think you're selling gym memberships.

No. You're selling someone a healthy lifestyle. We talked with someone that said he couldn't get people back in his gym and was worried they'd cancel their memberships. So he sent his customers machines that he had and said 'that's part of your membership.' He went to stores in his area that sold exercise clothes and said 'I'm going to let you market to my members and I want you to give them 20% off and give me 10% of those sales' — and that worked.

Then he started doing cooking classes and workout classes on his phone as part of their membership — and that worked too. His number of members went from 2,000 people to 3,000 people because he was over-delivering on his promise of a healthy lifestyle instead of just trying to sell memberships. So what is your core value?"
Why This Trust-Building Example Worked:
When you get a clear understanding of your why and show that you are putting your customer first, they'll feel that you genuinely care about them. They'll see that you care about their results and you're willing to do what you can to help them get where they want to go.
Example #2. Lemonade
Lemonade is an insurance company that set out to reverse the traditional insurance model. "We treat the premiums you pay as if it's your money, not ours." They say they pay your claims super fast, charge a flat fee to run everything, and when there's money left over, they give it back to causes that matter to you.
Daniel Schreiber, CEO at Lemonade, knows that the existing way we work with insurance companies is flawed. They set out to change that model and use AI to help.
"It's easy to have a high Customer-to-Human ratio if you're willing to let customer satisfaction pay the price. "Your call is important to us and will be answered in the order in which it was received" is a magic formula for high-efficiency-low-customer-satisfaction.

Which begs the question: Is Lemonade's efficiency achieved at the expense of customer satisfaction?

The answer is 'no'. The beauty of technology is that it can improve efficiency and customer satisfaction concurrently. When "AI Jim" pays a claim in 3 seconds, without involving "human Jim," he's being super efficient and delighting consumers. And it's showing up in the numbers: clearsurance.com, 'the trusted and independent voice of the insurance consumer', tracks customer satisfaction for the 270 companies in the US offering renters insurance. Get this: Lemonade ranks #1."

They are also so transparent with their company they have a whole page devoted to transparency. They share the things going on with their company on this page, showing what they did right and wrong.
Why This Trust-Building Example Worked:
You don't see too many companies that are this transparent. They make it well-known that they want to build a better experience for their customers. Then, they continually let you behind the scenes to see how they're doing it. This transparency works for building brand trust because consumers will feel like the company does not have anything to hide and is committed to being there for them.
Example #3. Hootsuite
Hootsuite is a software company which allows their customers to schedule their social media posts easily. Their goal —
"To help organizations build enduring customer relationships at scale. Social media is the center of your customers' online life. It's where they discover products, consume media, and connect with like-minded people.

But connecting with customers is just the beginning. Social is an incredibly powerful platform to build strong internal cultures, uncover emotionally-rich consumer insights, and unify the customer experience across channels and departments."
A few years ago, Hootsuite jumped on the mean tweets trend and read their mean tweets from users about their dashboard within the software.
They read some brutal tweets, including:
"You know what's great about @Hootsuite? Everything except the design. It looks like something my kid slapped together."
"@Hootsuite's UI looks like crap!!!!!" — Helen Park, Senior Designer for HootSuite read this one and responded with "The problem is, I agree with this…"
"@Hootsuite, get with the times. UI is supposed to look good these days!"
They followed this up by quickly listening to their customers and showing them that they would be making the changes to fix the trouble spots.
Why This Trust-Building Example Worked:
They built brand trust because they listened to their customers and took action to make some changes. They gave their customers the confidence that they'll respond positively in the future.
Example #4. Harmon Brothers
The Harmon Brothers are the video geniuses behind Squatty Potty, Poo-Pourri, Purple Mattress — and pretty much every engaging, weird, funny, and laughable viral video ad you've probably seen lately.
When COVID hit, they came up with the $100K Poop Gold Giveaway to give back to other businesses. The purpose of the prize was to give businesses "some much-needed growth and a shot of creativity in these crazy times."
Benton Crane, CEO of Harmon Brothers, was recently interviewed during Digital Marketer's 21for21 Challenge. He stated that they stumbled into how effective the $100K Poop Challenge Giveaway was for generating new business.
"I'm remembering those experiences and feelings for all the entrepreneurs in 2020. We started asking ourselves, you know, we've been really, really blessed, and how can we give back and how can we help some other entrepreneurs?

That's when we did this. We didn't set off and say, like, how are we going to do our own marketing for 2020? We were just saying, how can we give back and how can we help?

We didn't go into this intending this to be marketing for Harmon Brothers. However, as the dust settled, we started to realize that we had at least an 8x return on investment from the directly trackable results.

As we look at 2021, we don't want to change our motives and say 'Let's go give something so we can get' — but instead we're looking at a business model that allows us to be very giving and very generous. We can continue that attitude and that approach and it's a very sustainable business model."
Why This Trust-Building Example Worked:
They created trust by showing their customers that they understood what was going on with them and the world today and set out to make a difference, not a profit.
How Do We Earn Brand Trust?
We know that trusted brands are reliable and consistent. Customers know what to expect from these brands, and they don't experience any negative surprises. Now you need to know the tactical steps you can take to start building trust with your customers.
Know Your Brand-Trust Goals
Know your goals. Do you want your customers to be glowing with reviews on your site? Do you want them to recommend your products or services to their friends and family? Do you want loyal customers who return time and time again? Whatever your goals are, write them down.
Be Authentic Through Brand Storytelling
Be authentic. Authenticity is proven to be the heart of trustworthiness. Consumers do not want sales pitches. They don't want to hear the marketing jargon or your "key benefits." They want to know you and your brand. Be authentic by telling stories and being present.
Offer Consistent Customer Experience
Be consistent. Customer service is critical to any business. It's a transactional relationship. Service teams answer customer questions, help them pick out the right product, or help with troubleshooting problems.

But if you take it a step further, the customer service experience is their journey through your brand. When done correctly, it gives your customer a personalized, high-quality experience that demonstrates you understand them and their needs. Good customer service creates loyalty.
Focus More on Relationships than Conversions
Switch your focus. It's easy to focus on conversions because that translates into sales. But focus more on customer relations than the bottom line right now. Wunderman Thompson found that 56% of consumers are more loyal to brands that "get them" and have a deeper understanding of their preferences and priorities.
Be Transparent
Embrace transparency. Business transparency is a critical factor in creating trust. Transparency shows your customers the truth about your brand - its products and services - so that they can determine if you're worth buying from. Reach Solutions found that 58% of consumers won't trust a brand until they see "real-world proof" that the business does what it says it will do.
Build Proof
Show your customers proof. A Nielsen study showed that 92% of online consumers trust family and friends' recommendations above other advertising forms. This study shows that peer reviews and social proof are more relevant than ever. In a more recent survey, BrightLocal survey, respondents stated that they read an average of 10 reviews before feeling like they can trust a business.
Appoint A Brand Trust Lead
Brand trust is a big deal, and it's time to be proactive about it. Your brand trust relies on what you say to your customers, how you say it to them, and how you respond to their prioritized needs.

It's communicated through your transparency - how you own up to your mistakes and inject your personality - and how you show them you're prioritizing customer relationships over sales.

Building trust is never easy, but it is not worth the risk of leaving it to chance. That's just not going to cut it for your business anymore. If you are proactive and take the necessary steps to own it, customers will choose you over the competition, and if you maintain their trust, they'll remain loyal for the long haul.

Your brand trust lead is responsible for ensuring that your brand's goals and visions outlined here are well detailed. They'll know how you want to be perceived and work towards achieving trust.

The lead will develop blueprints and protocols for how your business can achieve trust from your customers through your content, across your marketing activity, and in your customer service. They'll also monitor and evaluate your brand's perceived trust and continue to note changes, continually improving the brand.
Let Us Help You Establish Trust With Your Customers
We've been around the Internet since the early days of Yahoo! And AltaVista, before Google was even a thing. We've successfully helped companies navigate local, national, and global changes that rocked everything they knew — and we've been doing it for decades.
We know a thing or two about establishing a solid foundation with your customers to withstand anything the future throws at you or them.
Building trust takes time, but it's essential in today's changing markets. You've learned why trust is important and seen how some of the top companies are getting creative to build trust. Now it's time to learn some tactical tips you can put into place to help you build trust.
Sign up now for our upcoming webinar on Building a Brand People Can Trust.
In this webinar that we're co-hosting with HubSpot, we will cover more in-depth steps and resources to help you crank things up a notch and build trust with your target audience.
Free Consultation
Get your free consultation with digital marketing & sales experts.
Get Started