Don't Settle For Ranking Only Once on Page 1 Search Results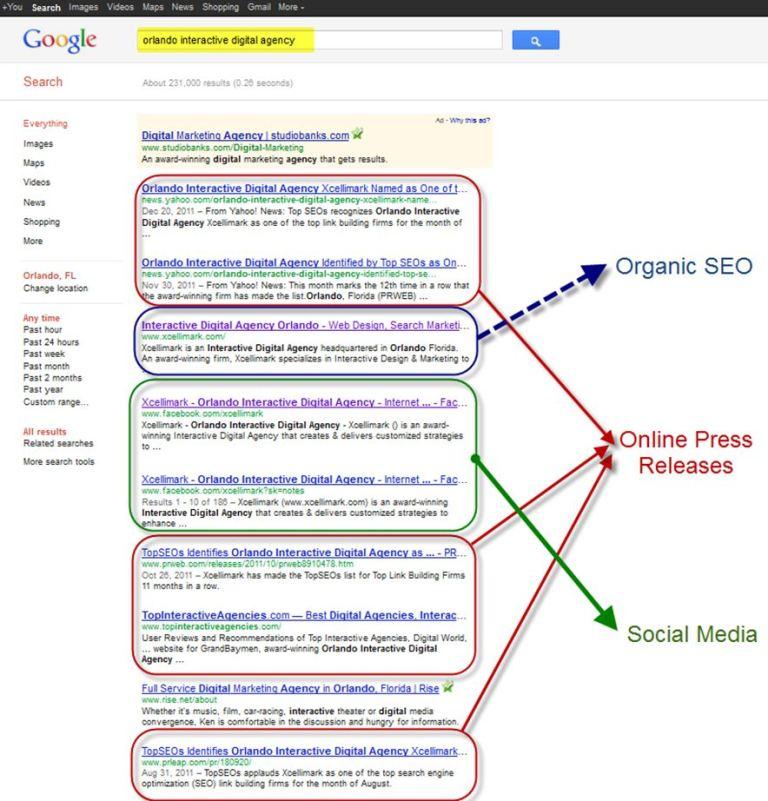 Many businesses and online marketers are happy to have their website rank once on page 1 of the search engine results. However, it is possible to have more than one search result listing on the first page. In fact, it is possible to dominate the page 1 rankings for keyphrases that are relevant to your business – keyphrases that your target audience is using when actively researching your products and services online.
Multiple Listings Gives You an Advantage Over Online Competitors
Multiple page 1 search results for a single business or brand dramatically increase the likelihood of an online searcher clicking on your link and being directed to your website or your Facebook page or your blog article. Also, having multiple listings on the first page of the search results pushes your competition further down or even off the page 1 results.
By completely saturating the search engine's page 1 results, you build legitimacy in the mind of the online searcher within that search term's category. It is a clear statement that your business is the most relevant and credible choice within your market and competitive landscape.
An Integrated Approach is Best to Boost Search Engine Rankings
Some people think this is just a dream, but this strategy requires an integrated approach. Google's search algorithm now requires that businesses engage in a multi-facetted strategy that includes tactics that span diverse specialties including blogging, copywriting, coding and programming, directory submissions and social media engagement. By turning multiple cogs, you can dramatically generate online exposure on several online platforms that pours into expansive search engine rankings.
If We Can Do It, So Can You
As you can see in the screen shot below, Xcellimark is able to dominate the page 1 rankings for the search term, "Orlando interactive digital agency." It is important to note that this search term or keyphrase is a non-branded keyphrase. It does not include the word, "Xcellimark."
Xcellimark has identified this keyphrase as a relevant keyphrase for those likely to need Xcellimark's services. In response, Xcellimark has implemented an integrated online marketing strategy to dominate the page 1 rankings for that keyphrase. As you can see, Xcellimark-related search results make up 8 of the top 9 search results.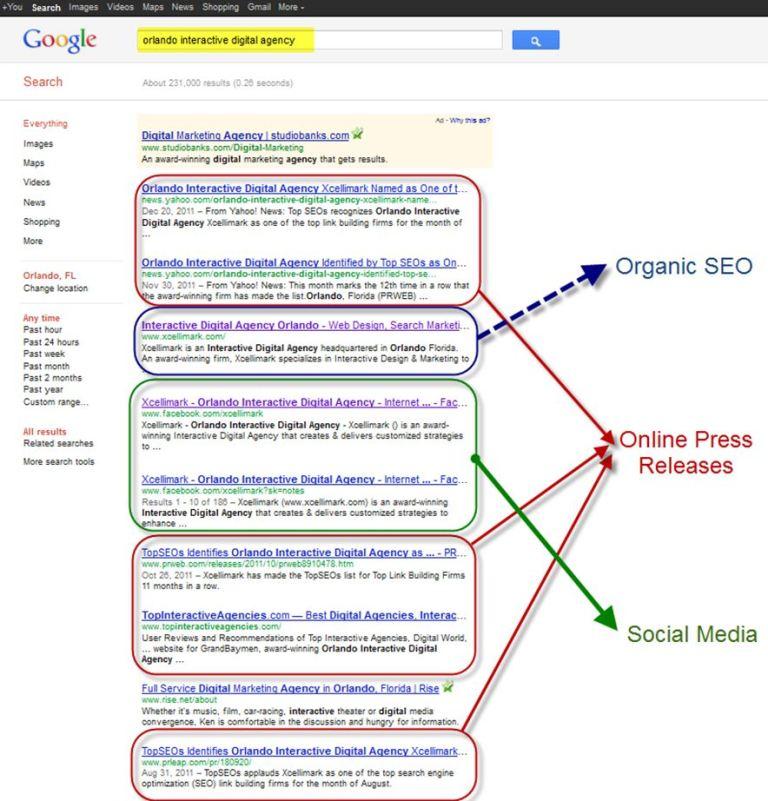 Strategic Optimization & Distribution is Key
Through optimizing and distributing branded content such as online press releases about Xcellimark, information from Xcellimark press releases ranked 1st, 2nd, 6th, 7th, and 9th on the page 1 search results. By optimizing Xcellimark.com's coding and content, as well as building incoming links back to the website through directory submissions and content marketing, Xcellimark's website ranked 3rd on the page 1 search results.
And by optimizing and engaging on the social media platform Facebook, Xcellimark's Facebook page ranked 4th and 5th on the page 1 search results. All of these strategies resulted in compelling and effective search rankings and online exposure.
If your website and/or company only ranks once, or not at all, on the page 1 search results for targeted keyphrases, contact Xcellimark to find out how you can implement an integrated approach to online marketing. Our comprehensive and measurable marketing strategy helps you generate leads, increase business growth and enhance customer acquisition performance.
Free Consultation
Get your free consultation with digital marketing & sales experts.
Get Started