How To Boost Your Business Right Now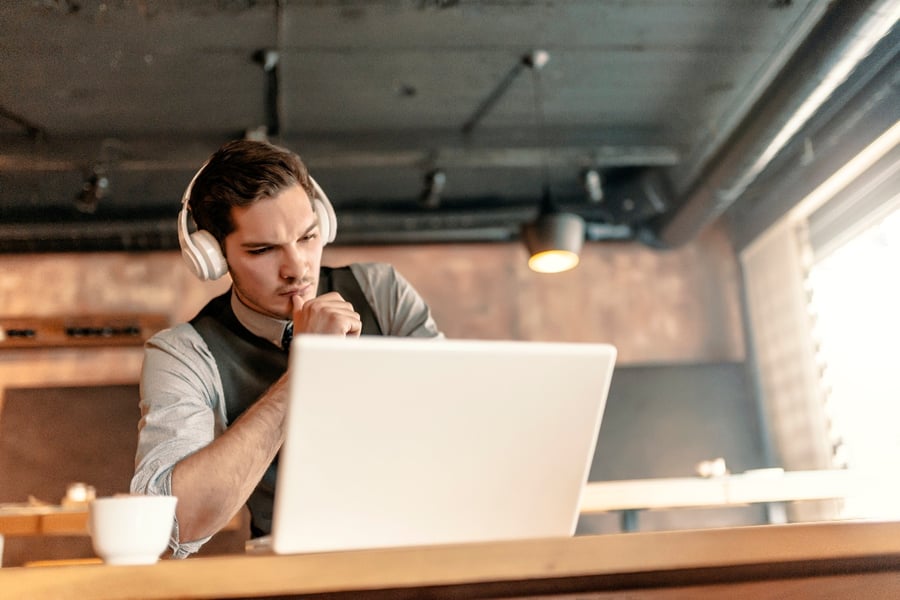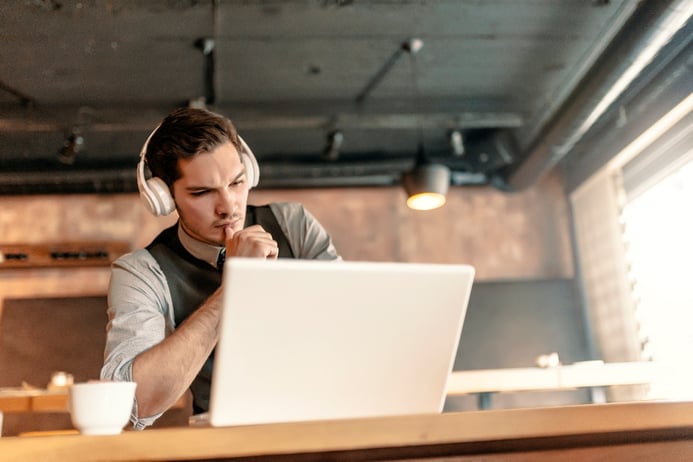 The COVID-19 crisis is impacting every business, organization, and the people they serve. Your buyers are spending more time online now than ever before. It's the place where people are going to stay connected.
It's also the place where business is now being done.
While this worldwide crisis will hopefully end soon, it will likely have a lasting impact on businesses. That's because people are moving to the internet for every interaction, both personally and commercially. And many people will naturally continue to operate this way even after the crisis is over.
That could profoundly change things for many businesses going forward. Are you ready?
Companies that are not accustomed to interacting online are finding themselves at a real disadvantage. Is your website up-to-date and easy to navigate? Do your salespeople have the tools they need to interact and sell online?
Do you even know where to start with all this?
Now is maybe the most critical time for your business or organization to update its website and use the digital channels that your prospects, customers, and employees are using to research, communicate, and engage with your company.
It's imperative that you act now to get the tools you need to be successful in this online environment.
Here are seven (7) things you should do immediately to get through this complex time with your business intact: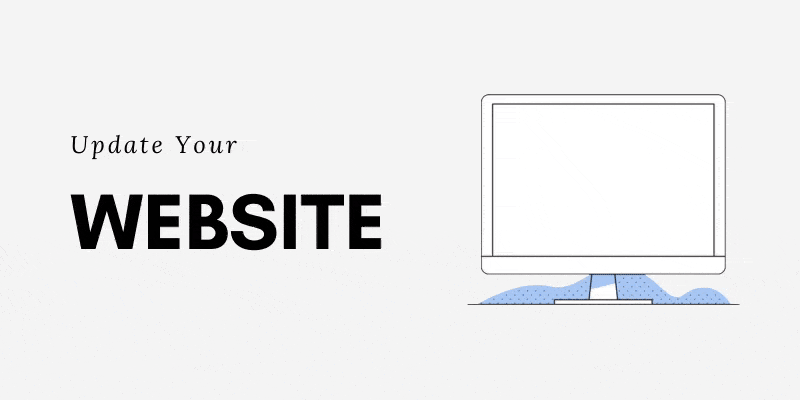 #1 Update Your Website
Your website is now your storefront. No one is walking through your door and they are not going to let you into their office either.
It is essential that your website be welcoming, informative, and up to date.
Identify all the information your buyer seeks and consumes throughout their buyer's journey as they evaluate and, ultimately, decide on your type of product or service.
What information do your customers need to know about your company, your products, your services, and how you can support them online?
Articles are a great tool to use for frequent updates. You can create a knowledge base for your prospects and customers so they can find what they need on your website as they search for answers to their questions.
Add a chat feature so you can quickly talk to anyone who lands on your webpage. Think about adding a help desk where customers can submit a "ticket" with a question or issue when they need assistance. A ticketing system allows you to track your responses to ensure you are giving your customers great service.
Take some time to review your site and think about what your customers and prospects need. Then, update the site to be as full-service as possible.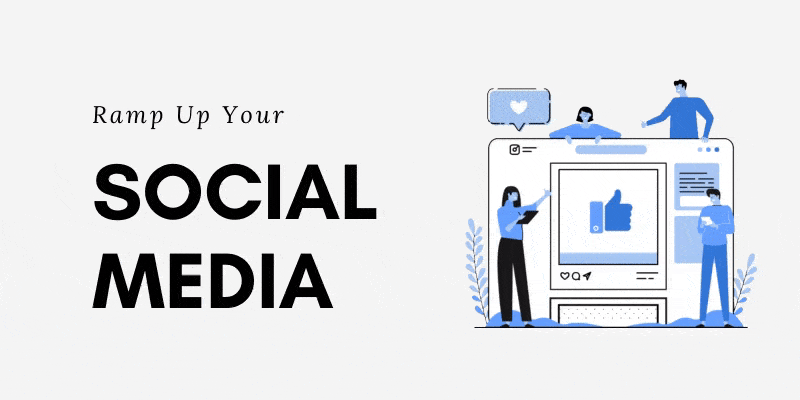 #2 Ramp Up Your Social Media Communications - Quickly
One of the most popular online activities that people use to connect with others, including businesses, is social media. According to Statista, in the U.S. alone, 79% of the population has a social media profile.
Businesses must be active in the primary social media channels such as Facebook, LinkedIn, Twitter, Instagram, and YouTube. Plan on writing 5-10 social media posts for every website article you publish and schedule them to post over several months.
Your social media posts will continue to stimulate engagement for each article and will allow others to interact with your company and your website.
It's helpful to have a platform such as HubSpot that allows you to track your posts and interactions on your social media profiles. You can test to see which platform works best for you. Discover what messaging inspires more people to engage and interact with your social media updates.
You can also use social media to have live chats or meetings. For example, many churches are now streaming their services online through various platforms, including Facebook Live.
There is no reason to stop that practice once we are all cleared to meet face-to-face again. It's a great way for anyone who is sick and can't attend to still feel a part of the group.
So, if you thought social media was just for young folks or grandparents keeping up with their grandkids, you are way behind the times. People use social media every day to research products and services - and the companies associated with them.
Social media could become one of your best friends right now as everyone is trying to stay connected. If you haven't been active already, get started now and keep it going in the future.
Need help understanding how to best use social media as part of your selling process?
Here is an excellent course on social selling.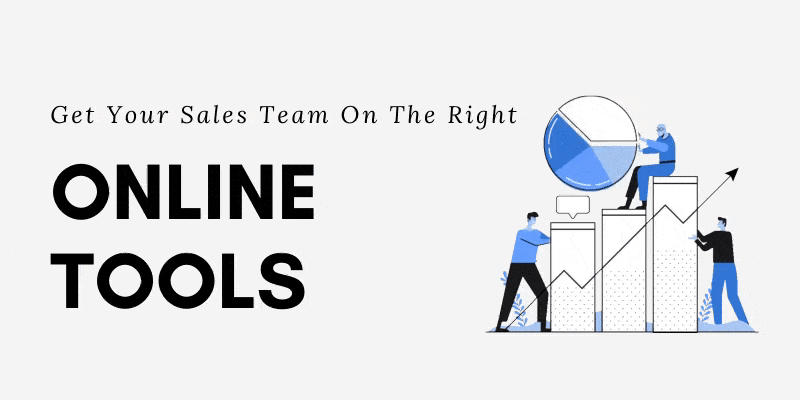 #3 Get Your Sales Team the Online Tools They Need to Work
With today's social distancing, face-to-face interaction is dwindling to almost zero. Instead, outside sales reps must become excellent inside sales reps.
Therefore, you need to provide them with the most effective tools that will enable them to communicate and engage with your prospects and leads.
Two of the most critical tools for your company, both now and in the future, are a CRM and video conferencing.
HubSpot's CRM is free so it's easy to get started!
Don't have a CRM yet?
Click here and we'll help you get started with the free version of HubSpot's CRM. It allows you to keep all your prospects, leads, and customer data in a centralized, cloud-based CRM. This is a must-have for your business.
Video meetings and conferencing tools such as Microsoft Teams, Zoom, Vidyard, Facebook Live, and GoToMeeting enable your sales team to continue to meet and engage online with your prospects and customers.
Your virtual meetings can be just as productive as face-to-face meetings by using the built-in camera on your computer or an inexpensive plugin camera.
With HubSpot, you can even send personalized video emails using the Vidyard integration, allowing you to talk through an update or answer a question as if you were talking to the person live.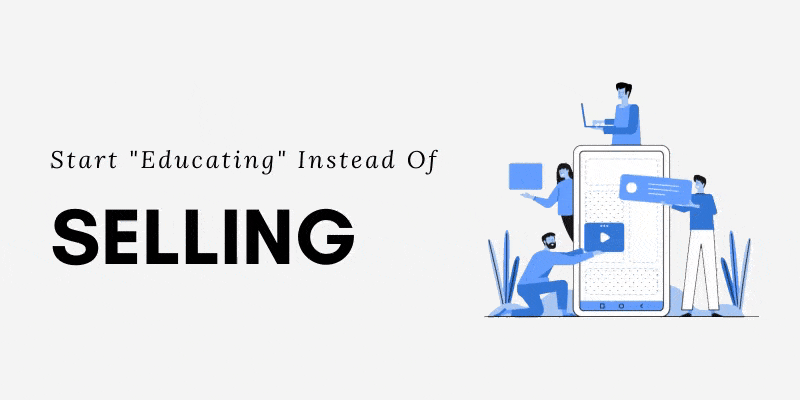 #4 Start "Educating" Instead of Selling
The companies that will win are the ones who create content that is educational and helpful. This type of content builds trust, demonstrates your thought leadership, and reveals your expertise.
People buy from companies they know and trust. Your educational content helps to build that trust with prospects who are researching your products and services.
Write content that answers your target audience's questions and helps to solve their problems.
You can feature your educational content on your website, blog, social media, or through a podcast. These are not exclusive – repurpose your content for each of these platforms so people can find your information wherever they are researching online.
Not sure if you or your team are experienced enough to know how to fully utilize digital marketing? Here's a digital marketing certification course that will help you and your team become digital marketing professionals.
At the end of the course you will receive certification from both the AMA and the Digital Marketing Institute.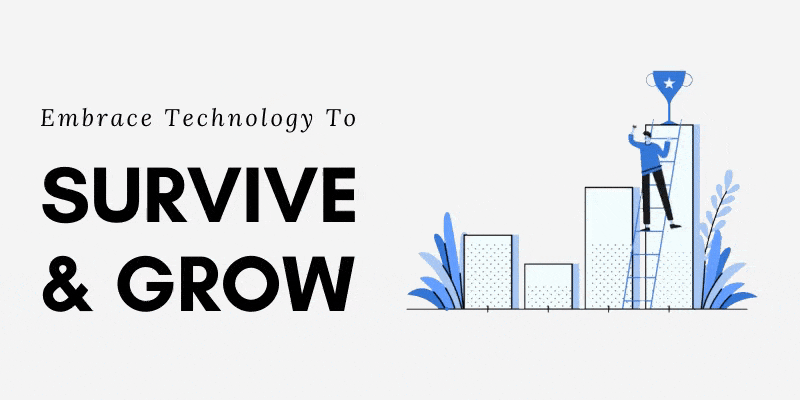 #5 Embrace Technology to Grow and Survive a Potential Recession
Companies are going to struggle as foot traffic dwindles. Hopefully, this will be short-lived, but you should invest in the technology you need to have a robust online strategy. The right technology tools are essential for a strong online presence.
Here are some online tools that can significantly help your marketing, sales, and customer service teams:
Conversations Inbox
This is the Live Chat mentioned earlier that you need to have on your website. It enables you to easily deliver remote support for both sales and service teams. In fact, according to Statista, the average customer satisfaction rating for live chat globally is 83.1%. And according to Kayako, 79% of businesses say that offering live chat has had a positive effect on sales, revenue, and customer loyalty.


Knowledge Base
Adding a Knowledge Base to your website enables your prospects, partners, and customers to self-serve on your website, finding answers to questions they may have about the benefits of your products and services. What's even more helpful is the ability for your Chat box to pull up Knowledge Base articles right in the chat. Go all in by combining these two features together.


Workflows
Automating your manual processes to make sure no prospects slip through the cracks is a great time saver. It reduces the manual labor required in many marketing, sales, and service organizations. It also helps keep you in front of your prospects by providing a means to send lead nurturing emails. Task reminders and internal notifications of "next steps" help keep your team on task and moving forward.


Mobile Friendly
Optimizing your website and every piece of content you publish for all mobile devices is an absolute must. More and more people access the internet through a smartphone or tablet. If your site is not responsive for mobile, your brand (and possibly sales) will suffer. This is no longer a good-to-have, it's a must-have.


Integrations
Integrate your tech platforms where possible. We use somewhere between 60-70 tech tools inside my company. Three (3) fully integrated software platforms house over 90% of all of our tools – HubSpot, Microsoft, and Intuit. They are all in the cloud, secure, and have guaranteed uptimes of 99%. Stop logging in and out of technology silos that each do one small aspect of your business, marketing, or sales operations. Get the technology tools that integrate them into one (or two) robust platforms.


Communicate and Collaborate Online
Everyone has email, but it can get messy with long strings of back and forth communication. Use Live Chat on your website and online collaboration tools like Microsoft Teams or Slack to streamline your communications.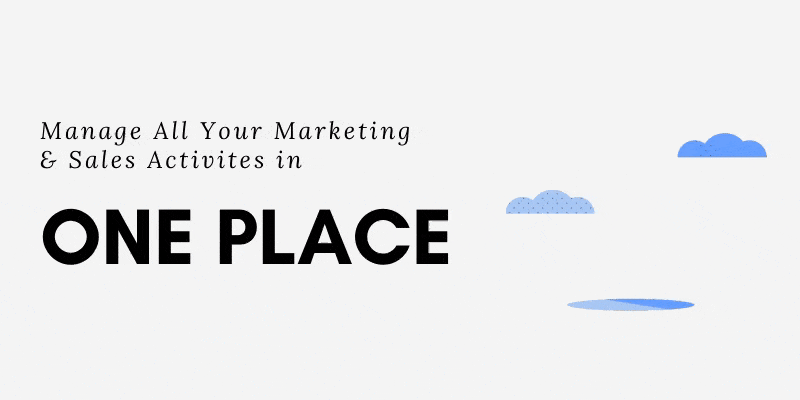 #6 Manage All Your Marketing and Sales Activities in One Place
Multiple marketing and sales teams working in virtual or remote locations can be a big challenge. Planning and executing marketing and sales activities now requires online collaboration, communications, approvals across a broad spectrum of content, ads, emails, social media, chats, presentations, proposals, file storage, invoicing, and payments.
No problem! You can do all this online now!
To pull this off, you need a fully integrated digital marketing system that enables you to do this efficiently and effectively. We use HubSpot for this because it's an all-in-one marketing, sales, and customer service CRM platform that helps our employees be the most effective in all their activities.
In fact, HubSpot is the leading cloud-based platform that is highly secure and includes a 99.9% guaranteed uptime.
Learn more about HubSpot here.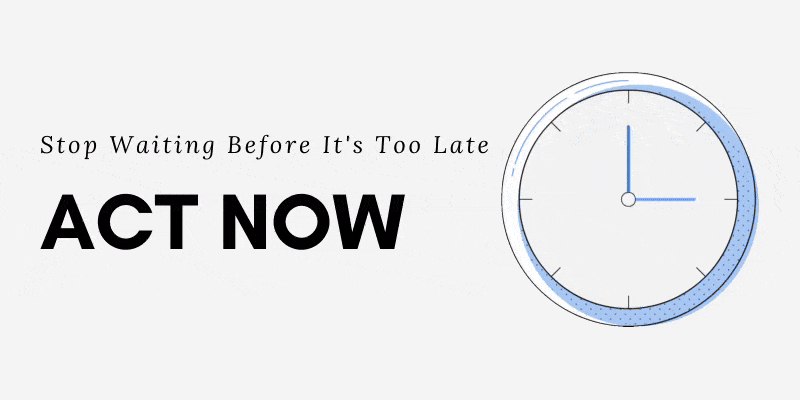 #7 Stop Waiting – Act Now, Before It's Too Late
For some businesses, it may be too late. That's because some companies' executive teams assumed that their business would always grow and work in a certain way. They did not see the need for them to have foundational digital skills because they had "people" who did that.
It's a different day and will continue to be going forward, even after everyone gets back to the office. The world has gone online and many people will continue to operate in that space since they've experienced how to do it.
An executive team does not need to know how to program a marketing workflow. However, executives and department heads do need to understand the necessary digital skills before it's too late.
Here is a Digital Marketing Foundation Course to help you learn the fundamental concepts of Digital, how it has changed customer behavior, and the implications for your business.
If you are an executive or department head, you need these skills. Your team needs you to have these skills so your company, and they, can be successful.
These trying times will pass, but the changes in behavior that have surfaced for many will not. You need to ensure your digital skills, capabilities, and resources are up to speed for your customers and employees at this critical point in time.
Not sure how to start or where to start? We're here to help.
Get a Free Consultation (with no obligation to purchase anything - promise!).
Free Consultation
Get your free consultation with digital marketing & sales experts.
Get Started