What are Buyer Personas and Why Do They Matter?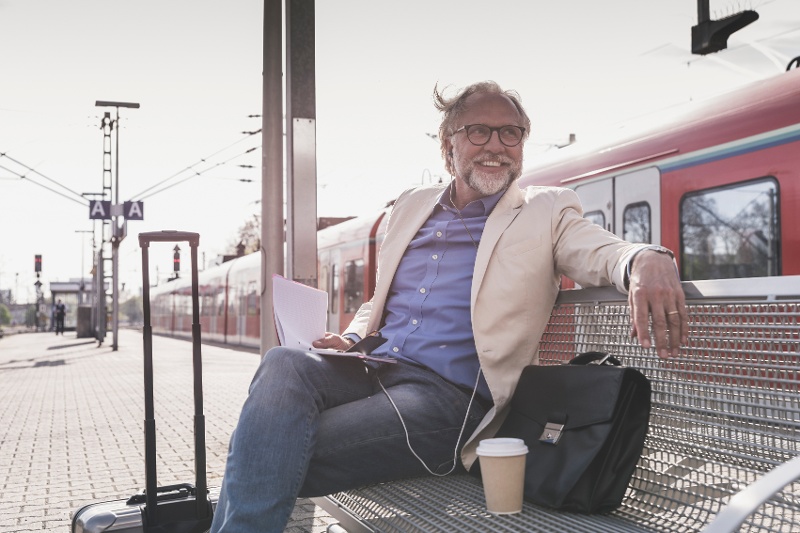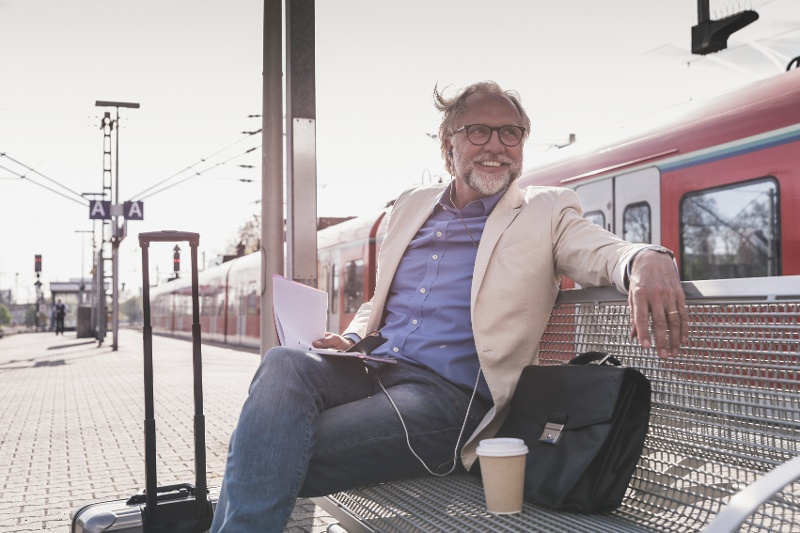 As a professional, you understand that marketing is key to the success of your business, but digital marketing differs from traditional marketing. In today's article, we explore the most crucial elements needed to achieve stellar results for your company. This starts by creating a digital marketing strategy and identifying your buyer personas.
All businesses have at least one buyer persona, also referred to as their ideal customer. Many who have previously used traditional marketing strategies have what they deem a "target market," but they have not narrowed that market down to truly identify exactly who they are trying to reach. That's because your buyer persona is more than a target market.
This is where identifying a buyer persona comes in.
Just What is a Buyer Persona?
You get a wide range of descriptions when people try to define a buyer persona. Let's start with what a buyer persona is not.
A buyer persona is NOT broad, ambiguous, or impersonal.
Some digital marketing agencies refer to it as a semi-fictional representation of your ideal customer. It's based on data collected by your internal teams such as customer demographics, behavior patterns, motivations, and goals.
Input from your internal teams (marketing, sales, and customer service) is important.
However, your internal team's insights are limited.
From all the buyer personas we have developed for our clients over the years, we have found that your internal teams typically lack key insights into the "trigger events" that stimulate your ideal customer to start their research into defining their problems, challenges, or goals.
These trigger events are what starts a prospect on their journey to find a solution to a problem or goal.
Internal teams may also lack insights into where buyers go to do their research and what information they seek in the early stages of their buyer's journey.
In addition, they may not know the questions potential customers are trying to answer and where they go to do their research.
The Buyer Persona Institute defines a buyer persona in much more granular terms than the traditional "semi-fictional representation of your ideal customer." They define a buyer persona as a research-based profile that describes your ideal customers, the challenges they face, and how they make decisions.
You may have also heard a buyer persona called a customer persona, marketing persona, or profile. The most important thing to understand is that you may think you know your buyer persona, but you may be shocked to find out that there are great insights that you are also missing.
According to the Buyer Persona Institute, there are five (5) key insights for developing a buyer persona:
Priority Initiatives – What triggers a prospect to start looking for a product or service such as yours? What are their priorities, and why did they change?
Success Factors – What are the results they expect from your product or service? What does a "successful" experience look like?
Perceived Barriers – What are their perceived barriers or challenges to choosing you?
Evaluation Journey – What is their decision-making process like? What is this person's role in that process?
Decision Criteria – What features will they use as decision criteria to evaluate and compare alternative options or to do nothing?
Getting Started on Your Buyer Personas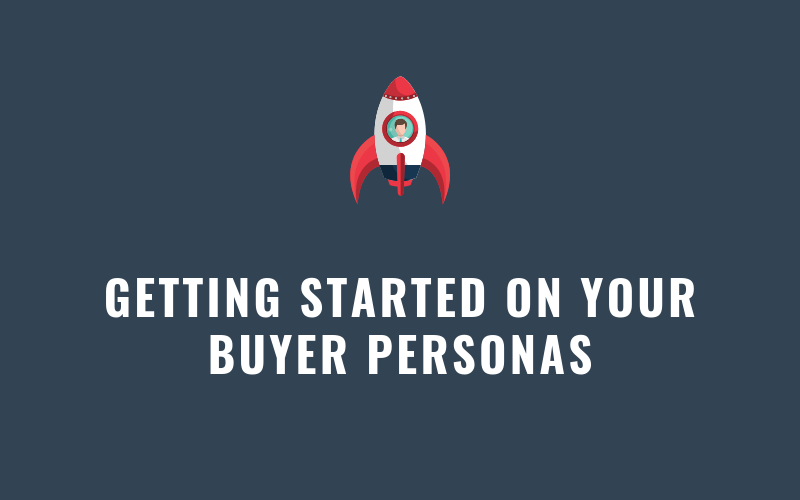 The best buyer personas are developed based on a combination of the customer knowledge of your internal teams, market research, and insights gathered directly from your actual customers through interviews, surveys, and other feedback tools.
Start by naming your buyer persona and creating a description of their personality. Describe their specific common behavior patterns, shared pain points (both professional and personal), goals, wishes, and dreams.
They will have both demographic and biographic information you need to know to successfully market your product or service to them.
Why Do You Need a Buyer Persona?
An effective buyer persona description helps you attract, convert, close, and delight your buyers through each stage of their buyer's journey.
Listed below is each stage of the buyer journey matched with the marketing and sales stage they are in and the digital tactics needed to reach them at that stage of their buyer journey.
Awareness Stage: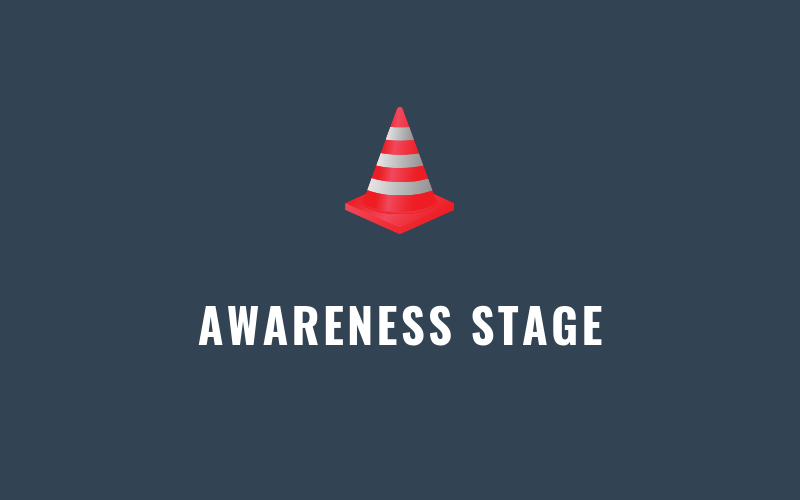 Buyer's Journey:
Your buyers have realized and expressed symptoms of a potential problem or opportunity. They go online to start their research.
Marketing and Sales:
Attract your ideal buyers through the digital channels they prefer to use to research information about their problems, challenges, and opportunities.
Digital Tactics:
Interest Stage: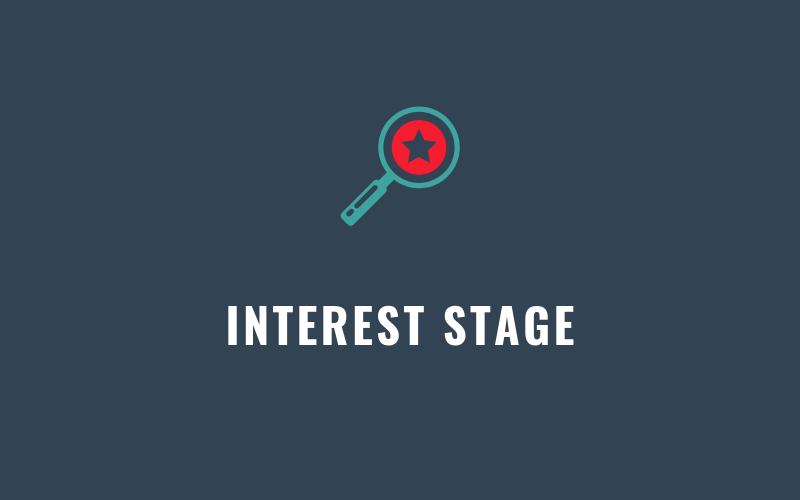 Buyer's Journey:
Your buyers are doing more in-depth research into further defining their problems, challenges, and opportunities.
Marketing and Sales:
Engage your buyers by offering highly-educational and comprehensive content on how to solve their challenges.
Digital Tactics:
Consideration Stage: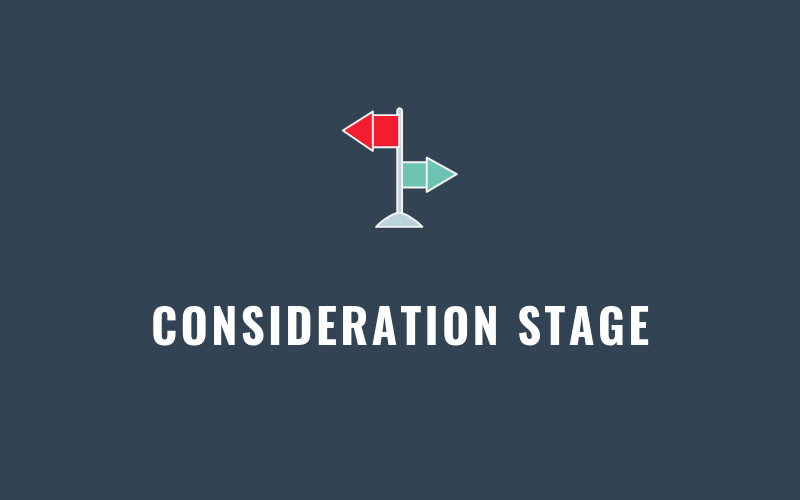 Buyer's Journey:
Your buyers have clearly defined their problem, opportunity, and potential solutions. They are aware of your brand and your approach to solving their problems and challenges.
Marketing and Sales:
Convert them into qualified leads through a lead nurturing process offering them very detailed information on their problems and how you solve them. Your sales team should connect with the sales-qualified leads through outreach.
Digital Tactics:
Decision Stage:

Buyer's Journey:
Your buyers have clearly defined their solution strategy and approach to their problem or opportunity. They are ready to make a decision.
Marketing and Sales:
Close them into a customer through a consultation, trial offer, or purchase.
Digital Tactics:
Retention Stage: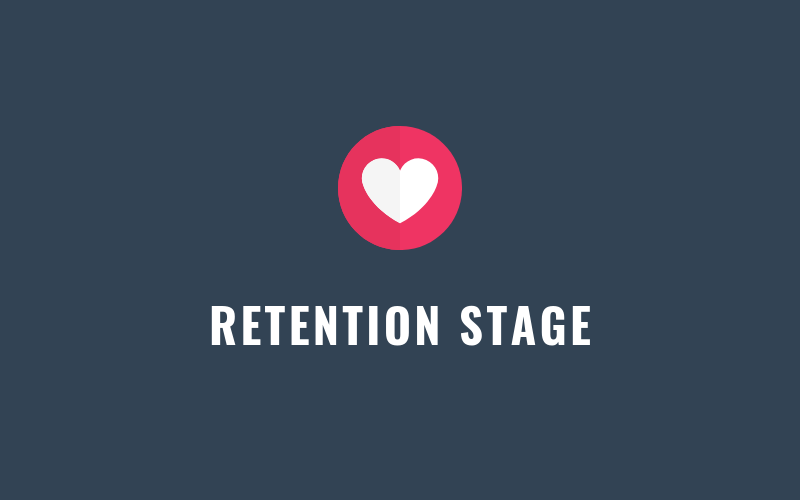 Buyer's Journey:
Your buyers are delighted with your product or service and become promoters.
Marketing and Sales:
Delight your buyers by providing a superior experience as they achieve their goals using your product or service. Encourage them to tell others about their great experience.
Digital Tactics:
When you develop your buyer personas, you can determine and create the type of information they are looking for at each buyer stage.
If you know what your specific buyer personas are trying to achieve or solve, you can create useful content that will help them find answers. You can also provide them with offers that will help them overcome their main obstacles to reach their goals.
By observing how interested they are in your content or offers, you will better know where they are in their buyer journey, which will help you know how to talk to them.
It is likely that you have multiple buyer personas. For example, we have multiple buyer personas for our digital marketing training courses and certifications.
Our buyer personas for our digital marketing and sales training include the following:
Marketing Mary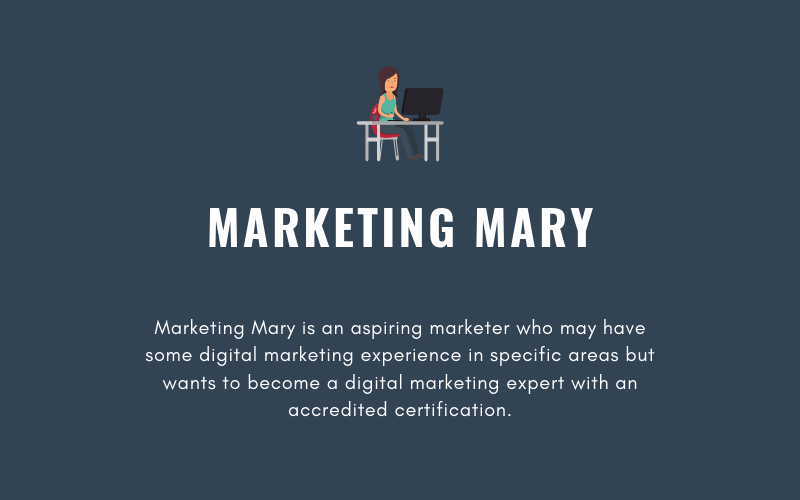 Marketing Mary is an aspiring marketer who may have some digital marketing experience in specific areas but wants to become a digital marketing expert with an accredited certification.
She recognizes that she needs a more comprehensive knowledge in digital marketing to expand her career and wants to learn from the leading experts in the industry.
With new digital platforms coming online every year and changes being made to the most popular platforms, it's hard to have the depth of knowledge needed to really be successful as a marketer today.
She realizes that she needs to know everything from content marketing, pay-per-click (PPC), social media marketing, email marketing, Google analytics, inbound marketing, and creating a digital marketing strategy, just to name a few.
She is frustrated with the attempts she has made to try to learn some of these platforms on her own and is overwhelmed with understanding how to put it all together.
She has done research to try to find individual courses, but it's difficult to find a course that delivers a comprehensive view of digital marketing.
She is also unsure how up-to-date the courses are and if they are actually teaching the right thing since the industry changes so quickly.
She is looking for a digital marketing certification that gives her the wide-ranging expertise she needs to separate herself from other digital marketers. She is looking for a course that will help her perform much better in her job and open new career opportunities.
She is looking for a course that she can be assured teaches the most current strategies and tactics that work and are approved by the leading tech companies in the industry.
She knows all about black hat or even grey hat techniques that are sometimes taught to beat the system – and the disaster that can cause in your marketing efforts.
So, accreditation and verification by top industry companies are important to her. She needs to make sure that the course she chooses will provide her with the ultimate results she is looking for personally and professionally.
In the end, she wants to find a digital marketing certification course that will help boost her career and open up new career opportunities.
Selling Sam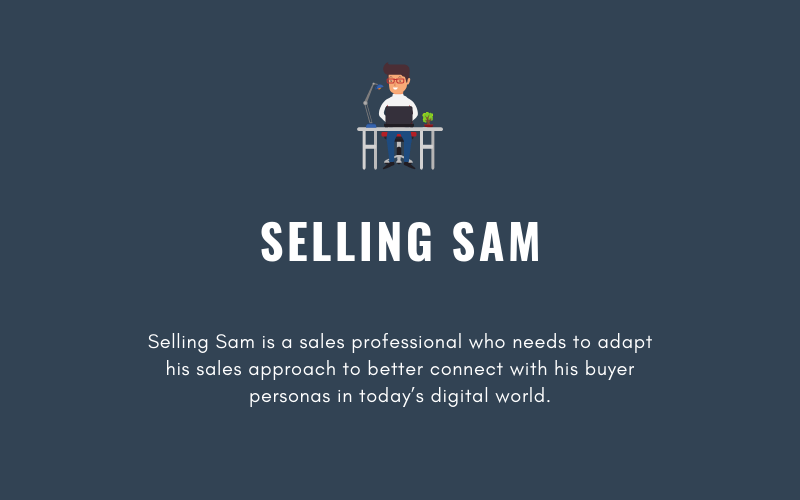 Selling Sam is a sales professional who needs to adapt his sales approach to better connect with his buyer personas in today's digital world. He is comfortable with selling, but he has noticed how much the sales game has changed in the last several years due to the internet, social media, and review sites.
Selling for him has become much more difficult because people are doing their own research without actually talking to a salesperson. Some may resist talking to him at all, instead choosing to use chat and online ordering to complete their sale.
He needs to learn how to change the way he connects with prospects for greater sales success. He is researching new sales techniques and is hearing that effective digital and social selling expertise may create more opportunities for him to help him not only meet but exceed his sales quota.
This leads him in search of certified training in digital and social selling strategies and tactics to help create more sales opportunities from his ideal buyers. He'll try to find a program online that can easily work within his schedule because time commitment will be important.
He'll check social media mentions, browse search results, and read reviews to see if he can find a program that will work within all of his parameters.
He may be skeptical because he personally uses social media and may think that it's not really something that will work as a sales tool for him.
But he also knows that he needs to adapt his selling techniques in some way to help him increase his sales. He's just unsure what the right answer is to do that.
He needs to understand the difference between a social selling course and one that teaches sales techniques. And he needs to feel confident that if he invests his time and money into a digital and social selling course, that his ROI from the course will pay off through increased sales.
His ultimate goal is to increase his sales and improve his overall job performance, so he wants a course that will help him achieve that.
Executive Ellen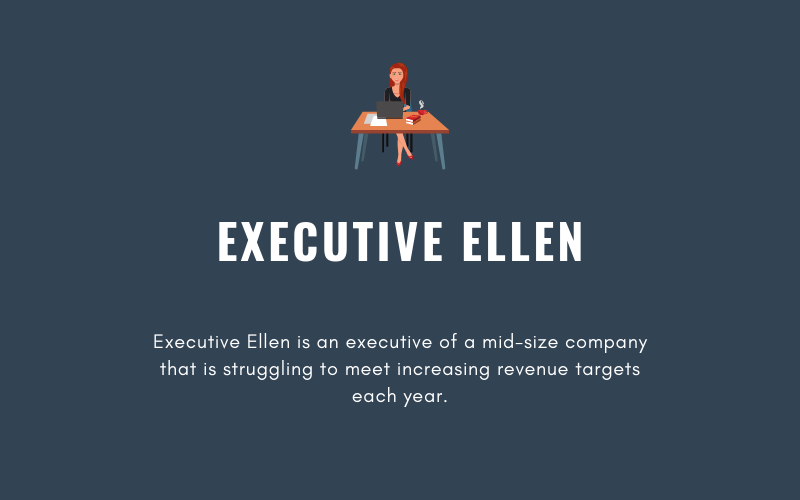 Executive Ellen is an executive of a mid-size company that is struggling to meet increasing revenue targets each year. The traditional marketing and sales approach employed by her company is not as effective as it used to be.
Her marketing team is experiencing challenges using digital marketing to drive revenue at an acceptable cost of acquisition. But she has little understanding of digital marketing nor understands how to use "digital" to grow her company.
She has wondered lately if she should at least have a general knowledge base about digital marketing so she can help guide her marketing team and better understand their discussions in meetings.
She doesn't want to know, nor does she need to know, the level of detail that she expects her marketing team to know about digital marketing, but she needs to improve her knowledge to better understand the growing world of online marketing and sales.
She also needs to ensure that she has enough knowledge of digital marketing fundamentals to determine the best course of action for her company to meet its revenue targets each year.
Time commitment will be a factor in her decision, and she will want to be assured that the course she takes is considered one of the best in the industry. She doesn't want to waste her time or money on a course that, in the end, really didn't provide her the information and knowledge she needs to boost her level of understanding.
Therefore, she will look for a digital marketing foundations course that can fit within her busy schedule; one that will not take her out of the office for days. She is considering taking a course online to help with the scheduling aspects, but she is not sure how to determine which course is the best.
She also wants to be sure that the course she chooses is approved by the tech companies in the industry that control digital marketing, such as Google, LinkedIn, Twitter, Microsoft, and more.
Know Your Buyer Persona and Their Buyer Journey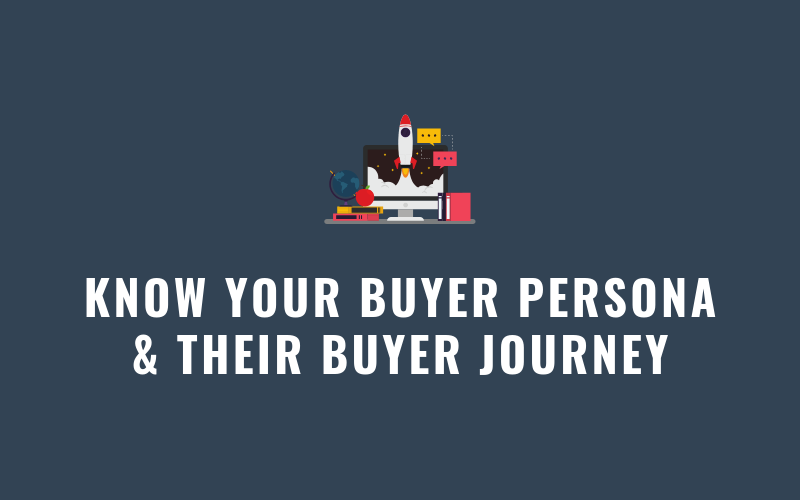 In short, everything you do must be tied back to who your buyer personas are and what their buyer journey looks like. Your buyer personas should be a central component of your digital marketing strategy.
After all, they are the key to the success of your business.
It is also not a "one and done" process because buyers' needs, choices, and evaluation journeys evolve.
In addition, see if you can understand how your top competitors are attracting, engaging, and converting your buyer personas into leads. A competitive analysis is a very useful component of your digital marketing strategy.
For more information on how your buyer personas and competitive analysis fits into your digital marketing strategy, download the 9 Key Ingredients of an Effective Digital Marketing Strategy.
[This article was originally posted on January 22, 2015. It has been updated and expanded upon to include lots of new information.]
Free Consultation
Get your free consultation with digital marketing & sales experts.
Get Started