20 Reasons Executives Must Invest in the Best Digital Marketing Training Now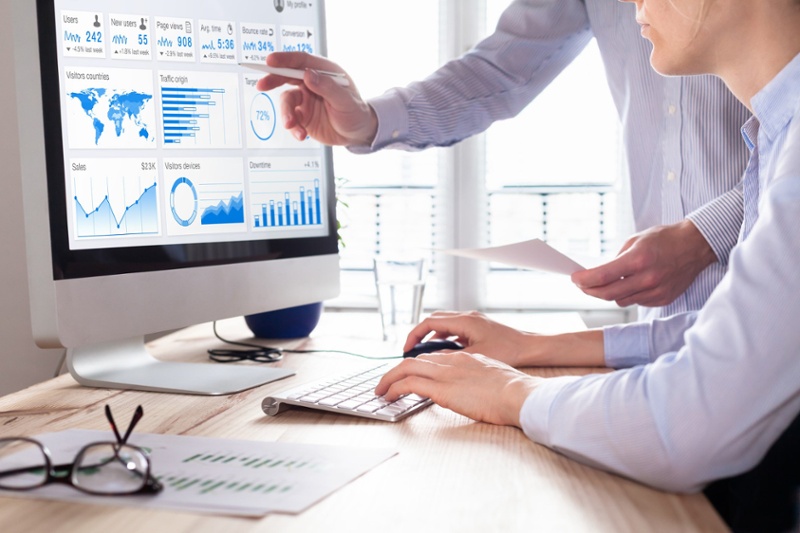 As an executive, most of your day-to-day tasks are spent planning for the growth and development of your company. In nearly all situations, your goal is to move to the next level, and yet, to do this you rely on the marketing and sales professionals sitting in your office to help you.
You may be one of the many executives in today's companies looking for a better way. Or, you may be frustrated with the lack of success your marketing and sales teams are getting from your digital marketing and sales efforts.
You know your product is exceptional. You know customers need it. Why aren't you meeting your sales goals?
The answer may be in what you're not doing.
Here are 20 reasons why you must invest in the best digital marketing training courses for your marketing & sales teams.
Digital marketing impacts every component of your business
Your customers rely on it
Buyers want to buy digitally
It's less expensive and more efficient
Digital gives you more access
Gain instant communication
More insight into your success sooner
Personalization for each customer becomes possible
Customer feedback is more authentic
More of your employees need to have digital skills
Your employees expect you to lead
Digital disruption will impact your business
Digital skills gaps are not just about technology
Employees need reskilling at an increased rate
Accredited training like this works
Marketing is complex, and only getting more so
Online experience begins with the search engine
Content marketing provides incredible promise
Digital marketing & digital sales are the future
Digital Marketing experts are still so hard to find
Digital marketing should be a core part of every marketing effort and sales strategy developed for your business. It should be a component of every new product launch, brand update, and every outreach effort you have.
You may not be seeing the business results you expected from your digital marketing efforts even if you have an entire team at hand managing your online presence and digital strategy.
So what is the issue?
It's simple. There's no way to effectively lead, manage, and grow a company without ensuring that your company is up-to-date with the most effective digital marketing and sales knowledge to achieve your overall company goals.
You may not use every tool in the industry yourself, but you know the role effective digital marketing plays in making your marketing and sales efforts a success for your company.
So, let's dive into why digital marketing training is so important for your company.
#1: Digital Marketing Impacts Every Component of Your Business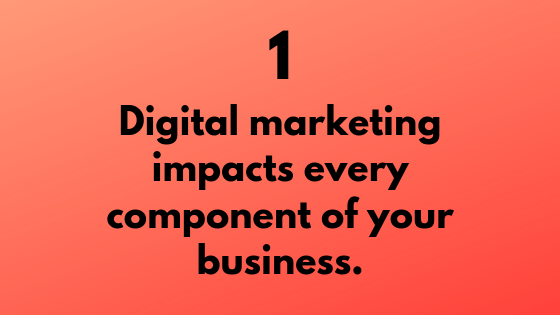 Whether you run a small coffee shop or a Fortune 500 business, this applies. Digital marketing is where people find you, learn about you, and grow in their knowledge about you.
It touches every part of your business.
And this is not just your marketing campaigns and sales promotions. It includes your sales team, your customer service professionals, and all operations within your organization.
To be successful with digital marketing, it needs to encompass a true representation of your company, brand, people, and product or service. Without understanding how to do this or why it is important, you may be doing a disservice to your company as a whole.
#2: Your Customers Rely on It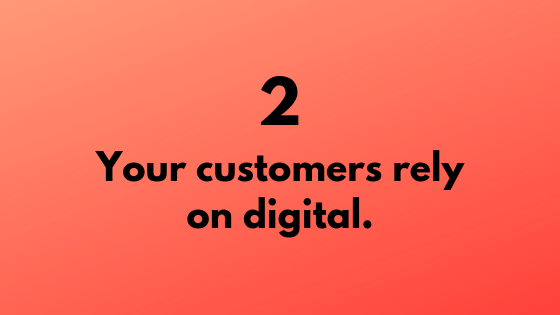 Take into consideration what you do when you hear about a new product that interests you. Chances are good you head online to research it.
You not only want to know what it is but also what other people think about it.
The same is true about any product or service your company offers. Consumers go online to learn about your product or service long before they enter your sales funnel or even become a blip on your radar as a potential customers.
A survey conducted by MineWhat.com found that 81 percent of shoppers will use online research before they make any type of purchase decision. That same survey found that 60 percent start their search online with a search engine while 61 percent use product reviews.
When you consider this, take a moment to search for your company's name or product name on Google or Bing. Do you know what your customer sees? Do you know that you can have some level of control over what reviews they obtain or how they communicate with your brand online?
With training, your team will learn how to gain better control over what people – including those who are potential customers – experience when learning about your company.
#3: Buyers Want to Buy Digitally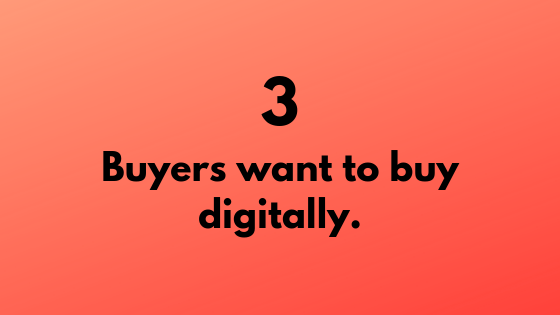 There are countless pieces of evidence today that show us this simple fact. Today's consumer is all about buying online.
Consider the pure success of Amazon as an example. Consumers are passionate about finding what they need to solve their problems online and then buying it.
Salesforce data really shows us this point. It found that 67 percent of buyers prefer to make purchases through digital channels.
Yet, having a website isn't enough to do this.
Note that "digital channels" are more than just your company's website. It's a complete and customized ecosystem that not only provides an opportunity to buy but also provides a path for your customers to get from the information research stage to the buying stage.
#4: It's Less Expensive and More Efficient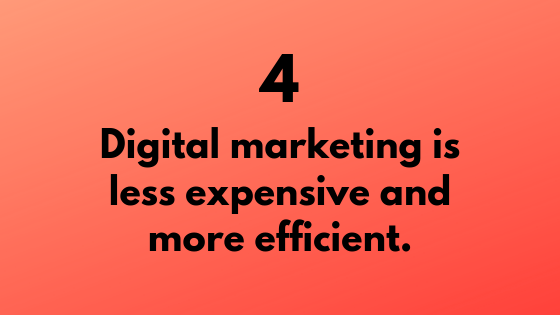 As you ponder the P&L statements for your company, take a close look at your marketing budget. How much are you dedicating to digital channels?
What you may be missing is that digital marketing itself is less expensive than nearly any other form of advertising. It is far less expensive than print advertising.
But, it goes even further.
It is also far more efficient, producing a better return on investment. It reaches more people, creating a very low cost per potential customer. Without crunching the numbers, it's clear more money should be allocated to digital marketing to produce better results.
#5: Digital Gives You More Access
Another key aspect of digital marketing is its ability to provide you with access to more – that is more media outlets to use. It also gives you more channels to reach your target buyers.
By providing more access, your ad dollars go further and create better results.
Variety is important as you work to widen who your target audience is or as you work to scale your business to include more products or services.
#6: Gain Instant Communication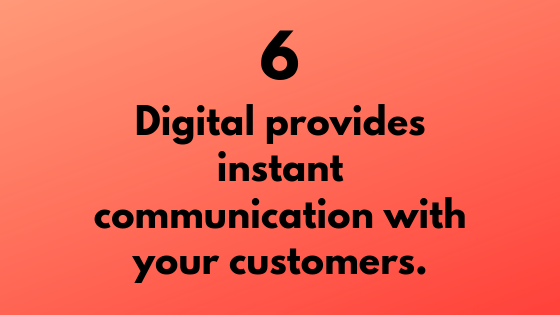 You've heard of companies embracing LinkedIn, Twitter, and Facebook, interacting in real-time with their customers to resolve problems or provide thanks.
This ability to gain quicker insight into your successes isn't just about providing a way to solve problems. It also opens the door to new opportunities, insights, and real-time results from any marketing campaign.
Companies can interact with the public instantly, allowing for improved product promotions, better service quality, and transparency in messages.
The Digital Marketing Institute points to the use of private chat groups and messaging apps. For example, Facebook Messenger has over 900 million users globally.
Imagine the benefits of being able to chat with your customers in real-time through these apps, especially through a robust all-in-one CRM like the HubSpot CRM.
#7: More Insight into Your Success Sooner
Another key advantage that your marketing and sales team will learn is the information and insights you get about your digital marketing campaigns and your marketing strategy. Even your products can be field-tested more effectively through digital marketing.
You gain far more insight into your success or lack of success than from a traditional marketing campaign. And you gain this insight much faster.
In traditional forms of advertising, it takes weeks to learn if a campaign was a success. That's the time most companies don't have.
With digital marketing, there's access to more insightful data that gives you a clear direction on how to move your business forward in its next campaign – at a much faster pace.
#8: Personalization for Each Customer Becomes Possible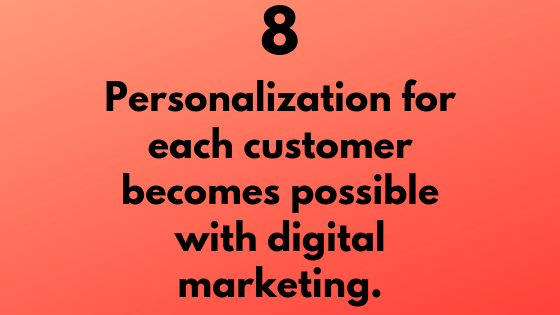 Most business owners know that a handshake with a customer is going to create an instant level of personalization and engagement. That one-on-one connection creates a lasting impression on your customer base that's hard to replicate anywhere else.
Imagine being able to create personalized attention for your customers – with just about every one of them.
Through digital marketing, you can enhance messages to ensure they are personalized to the individual reading them or engaging with them.
For example, CMO reports that 85 percent of customers are more likely to purchase a product if there is some type of personalization in the message, and the message is supported by social efforts.
#9: Customer Feedback is More Authentic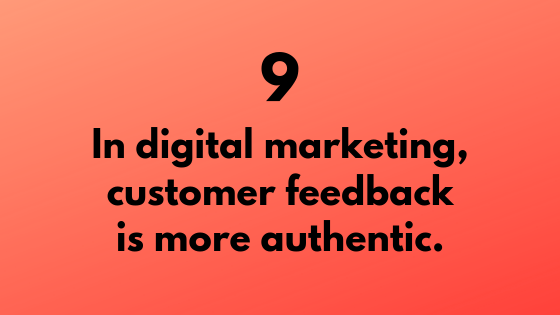 Customer feedback has long been a key component of marketing and product development, user experience, and business growth.
Yet, it's difficult to measure.
With digital marketing, you have an opportunity to gain more feedback from your customers than you thought possible. Even more, the customer feedback available to you digitally is going to be more authentic, real, and useful.
It's not a simple survey in all cases, but real information that can shape your business. This is an area where physical channels simply cannot achieve the same level of success.
#10: More of Your Employees Need to Have Digital Skills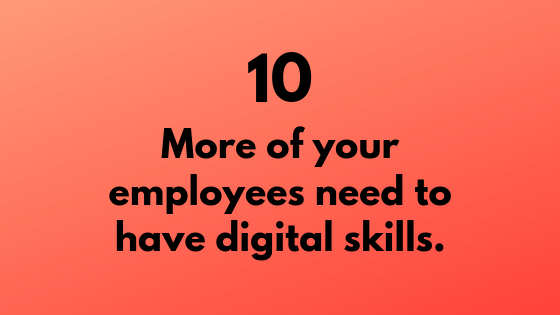 A survey from Burning Glass Technologies sheds light on middle-skill job markets. It found that over 8 in 10 middle-skill jobs now require digital skills.
These skills are critical to businesses because they improve how you interact with your customers and how you build your business.
Does your team have these skills? Do you have enough digital marketing skills to easily speak the language with new hires?
How can you rate, manage, and hire to meet your marketing goals if you don't have a working knowledge of digital marketing?
That may seem blunt, but the fact is, digital skills are impacting all types of businesses today, requiring more employees to maintain these skills.
That may mean that as you get your marketing and sales employees up-to-speed with digital marketing, you can also take the time to get a foundational understanding of digital marketing as well.
#11: Your Employees Expect You to Lead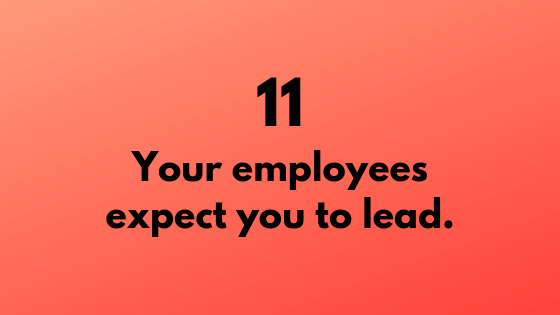 Many executives rise to power over time and through hard work. They've proven their worth.
Yet, the world has changed so rapidly in the last 10 years that most executives have key skills gaps in the area of digital.
Your employees notice this. They know that your company, no matter how well versed and cutting-edge, has a leader that may not know everything he or she should about digital marketing and sales.
A survey by hrtechnologist.com found that 59 percent of employees believe their leadership isn't digital-savvy. And, they find this limits the workforce.
Specifically, it limits the employees from developing new ways to help support the business, grow it, resolve problems, and scale.
Understanding how to use Digital Marketing technology, such as the HubSpot CRM, and how to use it to help your company succeed is imperative in today's online world.
#12: Digital Disruption Will Impact Your Business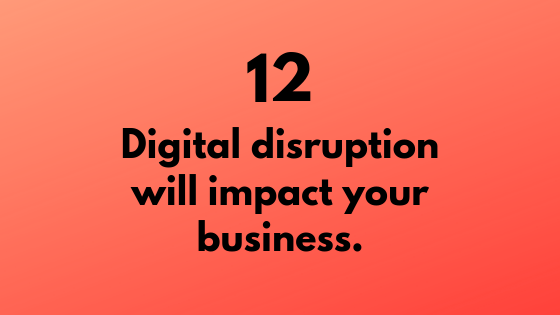 From supply chains to corporate offices, digital disruption is coming.
There are many aspects of this, from marketing to communications to security.
It's not likely to happen. It will happen.
Since digital disruption will impact your company, it's important to be ready for what that means to your business on a very specific level. How will it impact your company?
It's possible to say that your execution of this digital transformation will determine if your company thrives or not. This is the new digital world order, and those not embracing it are sure to be pushed to the back of the line if not out of the picture.
#13: Digital Skills Gaps are Not Just About Technology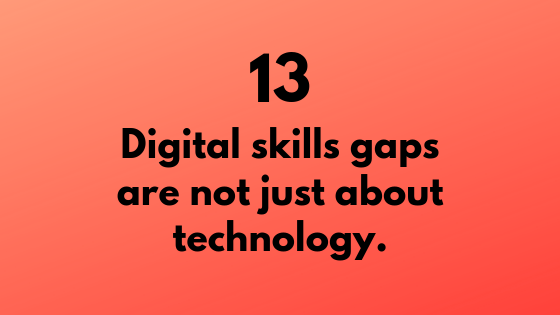 Some business owners and executives believe that digital marketing is a "tech" industry and component.
You don't want to personally know how to code or engineer a chatbox.
That's far from the reach that this sector spans, though.
Digital skills gaps extend beyond just technical skills. They impact business, marketing, and leadership skills that are specifically designed for the digital world.
How can you lead your team without an understanding of the problems they are having with the inbound strategy?
How can you enhance your business' presence globally if you don't know how your customers are learning about your business?
Your team needs a deep understanding of everything digital, and it's important as an executive to have a foundational understanding of the digital technology needed to succeed as well.
#14: Employees Need Reskilling at an Increased Rate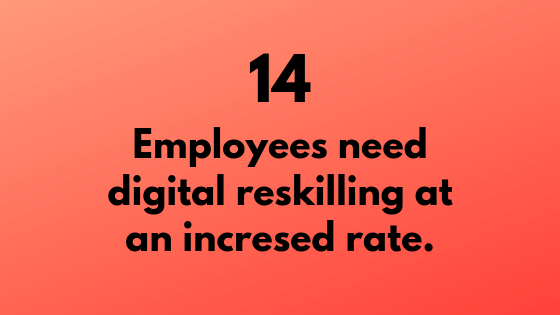 The World Economic Forum expects more than half (54 percent) of all employees will need significant reskilling by 2022. That's a powerful number, and it is due to the digital disruption impacting every company.
Ensuring that your marketing and sales teams are highly trained and up-to-date in digital marketing, and digital selling will help keep your company ahead of the digital disruption that will impact you and your competition.
Make sure your company is the one that is staying ahead of the curve.
#15: Accredited Training Like This Works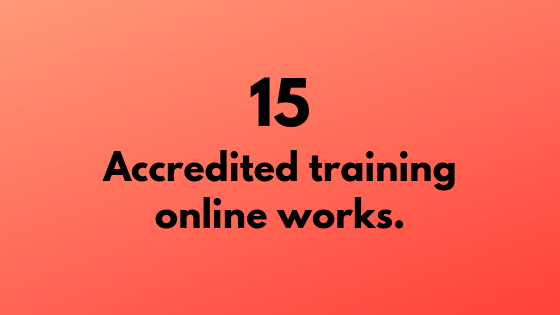 If you're looking for reasons to invest in digital marketing certification, consider a study that sheds some light on retraining programs.
A special report from Salesforce on the future of the workforce provides clear evidence. It found that 68 percent of hiring managers say formalized retraining programs are valuable in preparing their workforce for tech advancements.
It also found that 59 percent of hiring managers believe online training and educational resources are extremely valuable to the company.
This type of training is effective and hands-on. It also provides real-world application without taking away your valuable employee.
In many ways, this is the best way to build your employee's skills. This is the best route to reach and train your team.
#16: Marketing is Complex, and Only Getting More So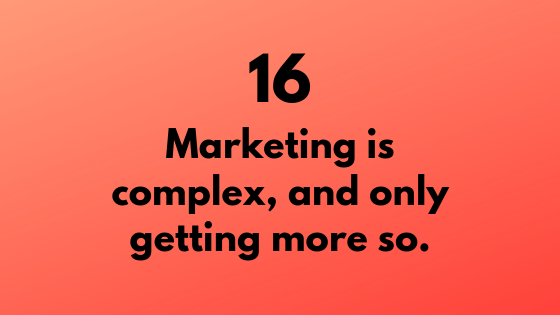 Let's be frank for a moment. Marketing has become a very sophisticated and complex industry.
What makes it even more intense is that it is ever-changing.
Yet, marketing is critical to the future of every business. Every business needs to have digital marketing capability not only to grow but to exist.
The Left Bank shows just how many of your competitors are already embracing digital.
It found that 69 percent of companies plan to hire more marketers, with digital marketing expertise being the highest-demand skill of applicants.
To be clear, the demand for digital marketers is significantly higher than the available supply of these professionals.
Ensure your employees are up-to-speed with the latest in digital marketing and the technology needed to run the campaigns.
#17: Online Experience Begins With the Search Engine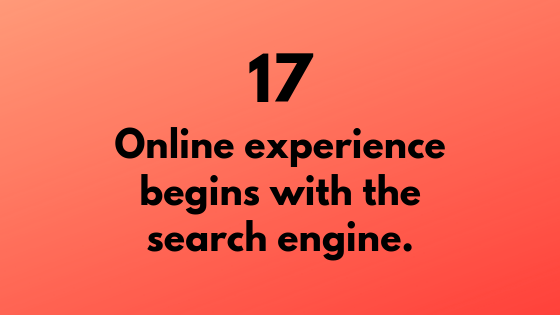 Most executives know the value of search engines, but what they may not recognize instantly is the true essential value of succeeding on them.
In one study, it was clear just how important this is.
It found that 93 percent of all online experiences start with the search engine.
Yet, what makes this so complex and challenging is that search engines are the most complex of all components of digital marketing channels. It's impossible to master them without some level of training in digital marketing.
More importantly, this is where your customer base starts their journey with your brand and business.
#18: Content Marketing Provides Incredible Promise
Another essential component of digital marketing is content marketing, easily considered one of the most valuable of all aspects of digital marketing.
It is the secret weapon in the industry.
That's because, even as valuable as it is, it is one of the most challenging of all marketing efforts to master and implement.
The development of a content marketing strategy can significantly reduce your marketing spend, create long-term, ongoing results, and enhance your business efforts across all channels.
That's why it's critical for your marketing team to have a deep understanding of how to master content marketing.
#19: Digital Marketing & Digital Sales is the Future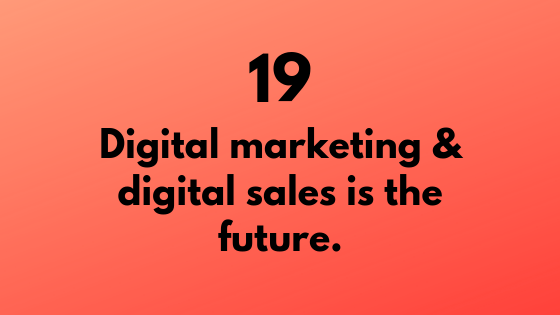 Where are you spending money right now within your marketing strategy? Where are your plans headed?
Digital marketing will exceed traditional marketing spend in awareness in 2020.
That's just next year.
Traditional marketing will not provide you with the same rewards and benefits in the months and years to come as it did in the past. Your competitors already see this.
So, ensuring that your marketing and sales teams are highly-trained and up-to-date in digital marketing and digital sales is not just important, it's imperative for your future.
#20: Digital Marketing Experts are Still So Hard to Find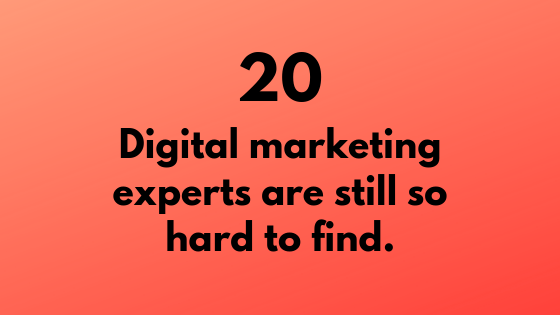 There is a significant shortage of Digital Marketing experts today, even among marketers.
The demand for them is far outstripping the supply of these professionals, making it more challenging for you to find the marketing professional you need.
One solution is to onboard your new marketing employees in digital marketing and train your existing marketing and sales employees in the latest information.
Marketers and salespeople need to understand the digital world in detail. That's why learning the right software, along with advanced marketing and sales techniques, will set your company and your employees up for success.
Consider the HubSpot Digital Marketing and Sales Training Through Xcellimark
Let's bring all of this to a single point. Your business needs marketing and sales teams that are just as entrenched and dedicated to digital marketing and selling as your competitors. Hopefully, even more, so you can get and stay ahead of them.
Your team needs to know the value you see in this area by the commitment you have to ensure they receive the accredited training needed to be the best.
And, your team needs a solid working knowledge in order to achieve the goals you've set for your company's revenue and growth in the next year.
Xcellimark makes that possible.
Through our HubSpot Digital Marketing and Sales Training program, your team will gain the incredible skills needed to address every single one of these points.
The Best of Both Worlds – Advanced Training with Real-World Expertise & Support
At Xcellimark, we've combined our 20+ years of award-winning digital marketing experience working for Fortune 100 companies and small businesses into one program.
We'll use our real-world expertise to help you apply the training to your specific business and situation to get real, effective results.
Find out more about our HubSpot Digital Marketing & Sales training - and get your team started today on the road to digital marketing success.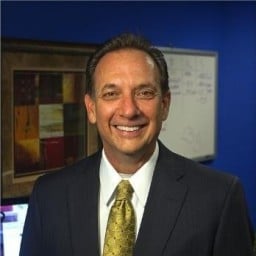 Free Consultation
Get your free consultation with digital marketing & sales experts.
Get Started