Why Your Company Needs a Sales Enablement Strategy
There's no denying that the sales landscape is more complex than ever before. Buyers are more intelligent and fully capable of doing their due diligence before making a purchase. Thanks to the constantly evolving technology at their fingertips, the role of a sales representative is not the same as it was a few decades ago.
Your sales team is still a crucial part of the puzzle, but the process of closing deals is very different. If you want to keep up with the competition and improve your company's bottom line, adapting to these changes is paramount.
That's where sales enablement strategies come in.
Sales enablement is about supporting your team at every step of the sales funnel and providing the resources required to close deals.
That sounds simple enough at face value. But in reality, sales enablement is a complex cross-functional discipline that can significantly impact your company as a whole.
Is it worth the time and effort to implement?
Sales enablement is not a new concept. That said, adaptation saw a 343% increase in the last five years alone!
It's not just a jump in interest. According to a report by Regalix, 76% of companies with sales enablement strategies experience between six and 20% jump in sales.
Still on the fence? Here are some reasons why your company needs a sales enablement strategy.
Improved Customer Experiences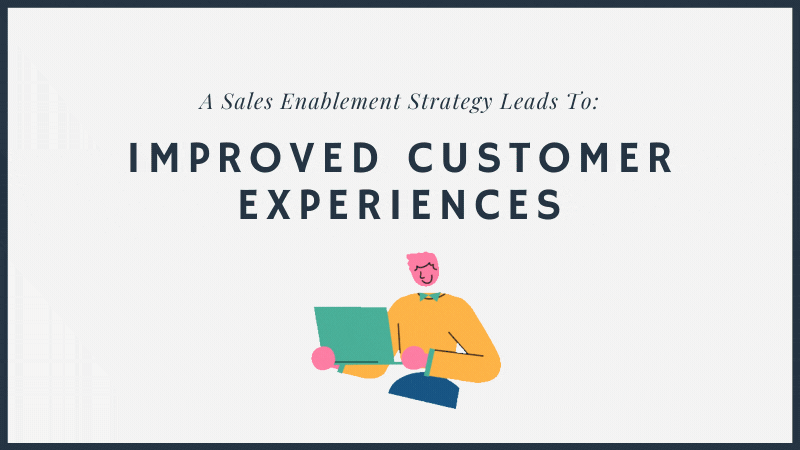 Buyers are a lot more independent now compared to the past. According to GE Capital Retail Bank, 81% of shoppers research products and services before committing.
As a result, about 57% of the purchasing decision is made by the time they contact a sales representative.
That can make things more challenging for your team. But make no mistake: Customers still value and expect a top-notch experience.
Contrary to popular belief, salespeople are not becoming obsolete. Shoppers, buyers, and prospective clients and customers still need them and have high expectations regarding potential interactions.
Today's customers expect well-informed salespeople who understand their struggles and pain points. They want someone who can guide them in the right direction for their needs while delivering an enjoyable experience.
One recent survey showed that 86% of buyers are willing to pay more money for a better customer experience.
It's no longer about the quick sale. According to Salesforce, about 86% of companies say that focus is shifting to long-term customer relationships.
The best way to do that? Provide an outstanding buyer's journey experience where your team becomes reliable product experts.
Sales enablement strategies can do a lot to meet the needs of your prospective and current customers.
Effective enablement can:
Increase overall product knowledge for your employees
Make it easier for your team to provide valuable and relevant content
Teach effective sales strategies
Provide more insight into buyer personas and needs
Unifying Sales and Marketing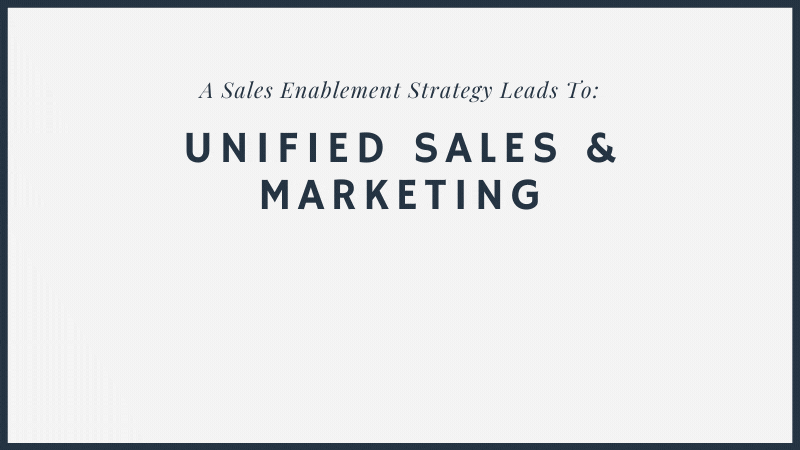 In many cases, there's often a disparity between the sales team and the marketing team. There's no one to blame for that separation. The two teams have a similar end goal, but they work on different parts of the buyer's journey.
Unfortunately, that separation can be detrimental to your company's bottom line.
The members of your sales team are the faces of your business. They directly interact with customers and work to serve their needs. And to close deals and make sales, they rely on the content produced by your marketing team.
However, a recent survey from MarketSplash shows that only 35% of salespeople thought their marketing department knew what types of content they needed!
That means that a vast majority of the developed content goes to waste, and the sales teams have no choice but to find the materials they need on their own time.
A sales enablement strategy can unify these teams to improve productivity across the board. Adopting a more systematic approach across the company can:
Facilitate communication between departments
Improve messaging consistency
Enhance the quality of produced content
Make relevant data more accessible
Better Sales Efficiency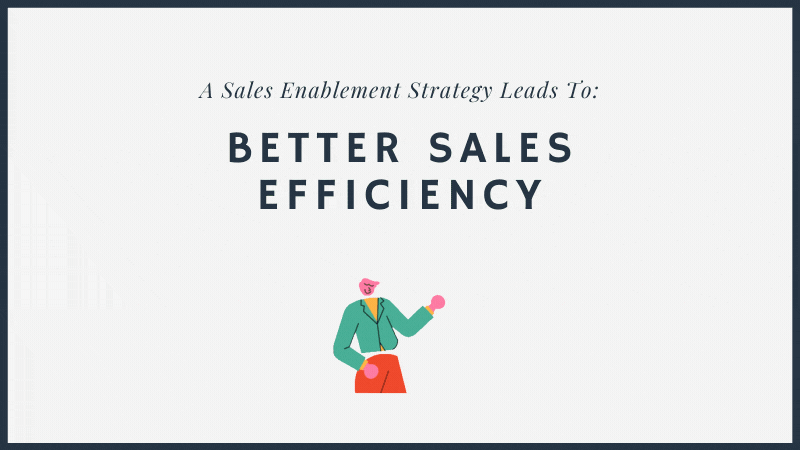 If you had to guess, how much time do you think your team spends actively selling?
According to research from Zippia, the average sales professional only uses 34% of their time trying to close deals.
Where does the rest of the time go? The same study shows that 52% waste time looking for information. Meanwhile, 60% spend hours pursuing bad leads they had no business chasing.
That's a lot of money going down the drain.
Sales enablement can work wonders to cut back on wasted time and improve productivity.
One of the pillars of effective enablement is to make sales resources accessible in seconds. Necessary resources include:
Lead data
Customer information
Sales content
Product information
Selling tools
Whatever the case may be, having all those resources in one centralized place makes all the difference.
In a survey by Spotio, about 84% of sales executives said that content search and utilization improved productivity within their companies. Thanks to innovative technology, your team can find and use the data in seconds.
As a result, they'll spend more time making sales. Everyone wins!
A More Engaged and Empowered Sales Team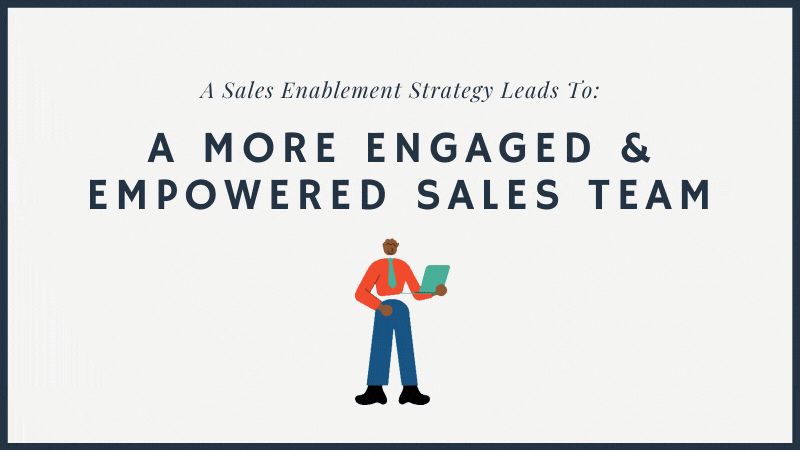 Continued training is a critical part of any effective sales enablement strategy. Not only does it make your team more knowledgeable about products, but training can teach powerful sales skills.
Selling is an ever-changing art form. The only way to maintain a competitive edge is to invest in ongoing training and support.
All that said, one of the most significant benefits of training isn't more product familiarity. It's more engagement among your employees.
According to Southern New Hampshire University, a culture of learning can create more engagement among employees.
Training and development can supercharge your team and ultimately increase productivity. Plus, engagement helps to improve employee retention and loyalty.
In companies with high employee engagement, the turnover rate is about 59% lower than businesses with low employee engagement.
Data-Driven Growth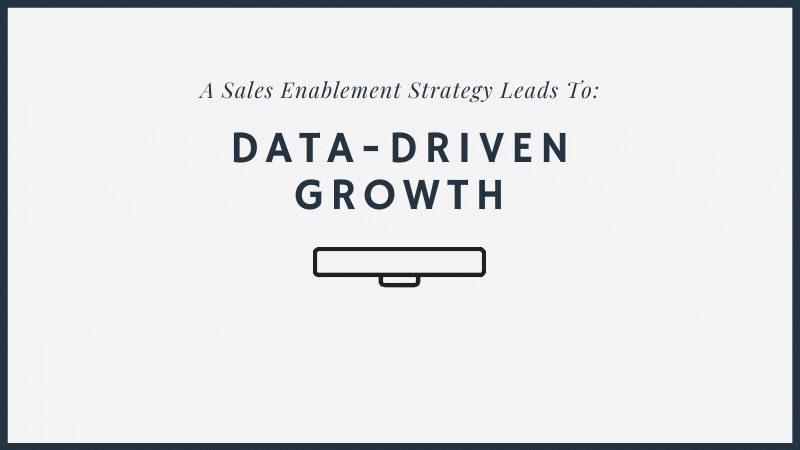 Data can be a powerful tool in sales. It can guide buyer interactions, direct marketing initiatives, and even measure the success of your sales tactics.
Unfortunately, many businesses fail to utilize data to its full potential. With sales enablement, that's not an issue at all.
Technology can deliver pertinent data to every member of your sales team. Everything from potential leads to demographic data is up for the taking. That information can empower your team while also giving them the tools they need to close sales.
More importantly, however, is the data's ability to measure and scale your success.
Sales enablement is about long-term growth and sustainability. By measuring and tracking sales performance, your company has the fundamentals to improve and evolve.
Sales enablement Key Performance Indicators (KPIs) can cover many metrics. The most common include:
Sales velocity
Content usage
Content efficiency
Proposal or Quote Rate for leads generated
Time to revenue
Close Rate of Sales Proposal or Quotes
Quota attainment
Average sales value
Lifetime value of a customer
This data can uncover customer trends and highlights skills within your sales team. Use them to adapt your sales enablement strategies and continually improve your bottom line.
Reach a New Level of Sales Success
There are countless benefits to adopting a sales enablement strategy. While the process is complex and ever-changing, the payoff is well worth it.
Sales enablement can empower your employees and put the tools they need to succeed within reach.
Think of it as an investment in your team and your company. Over time, these strategies can streamline the sales process and change your business for the better.
Not sure where to start? Luckily, you don't have to dive head-first on your own. Contact our team of experts at Xcellimark today to learn more start your journey towards sales enablement implementation.
Free Consultation
Get your free consultation with digital marketing & sales experts.
Get Started