What is Sales Enablement & How Does It Help You Close More Leads?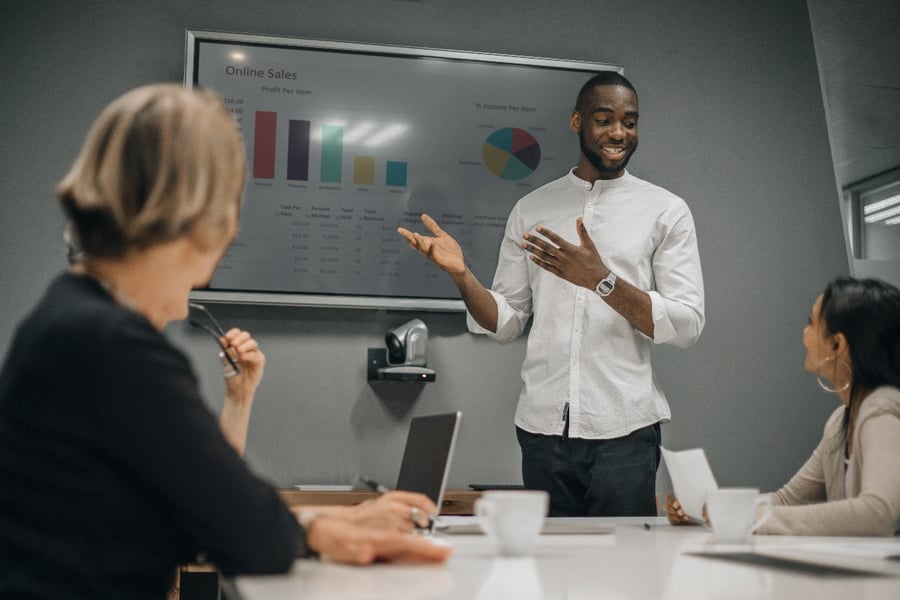 Companies are always competing against one another for customers. From finding the right hook for their target audience to implementing unique marketing strategies, businesses need their sales reps to be more productive, skilled, creative, and knowledgeable than ever before.
Sure, there are courses you can take, videos you can watch, and templates you can follow. But do these really help in the grand scheme of closing more leads? How do you ensure that your sales team is at the top of their game?
The responsibilities and general day-to-day life of a sales team member are constantly changing. A decade ago, cold calling was an essential part of sales leads. While cold calling does still exist, the digital age has completely changed the game for sales reps.
Things have gotten much more complicated. Here are a few examples:
Social media gives sales leads an easy way to ask for recommendations
Marketing tech tracks interactions and gives reps more data for them to review
Online content self-educates your audience, reducing the need to talk to salespeople
Based on digital spaces and how they affect your sales team, wouldn't it make more sense to provide your team with new resources?
If the world of sales is changing, the way you support your team needs to change.
Sales enablement is an essential and easy way to give your team the resources they need to meet sales goals.
Let us show you why and how you can get started.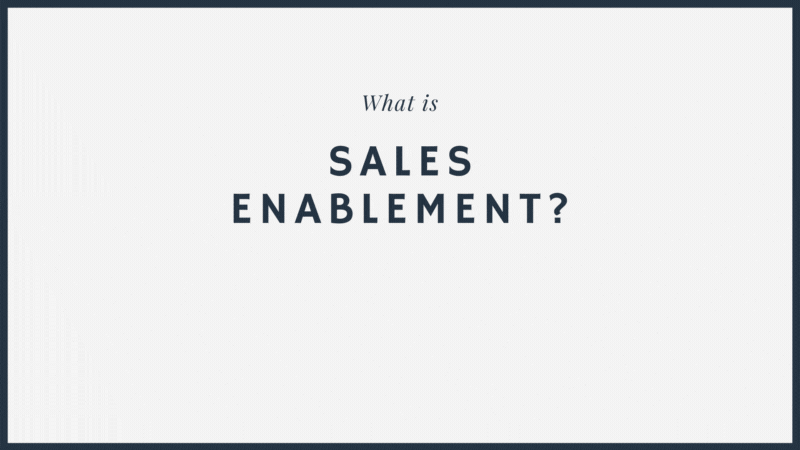 What is Sales Enablement?
Sales enablement is a cross-functional discipline designed to boost your sales via digital technology. It's a process that provides a business's sales team with the resources necessary to close more deals.
These resources include:
Sales Tools
Content
Knowledge
Information
All of these tools collectively help the sales team sell your products or services more effectively.
But how?! — by providing linked (and multi-functional) content paired with coaching and training services for your sales team.
Think of what these resources can do for team productivity and sales goals.
For example, if you give someone a work task and provide them with all of the resources needed to complete the task, it's safe to assume that they will get it done more efficiently.
The same is true for your sales team. If you provide them with the proper knowledge, materials, sales tools, and other resources they need to convert leads into sales — they drive more revenue for your company.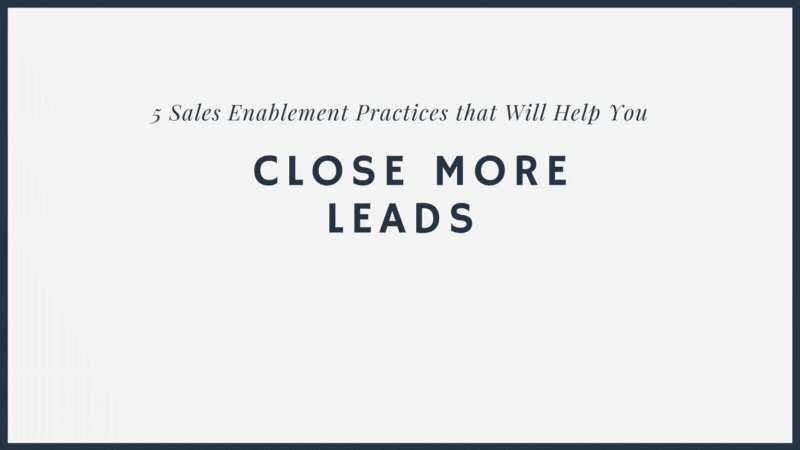 5 Sales Enablement Practices that Will Help You Close More Leads
Sales enablement consists of many moving parts, but the content and training are the main ingredients. If you can get these two elements implemented correctly, you are on the right track to a successful sales enablement strategy, and that means — closing more leads.
Here are five standard business practices and how a sales enablement strategy will help you address each one more effectively and efficiently.
1. Audit Your Current Sales Content
Remove any outdated content. Even if you're left with little content, that's okay.
Make a list of content that needs replacing with current and fresh content. Don't worry about replacing every piece of old content. Make it a priority to replace what is essential to your sales team's success.
How this increases leads — By removing outdated content, your sales enablement content will be easier to locate and use for your sales team. Your sales team will also no longer need to worry about sending outdated content to prospective customers.
2. Organize Essential Customer-Facing Content
Your customers come fully packed with all their research and data in hand, thanks to the convenience of mobile devices. However, they want quick answers to the questions they weren't able to get answers to independently.
Therefore, organizing customer-facing content is essential to your sales team.
How this increases leads — By organizing content, your sales team can give potential customers the answers to their questions quicker, helping potential customers move through their buying journey.
3. Sales and Marketing Teams Should Brainstorm Together
Your sales and marketing teams need to be fully aligned because your sales team is in direct contact with your target audience. That means that communication channels need to be open between sales and marketing.
When someone from the sales team has questions or concerns from a potential customer, someone on the marketing team will have a better idea of the customer-facing content that should be produced.
How this increases leads — Salespeople who spend time writing sales collateral have less time to sell your products and services. By letting your sales team have direct input on customer-facing content and sales collateral produced by your marketing team, the content is more relevant to your audience, and your sales team can focus more on selling.
4. Make Training Ongoing
If your team is not consistently training and improving their skills, they'll become stagnant and lose momentum. Make training ongoing and give as-needed access to training materials.
How this increases leads — By cultivating a culture of learning and improvement, your sales team will continue to push harder and build their skillset. You'll get an all-star team who is motivated and selling instead of being bored and stuck in a rut.
5. Train the Sales Team Directly with the Tools They Use
There are many sales enablement tools and resources available for your sales team. Whether your business utilizes one or five, make sure your sales team understands how these tools work and that they're adequately trained to use them.
How this increases leads — By having a sales team trained on how to use the chosen sales enablement tools, they'll sell more effectively and efficiently.
With a fully developed sales enablement strategy and trained staff, sales leads increase, leading to more closed deals.
Implement Sales Enablement in 5 Steps
Now that you have a better understanding of sales enablement, you're probably wondering how to implement it to scale your business.
With these five key components to implementation strategies, you'll be well on your way to closing more leads and gaining more sales in your business.
1. Understand How a Sales Enablement Strategy Impacts the Customer
Your customers have control over the buying process because consumers do their research online before they even interact with your sales team. As a business owner, you must have a sales team trained to pinpoint where your potential customers are within their buying journey and create their messaging accordingly.
2. Prepare a Customer-Centric Sales Enablement Strategy
As you're setting the foundation and building your sales enablement strategy, approach it through the lens of the customers' journey. Sales enablement strategies should give your sales team the tools and resources to have impactful conversations with your customers where they are in their buying journey.
3. Make Sure Your Sales Enablement Strategies Are In Alignment
You can evaluate how aligned your sales enablement strategy is with your customers' journey by asking the following questions:
Have you worked with your sales, product, and marketing teams to map out your customers' journey?
Have you worked with your current customers to map out their buying journey?
Is the journey the primary point for your current sales enablement strategy?
Do you have specific content for your sales team to utilize at each stage of the customers' journey?
4. Establish a Clear Structure for Your Sales Enablement Strategy
Make sure you formalize the structure of your sales enablement strategy as soon as possible. Without an established strategy in place, your business sales enablement plans could unravel quickly.
Because of the ambiguity that can be associated with the function of sales enablement, it's crucial to incorporate all of the strategies from your different teams and cross-functionally align them with your main goals and expectations.
5. Create a Sales Enablement Charter
Think of a charter as your blueprint or business plan for your strategy. The sales enablement charter includes your goals, tactics, stakeholders, key deliverables, metrics, and more.
Outline the sales enablement charter of your business early, often, and with transparency. Expectations of a sales enablement strategy vary. It's essential to formally align yours at the very beginning of the planning process.
A formalized sales enablement charter is much more likely to get executive support and engagement across cross-functional teams.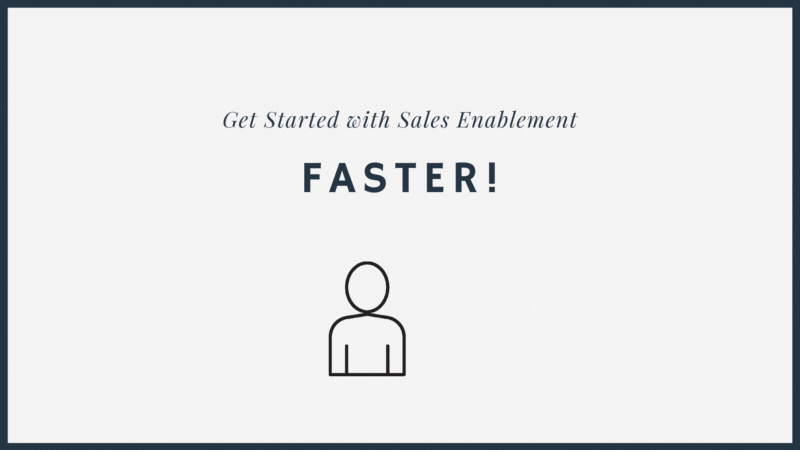 Get Started with Sales Enablement Faster!
Of course, you can do the research, learn everything there is to know about Sales Enablement, and try to implement it yourself — or you can take a shortcut.
Our professionals work with companies just like yours every day to help them increase their sales and close more leads. We can help guide you through your sales enablement implementation and shortcut your learning curve.
Contact our expert team of sales and marketing professionals at Xcellimark today to learn more about how we can help.
Free Consultation
Get your free consultation with digital marketing & sales experts.
Get Started