Xcellimark Launches New Website for Simply Florida Real Estate That Makes It Easy For Potential Buyers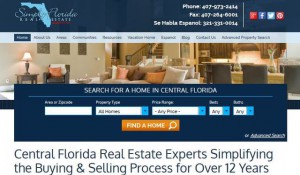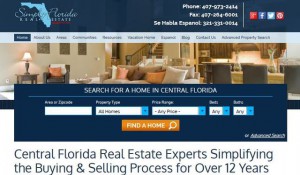 Digital Marketing Agency Xcellimark recently launched a new realtor marketing system for Simply Florida Real Estate. Simply Florida Real Estate is comprised of a team of professional and trusted realtors who assist domestic and international buyers and sellers with finding the ideal home, townhome or condominium in the Orlando metropolitan area.
The stellar reputation and commitment to excellence that Simply Florida Real Estate displays in the real estate industry needed to translate to their website user experience as well. Xcellimark interpreted these qualities into the look, feel and functionality of their website by updating it with a modern, clean and easy-to-navigate design that is optimized for mobile devices such as smartphones and tablets.
In addition to looking great on the front-end, the website also operates seamlessly from the back-end with a content management system that's user-friendly enough for the staff to update and make changes as needed.
The new website features a quick search widget on the home page that helps people quickly and easily locate their dream property by area or zip code, property type, price range, number of bed rooms and number of baths. The system also allows people to save their searches for quick access later or to share with someone else.
Visitors can easily search the communities they are considering buying property in by clicking on the community of their choice from the home page. Each MLS listing provides a wealth of information about the property and the community. The MLS listings are displayed in an organized and easy-to-navigate tab structure that makes finding all the pertinent information easy when shopping for a new home.
The realtor marketing system also allows the realtor to update each community with specific details about the community, providing the visitor with more information than is normally available to them in a real estate website. This gives visitors more insights into each of the communities as they research ideal areas that fit their personal lifestyle.
Other marketing capabilities include integrated search engine optimization, social media marketing and content marketing that drives interested home buyers to the website, providing them with the quality information they need when choosing a real estate professional. Email marketing can also be integrated to continue to engage the realtor's leads and customers in order to nurture them through the buying or selling process.
"Home buyers are very Internet savvy these days and 90% of them do their research online before they contact an agent (Forrester Research). The template-based real estate websites no longer really engage home buyers nor produce meaningful leads and customers for real estate agents and brokers. Successful real estate agents and brokers need an integrated realtor marketing system that provides them with continuous home buyer leads, and a lead nurturing process that converts them into clients. The realtor marketing system needs to be highly effective in reaching home buyers and sellers through their preferred online marketing channels of search engines, social media and email. In addition it needs to give the agent's target audience the information they seek and need throughout their decision making process. Buying and selling a home is an information-intensive process for both the potential home buyer or seller and the real estate agent. Therefore agents and brokers need an integrated marketing system that better serves both the home buyer/seller and the real estate agent or broker," said Scott Lambert, President of Xcellimark.
About Xcellimark
Xcellimark focuses on growing their clients' business through an inbound marketing approach that includes custom web design and integrated search engine optimization, social media, email and content marketing solutions. For more information on how Xcellimark can help you improve your bottom line, contact Scott Lambert at 407-678-3062 ext. 210 or visit www.xcellimark.com.
About Simply Florida Real Estate
The Simply Florida Real Estate Team has been assisting both domestic and international buyers and sellers in the Central Florida Area since 2002. They take a unique personalized consulting approach to understand their client's needs and lifestyle to locate the ideal home, townhome or condominium.
Whether you are an investor, a first time home buyer, relocating to the area, or you're looking for a second home, Simply Florida Real Estate makes the process simple by doing the research for you and matching the property options to fit your individual requirements.
The experts at the Simply Florida Real Estate Team specialize in new home construction, custom homes and existing homes in the areas of Celebration, Windermere, Lake Nona, Clermont, Davenport, Kissimmee, Bella Collina, Champions Gate, Golden Oak, Winter Garden and more.
Free Consultation
Get your free consultation with digital marketing & sales experts.
Get Started