Florida Payroll Launches a New Look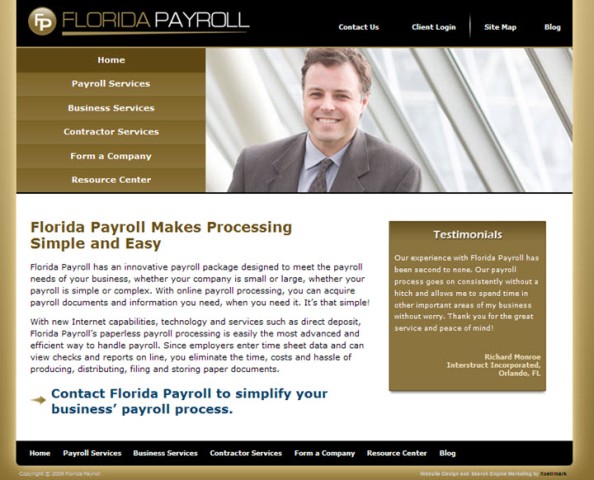 A few years ago, I noticed that a large fast-food chain re-modeled the interior of many of its restaurants changing them from fluorescent lights with bright colors and hard seating to more neutral colors with soft lighting and comfy seating. It wasn't surprising to see them make this change since sitting on sofas in coffee shops had become a popular meeting place for people from all walks of life.
Like brick and mortar establishments, the internet is another area of commerce that is heavily influenced by trends, consumer usability and functionality.
Florida Payroll has responded to consumer input and trends with a beautifully redesigned site that reflects their growth and sustainability as well as their forward-thinking approach to business.
Xcellimark launched Florida Payroll's first site in 2007 with a clean, easy to use layout designed with bright, crisp colors including scenes of Orlando. In 2009 Florida Payroll approached us again wanting to update their website design to keep it relevant, as well as to reflect their consistent growth and recent business partnerships.
While working on the new design, we also redesigned their logo, stationary and marketing materials, updating their entire look to better portray their professional image.
Xcellimark's design, copywriting and development team worked with the Florida Payroll staff to design and launch an elegant, user-friendly website that depicts the high-quality and professional work offered to its clients.
Check out their new website at www.floridapayroll.com.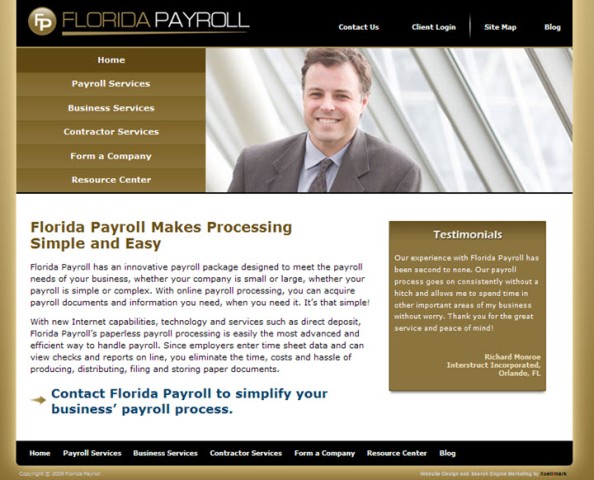 Designed with rich, bold colors, it was important to Florida Payroll that the site maintains its ease-of-use while providing new and relevant information for website visitors, along with a Blog where staff can communicate up-to-date information directly to its clients in a timely manner. Since most of Florida Payroll's clients are small businesses, it was important to reflect the hard work and dedication of small business owners in the photographs used on the website as well as to represent the many professions that use Florida Payroll's services.
Free Consultation
Get your free consultation with digital marketing & sales experts.
Get Started