HubSpot 2022 CRM Updates from Inbound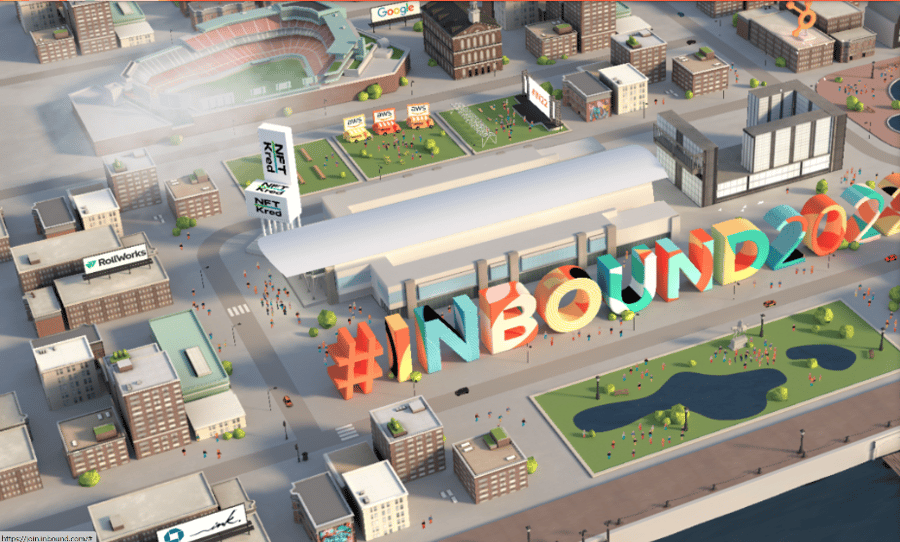 INBOUND is an annual international event powered by HubSpot that brings together thought leaders in marketing, sales, customer success, and revenue operations from over 161 countries.
A highlight during this event each year is the announcement of new HubSpot product features, enhancements, and capabilities. These new advancements allow HubSpot customers to adapt and grow in this Era of Disconnection that has made it difficult for businesses to connect with their prospects and customers.
HubSpot makes it easier to overcome this crisis of disconnection that is driven by:
Disconnected data and systems
Disconnected customers
Disconnected teams and people
HubSpot's CRM and related Hubs (Marketing, Sales, Customer Service, CMS, and Operations) have become the best option for businesses and organizations who want to scale more effectively and efficiently into today's disconnected ecosystem.
Your target marketplace and customers have changed, especially in the last two years. Businesses must deliver a connected and personalized experience for customers.
HubSpot differs from Salesforce and the other big CRMs because it is a crafted, not cobbled together, solution. Your teams grow by using tools that are powerful alone but even more robust when used together.
It's time for your Revenue Operations teams (Marketing, Sales, and Customer Service) to work together using a single, comprehensive CRM platform. HubSpot is the all-in-one CRM platform you need to achieve your goals.
Here are some of the new enhancements to the HubSpot CRM and related Hubs announced at INBOUND 2022.
Marketing Hub
Already rated as the #1 marketing platform, HubSpot's CRM Marketing Hub keeps getting better.
WhatsApp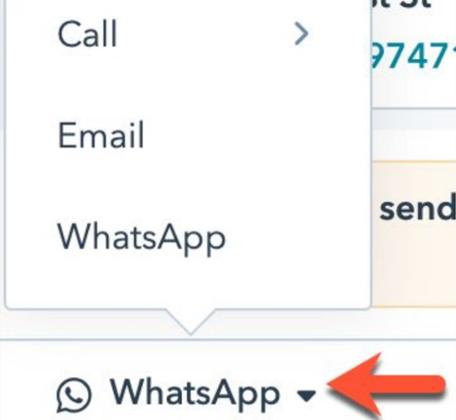 Your teams can now connect a WhatsApp business account to the shared inbox as a messaging channel to communicate with prospects and current customers. WhatsApp messages (including videos and images) initiated by businesses and contacts, as well as conversations, will be visible on the contact record. Available in both Marketing and Service Hub Professional/Enterprise.
Campaigns 2.0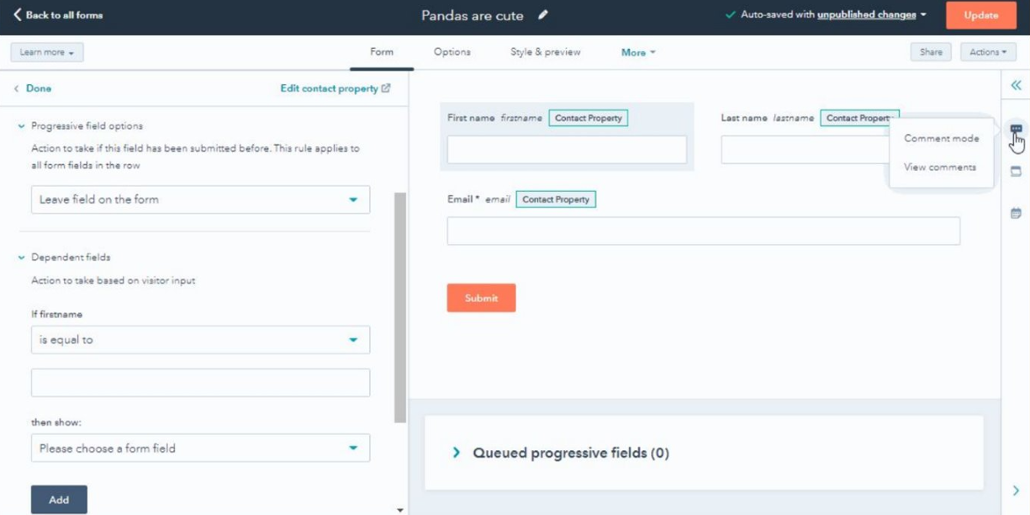 HubSpot provides the ability to turn tactics into a well-planned strategy by running campaigns. Your entire team can collaborate to execute a campaign, engage with customers at every touchpoint, and access insights to optimize and grow the campaign.
Campaigns are where your marketing team comes together to create unique, coordinated, seamless experiences for your customers. Available in Marketing Hub Professional/Enterprise.
Customer Journey Analytics

Marketers' goals and reporting requirements vary significantly from one organization to the next, so one-size-fits-all reporting is often ineffective. New customer journey analytics enables marketers to see their customer's entire journey from start to finish and get detailed insights into how to improve conversions by optimizing key moments. Available in Marketing Hub Enterprise.
Ad Conversion Events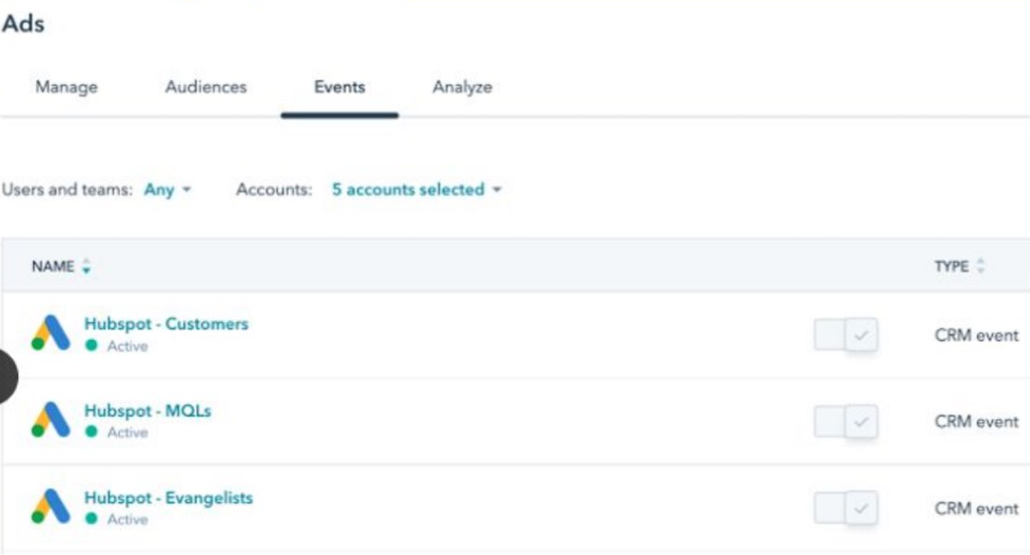 Keep your advertising strategy up-to-date with HubSpot's ad conversion events, which will power your hyper-targeted ads across major ad networks. By the end of 2022, HubSpot customers can fully use their first-party data to target, report, and optimize in a cookieless, privacy-first world. LinkedIn is now available; other platforms will follow later in 2022. Available in Marketing Hub Professional/Enterprise.
Sales and Service Hub
This sales software is powerful and easy for sales teams to use, helping them close more deals, deepen relationships, and manage their pipeline more effectively.
Custom Goals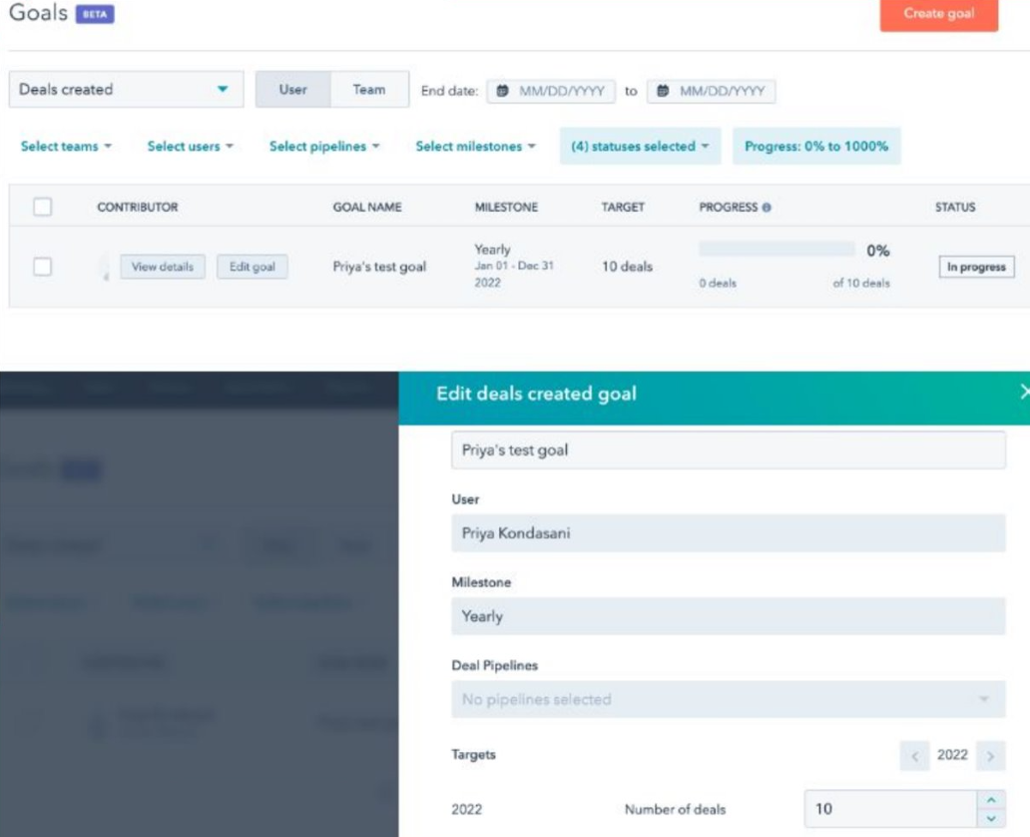 Custom goals enable you to effortlessly set, track, and manage performance by establishing goals unique to your business. The progress bar automatically reflects any changes made to targets. Keep goals updated by automatically reflecting any changes made to targets in the progress bar. Notifications based on setting, achieving, exceeding, and missing goals allow you to better align stakeholders, promote transparency, and share accountability. Available in Sales and Service Hub Enterprise.
Inbound Calling

Sales reps can use unique phone numbers to make and receive calls from their personal phone – without exposing their number. Record, transcribe, and coach based on the content of these calls with transcriptions live in the CRM. HubSpot-provided numbers for inbound calling are now available in the US, UK, and Canada. Available in Sales and Service Hub Starter/Professional/Enterprise.
Deal Management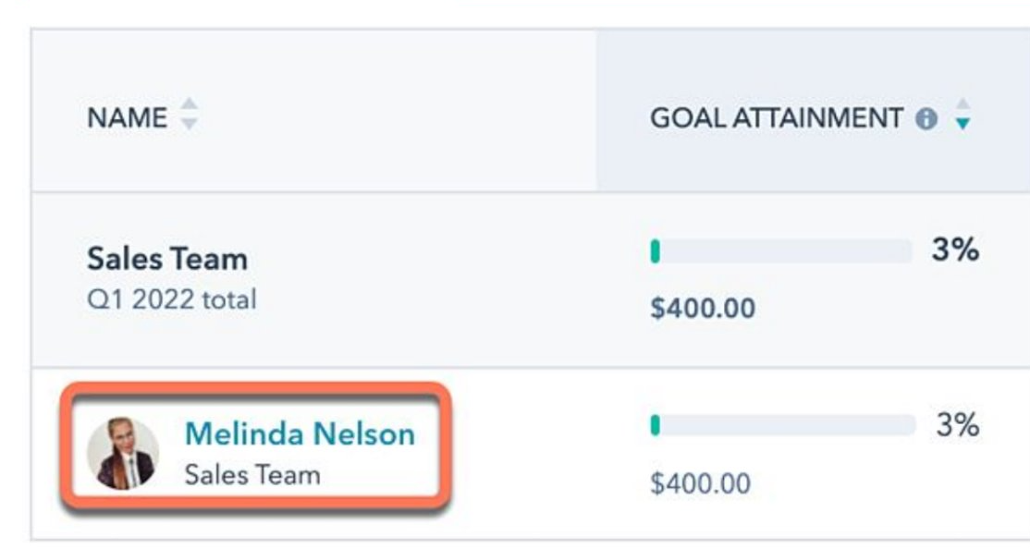 Enjoy forecasting and deal management improvements, including a new goals app, team goals, and a better overall experience for your reps. Available in Sales and Service Hub Professional/Enterprise
Payment Schedules – In addition to accepting payments quickly, securely, and easily with payment links, HubSpot is releasing a payment schedule that allows merchants selling services to break down a large bill into several installments. Each installment will have its own due date, amount, and name.
CMS Hub
This website content management software is flexible for marketers, powerful for developers, and gives your customers a personalized, secure experience.
Free CMS tools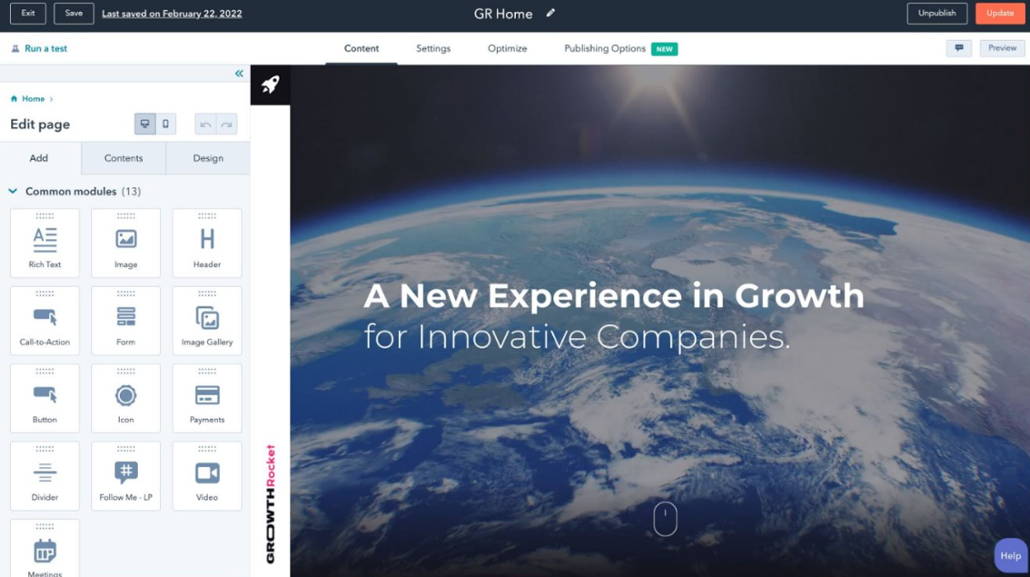 A company's website is a critical marketing asset, particularly since it is frequently the first exposure a prospective customer has to a business or organization. Businesses need the ability to customize their websites without breaking the bank or needing to hire developers. These CMS tools allow businesses to build safe, secure, and aesthetically-pleasing websites at no cost.
CRM Customization
HubSpot's CRM platform has all the tools and integrations you need for marketing, sales, content management, and customer service. As I stated earlier, each product or Hub is powerful as a standalone platform, but the real magic happens when you use them together.
Right Sidebar Configuration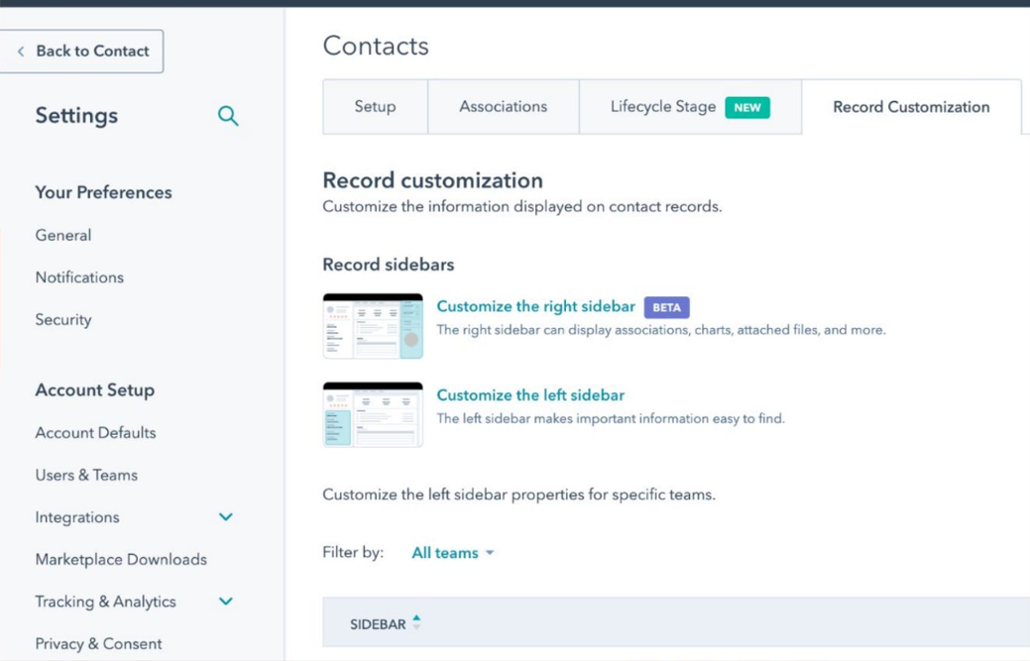 The right sidebar can be optimized for reps by admins to display or hide card sections. Customers can establish conditions only to show appropriate cards to different teams. Customers can display internal data (e.g., chart with page views, table with customer summary data, button to launch a workflow) or external data (e.g., data from internal systems, Google Sheets, Amplitude chart). Customer developers will use developer platform tools to build in the custom tab. Available in all Professional/Enterprise Hubs.
New Activity Types and Configurable Buttons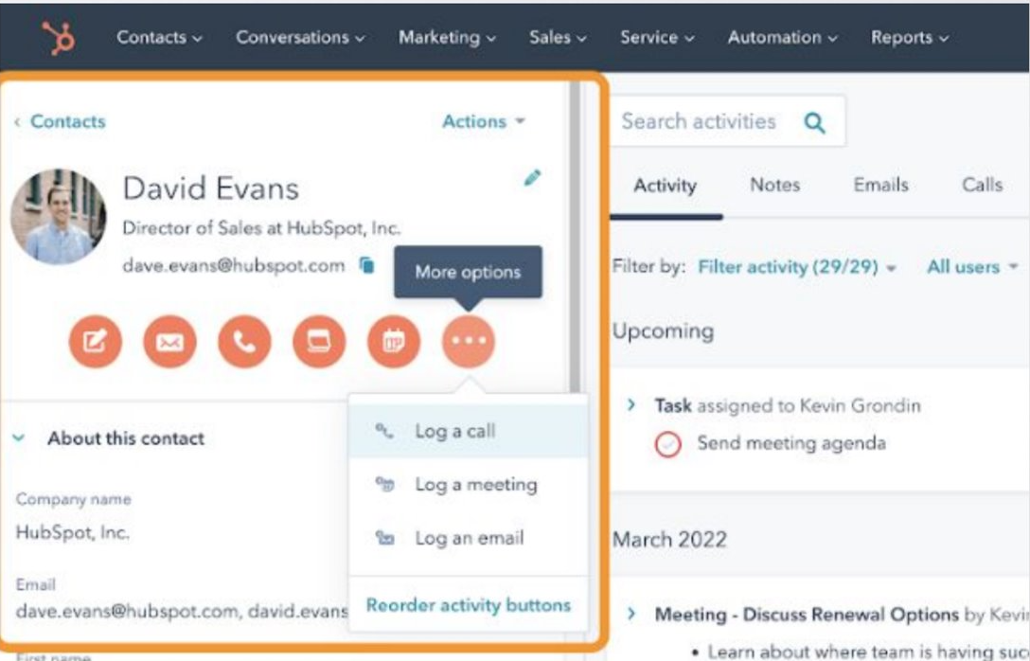 Manually log new types of customer connection activities, including SMS, LinkedIn Message, WhatsApp, and Physical Mail. Choose which activity buttons appear in the record highlight card and reorder them for quicker access.
Board Card Configuration
Admins can select up to four properties to display on board cards of all pipeline objects, including deals, tickets, and custom objects. Tailor cards to display different properties at each pipeline stage when multiple pipelines are present. All Hubs include default board properties. Different properties by pipeline are available in all Hubs Professional/Enterprise.
Records Overview Tab
A new overview tab on all records allows you to view critical information. Hub Professional and Enterprise customers can configure the layout and determine which properties are shown, such as property highlights, a recent activities card, and associations tables. These customers can also configure conditional logic to display different data to different teams. With Service and Sales Hub Enterprise, developers can create custom cards with development tools to feature on the custom tab.
Record Custom Tab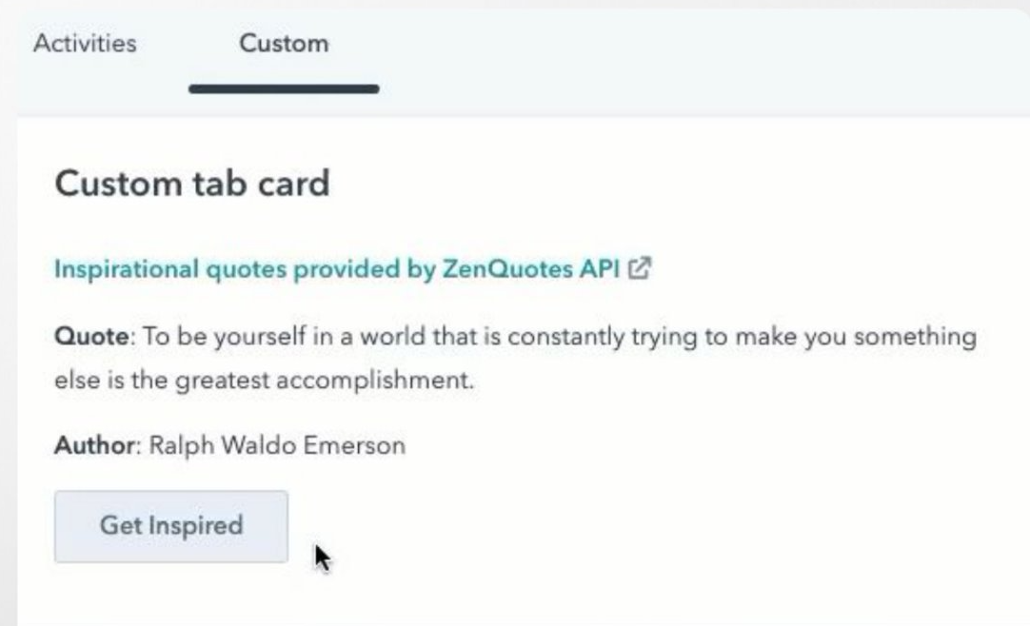 In addition to the Records Overview Tab, Sales and Service Hub Enterprise developers can use development tools to create custom cards in an additional tab if more space is needed. You can also create custom cards to interact with internal or external data, including a button to trigger a HubSpot workflow, a property list of external ERP data, or statistics with market trends.
Data Quality and Management
Almost all businesses view data as one of their most valuable assets. However, it is challenging to manage. The key is collecting, storing, protecting, and processing data sustainably and effectively. Only then can you gain insights that will drive effective business decisions. Available in all Hubs in the CRM.
Cleaner Import
A new import experience flags and resolves data errors before being published to the CRM. This reduces the amount of time spent resolving any issues later. Available in all Hubs in the CRM.
Property Validations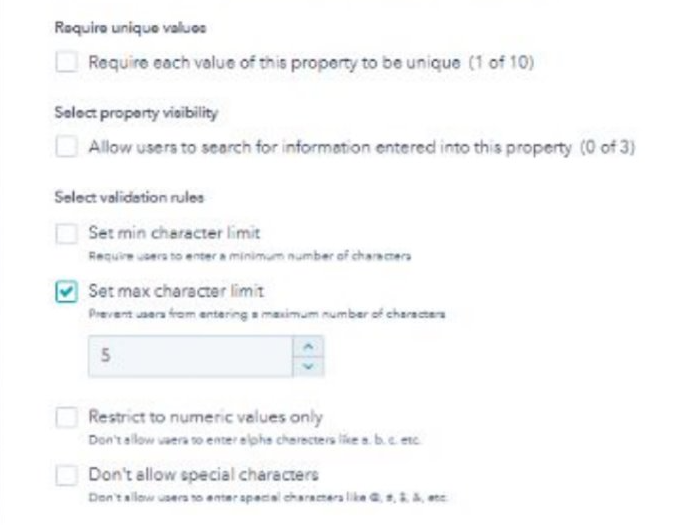 Gain more control over the data manually entered by reps without slowing them down. Property validations deliver better database consistency and a smoother customer experience. Available in all Hubs in the CRM.
Data Model Overview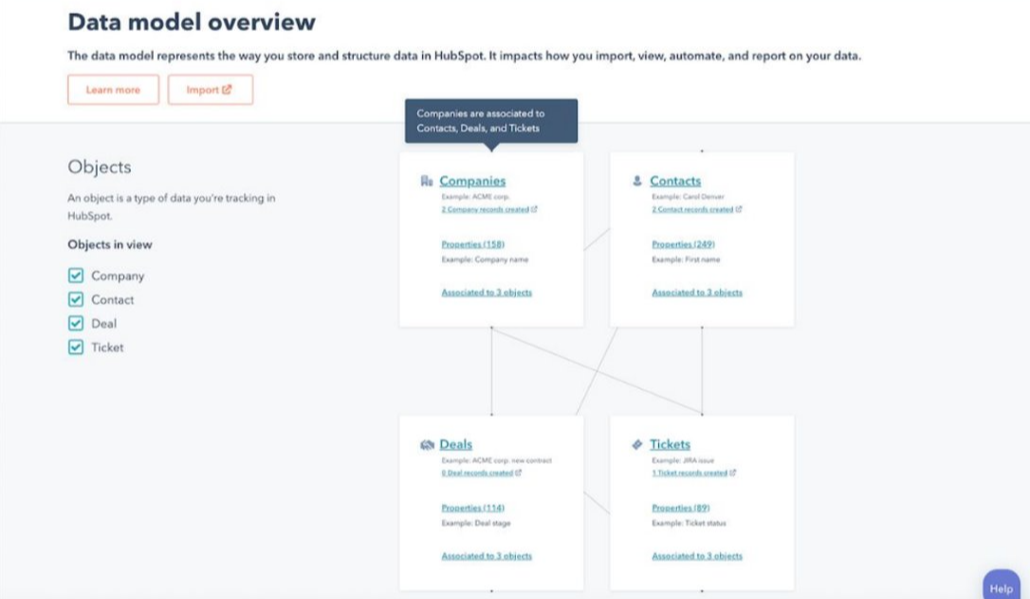 Easily see how your data is organized in HubSpot with a consolidated view of HubSpot standard objects, properties, and associations. A solid data structure gives you confidence in your CRM from the start.
Custom Object Builder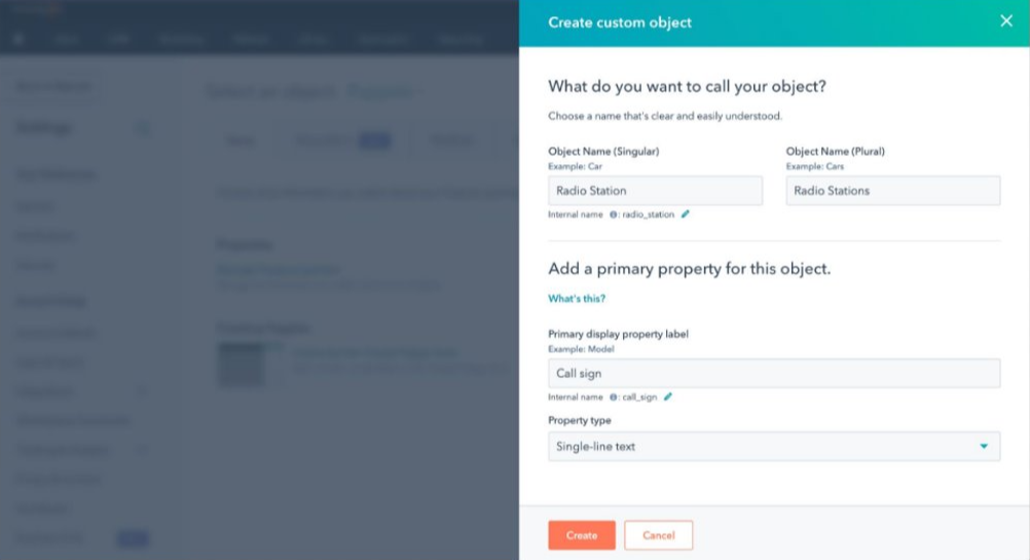 Take advantage of a simple way to build custom objects without requiring coding. An admin can define the name, plural name, and first property of a custom object while requiring them to use separate tools to manage associations, create custom properties, and set up automations. Available in all Hubs Enterprise.
Data Quality Command Center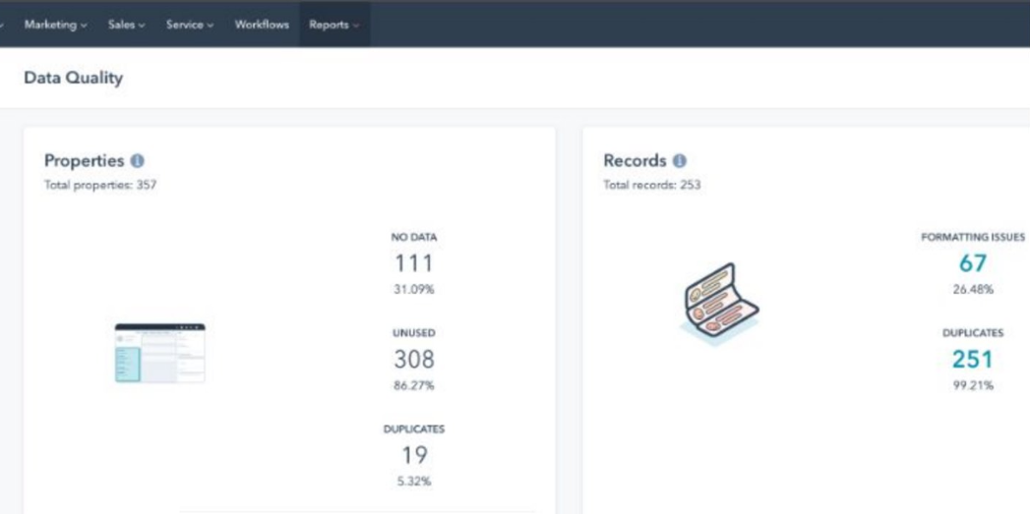 View the health of your HubSpot data in one place. Quickly identify bottlenecks and problem areas. Customers no longer have to manually and individually accept suggestions, saving them time to focus on more important things. Available on all Hubs Professional/Enterprise.
Automation Recommendations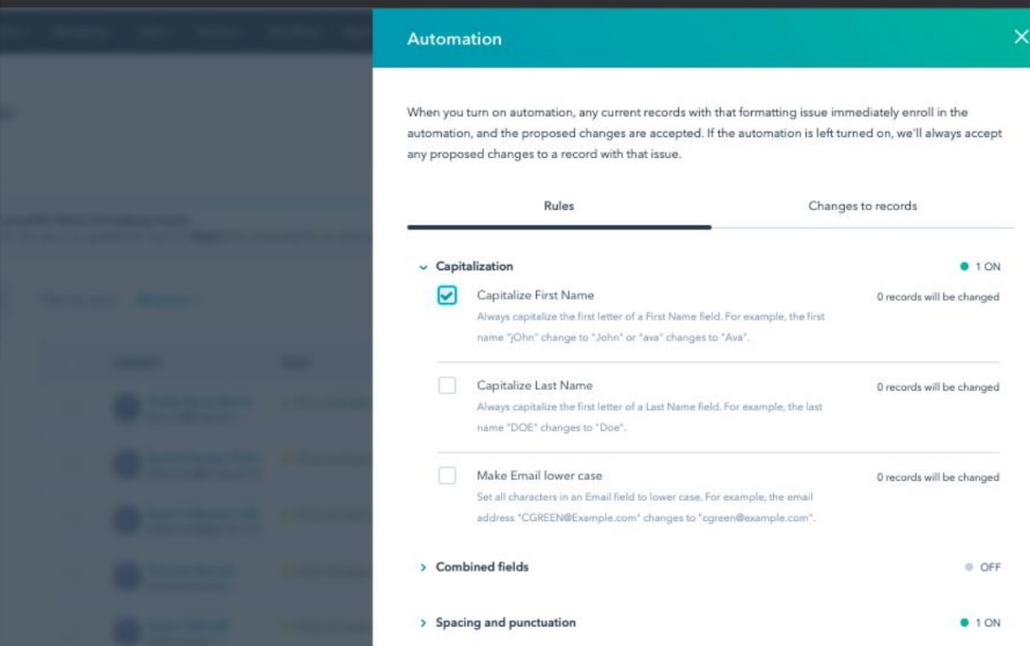 Forget the manual burden of fixing data errors. HubSpot's Artificial Intelligence removes the burden of manually fixing data errors by scanning your database for issues and recommending automations to fix them. Customers no longer have to manually accept suggestions; HubSpot CRM will clean itself. Available in all Hubs Professional/Enterprise.
Operations Hub and Developers
Operations Hub provides a unified toolset that connects your apps, cleans and curates customer data, and automates business processes under one central CRM platform.
Product Sync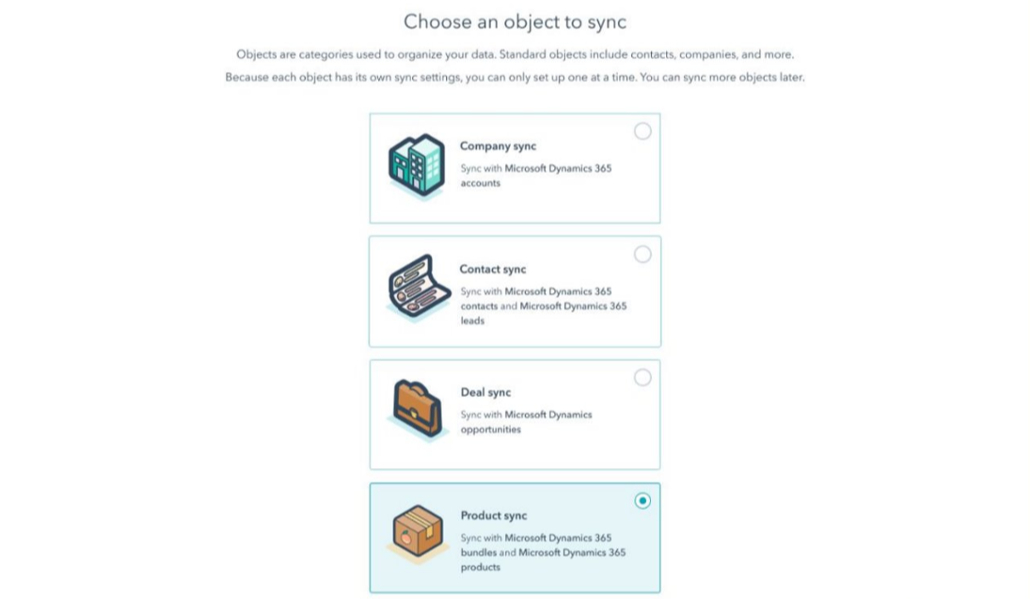 Run a bidirectional data sync by connecting third-party apps to your HubSpot product library. The new feature allows over 20 data sync apps to run product library syncing, and set up is a breeze. Available in Free/Starter.
Invoice Sync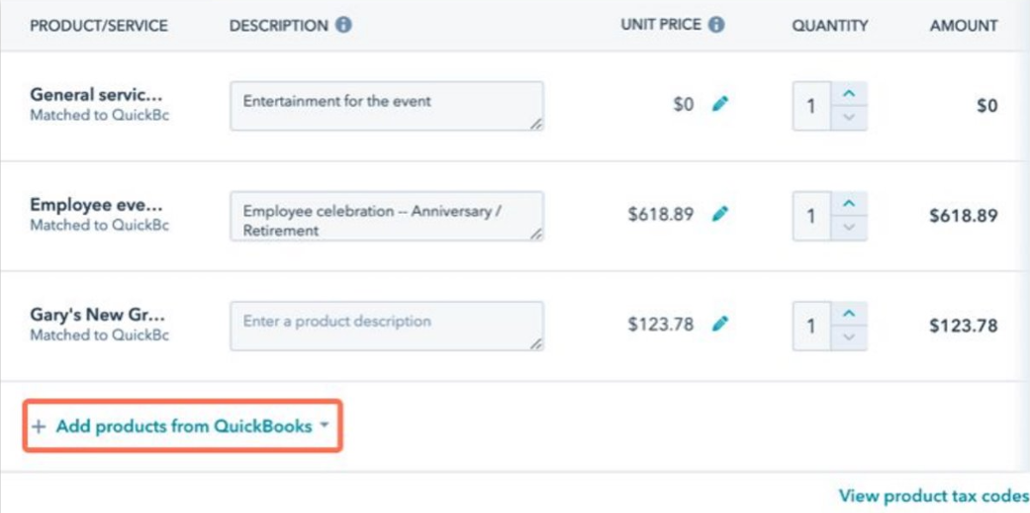 Get a complete picture of your business when you expand beyond Quickbooks Online to one-way sync invoices to HubSpot from more third-party apps such as QuickBooks, Dynamics 365, and NetSuite. Available in Free/Starter.
Data Sync Health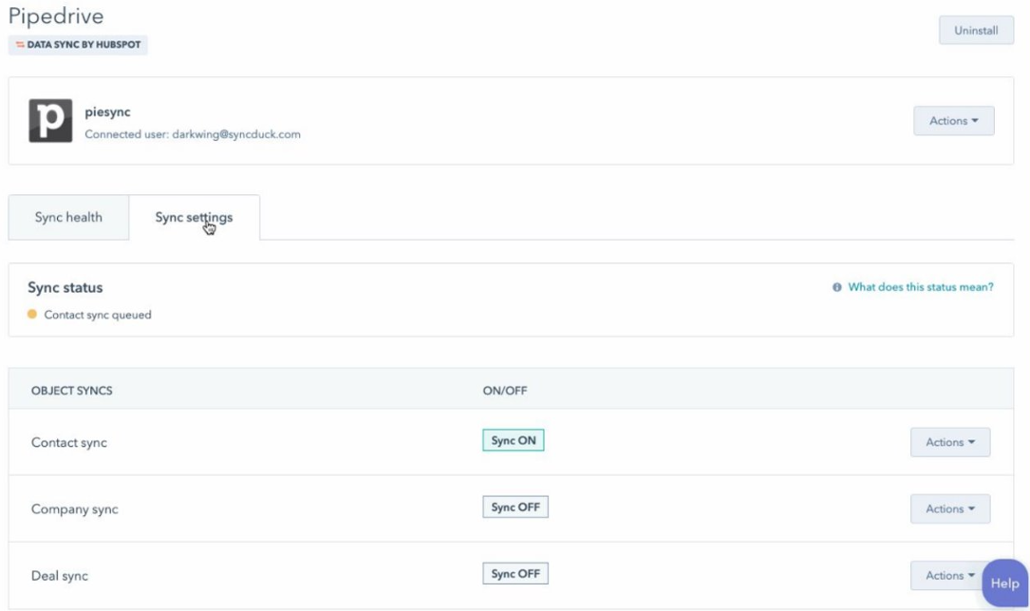 The 'Sync health' tab inside the app's sync settings will allow you to see which integrations are in sync, excluded from sync, or failing to sync. You can quickly diagnose integration health issues and keep your systems and teams aligned with consistent data.
Developer Improvements
HubSpot has excellent resources for the developer community that further expands your resources and capabilities for HubSpot solutions.
Development Sandboxes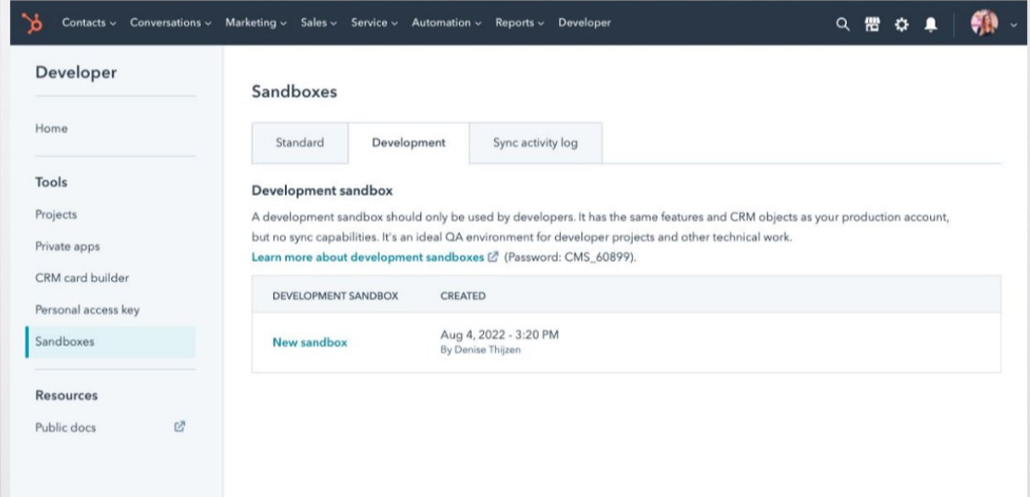 A development sandbox is an isolated testing ground where a developer can safely build and check early development work before putting them into their standard sandbox or production account. New development sandboxes have the same features and CRM object definitions as the customer's production account. Available for Sales and Service Hub Enterprise.
Projects GitHub Integration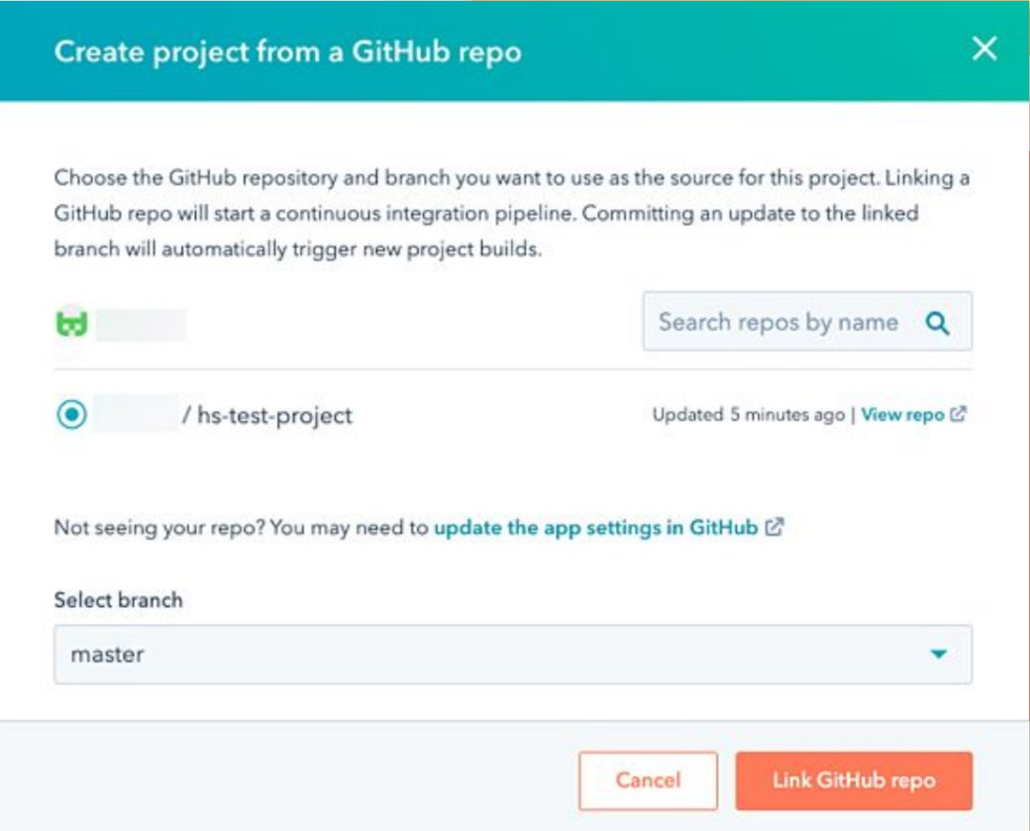 Developers can use GitHub as the source of record for their HubSpot Project's codebase. They can use familiar GitHub tools and workflows to collaborate with their teams and push code to their repositories to trigger project builds. Available for Sales and Service Hub Enterprise.
Debugging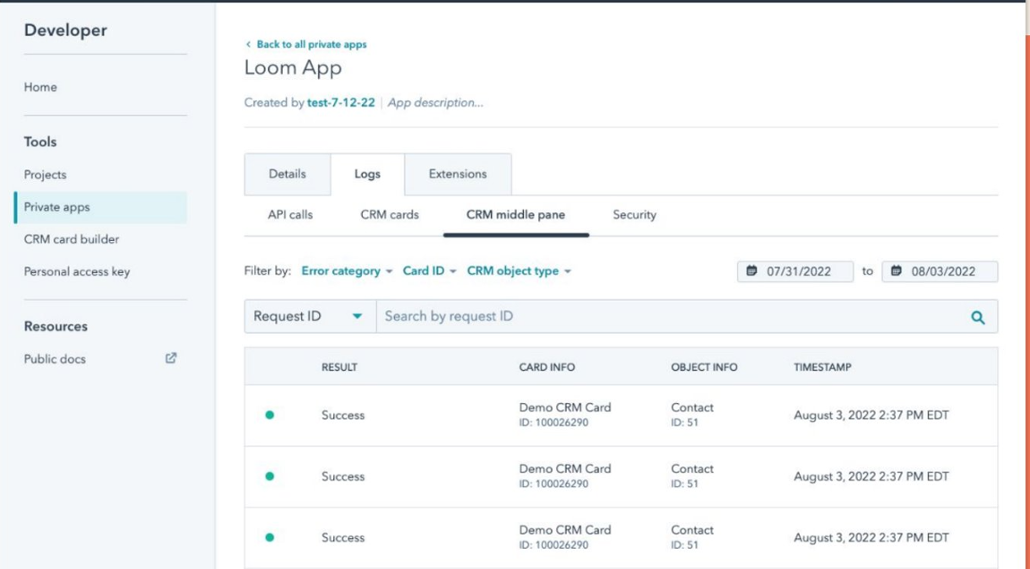 HubSpot continues to improve debugging features to create a world-class experience for HubSpot developers. A new CRM mid-panel card logging system lets developers monitor the functionality of their private apps. The logs contain execution details that make it easier to debug potential failure causes. Available for Sales and Service Hub Enterprise.
CRM Card Builder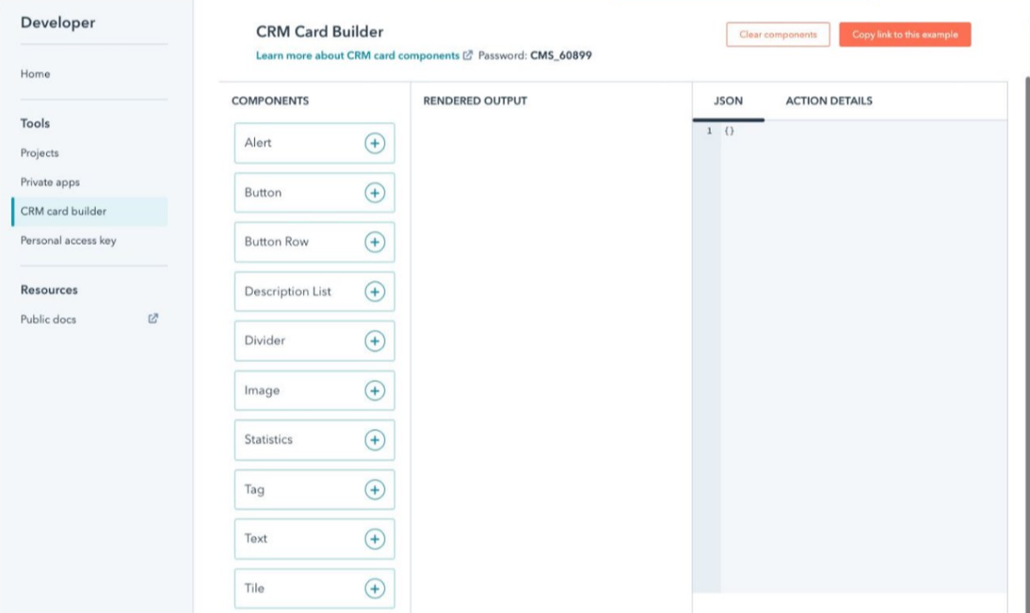 Developers can now build new CRM cards, making it easier for users to do their jobs. There is an interactive interface for quickly developing JSON payloads to deploy custom CRM cards and use them on custom objects or display custom object data over other records. Available for Sales and Service Hub Enterprise.
Wrap Up
While these announcements are impressive as HubSpot moves to the #1 CRM for businesses who want to scale, this is only scratching the surface. Stay tuned for more!
Ready for a HubSpot Demo and Consultation on how we can scale your business?
Get a Free HubSpot Demo and Consultation.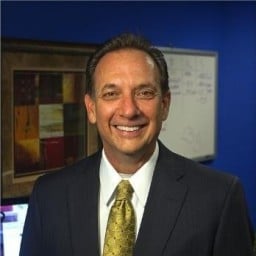 Free Consultation
Get your free consultation with digital marketing & sales experts.
Get Started