Learn The Jaw-Dropping Facts About Digital Marketing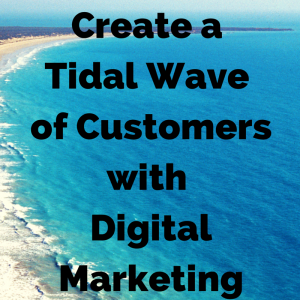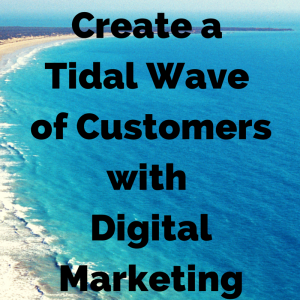 Growing your business is the key to corporate and career survival, whether you are a business owner or marketing executive. But things have changed rather rapidly when determining how to best grow your business.
Face it, today your ideal customers will qualify or disqualify you online before they ever contact you.
97% of consumers now use online media when researching products and services in their local area (BIA/Kelsey)
Consumers engage with 11.4 pieces of content prior to making a purchase decision (Forrester)
84% of buyers engage in online information consumption and education (Google ZMOT)
What is Digital Marketing?
Digital marketing is basically the education (and subtly the promotion of products and services) through various forms of online digital media.
It differs from traditional marketing in that it uses a range of digital content, channels, processes and methodologies that enable an organization to reach it's intended audience in real time through the methods the audience chooses to interact and engage.
Digital Marketing allows for real time marketing testing, optimization and analysis to know what it working and what is not working in order to accelerate continuous campaign improvement and return on investment (ROI).
Why Digital Marketing is Important?
Since over 90% of your prospects search for information about your products and services BEFORE they decide to contact you, you need to have an effective Digital Marketing Strategy to have any meaningful success at growing your business.
70% - 90% of the buyer's journey is completed BEFORE prospects contact a sales representative (Forrester)
90% of consumers say that their buying decisions are influenced by online reviews (Dimensional Research)
It has never been more important to develop a strategy and plan to educate your target audience and engage them further with your brand through all of the key digital marketing channels including search engines, social media, email, press releases, authoritative websites and video. And it does require a reasonable budget.
According to Gartner, in 2012 companies spent on average 2.5% of their company's topline revenue on their digital marketing activities.
Digital Marketing Tactics
There are a range of digital marketing tactics that are used to create, promote, distribute and present the content your target audience is seeking. Business owners and marketing executives are increasingly shifting their marketing budgets to digital strategies and tactics.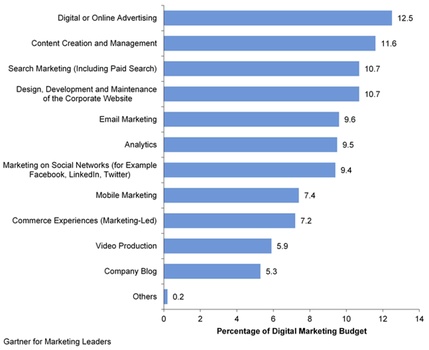 The Gartner research in the chart above shows the breakdown of how digital marketing budgets are currently being spent.
Digital Marketing Tactics Are Integrated into Inbound Marketing
Today Digital Marketing is comprised of a range of formerly isolated, standalone services that were implemented separately in order to reach and educate your target audience.
The reality is that marketing services such as search engine optimization (SEO) is significantly impacted by other marketing tactics such as your content creation and promotion, social media interaction, web design and development, mobile, blog platforms and video distribution.
For digital marketing to be successful you have to effectively implement an integrated marketing methodology and process that works together to grow your business.
It's called Inbound Marketing.
What is Inbound Marketing?
Inbound marketing is an integrated marketing methodology of creating and distributing content that your ideal target audience consumes at each stage of their buying cycle through various digital channels. The key components of Inbound Marketing are:
Content Creation – Create targeted content that answers your prospects' basic questions and needs, then distribute that content through the inbound channels of search engines, social media, email and authoritative websites.
Buyer Cycle Marketing – Recognize that your ideal customer goes through stages as they move through their buyer cycle, making decisions based upon the information they receive. Each stage requires different content and marketing actions.
Personalization – Personalize your content to your prospects as they move through their decision-making process.
Multi-Channel – Use multiple channels to reach your target audience. Inbound marketing is multi-channel by nature because it approaches and serves your prospects based upon where they are in the channel and at what point they choose to interact with you.
Integration – Integrate your publishing and analytics tools so that they work together like a well-oiled machine, allowing you to focus on publishing the right content in the right place at the right time.
Incorporating an Inbound Marketing Campaign as part of your overall Digital Marketing plan is one of the 8 most critical elements needed to grow your business in today's digital driven marketplace.
While you may not be able to stem the tidal wave that drives business growth today, you can learn to ride it really well in order to achieve your goals.
In the next article we will talk about how the Inbound Marketing process works to grow your business.
Download the 8 Most Critical Elements of a Digital Marketing Plan now and start riding the wave to higher ROI.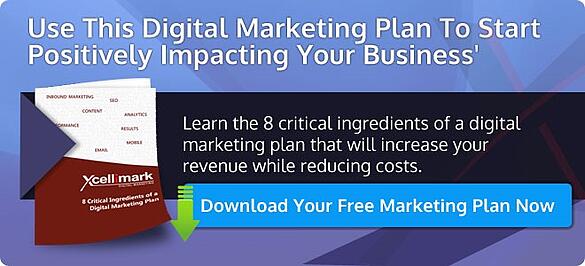 Free Consultation
Get your free consultation with digital marketing & sales experts.
Get Started