Xcellimark Increased Grand Bayman's Website Closure Rate by 83%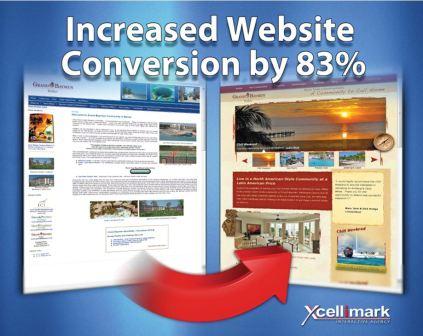 Most people think a website is just a website and as long as they have one, they feel that they are doing enough to actively engage their audience in online marketing. However, Xcellimark proves time and time again that companies are leaving money on the table by not testing, measuring, and optimizing their online marketing efforts.
The most recent example of this is the website redesign Xcellimark did for Grand Bayman. This premier Ambergris Caye condo community saw an 83% increase in their website's ability to close prospects visiting the site. Conversions were defined as either of the following:
Signing-up for a "Chill Weekend"
Signing-up for the newsletter
Filling out a "Contact Us" form for more information on purchasing a condo at Grand Baymen
The main goal of GrandBayman.com is to generate leads of qualified prospects that are interested in attending a "Chill Weekend" to test drive island living and get more information on renting or investing in real estate on Ambergris Caye, Belize. Due to seasonal website traffic fluctuations, the newly designed website was able to generate more leads with less traffic than Grand Bayman's previous website design.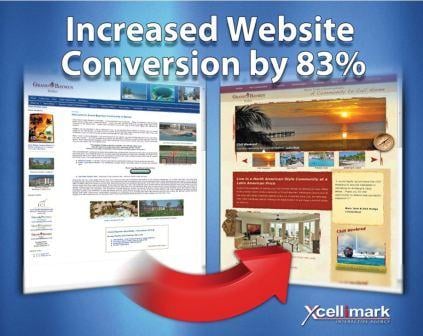 Online Image Determines Your Online Success
How your website is designed and laid out directly impacts your website's capability to convert visitors into customers or leads. Site visitors make inferences about your product and/or service quality based on your online image. If your online image is cheap, then they infer that the quality of your product is cheap. And if your website is difficult to navigate, then they assume that you'll be hard to work with.
Clear Copy is Key
It is also important that your website's copy clearly communicates your company's value proposition. You need to be able to clearly answer the following 3 questions within the first 7 seconds of someone coming to your:
• Where am I?
• What can I do on your website (i.e. fill out a form, buy a product, etc.)?
• Why should I do it there, as opposed to a competitor's website (Value Proposition)?
If you don't answer these questions clearly and quickly, visitors will abandon your website and continue their search for someone else to do business with.
Xcellimark understands these principles of website design and we know that when the right principles are put into place, your website will generate more revenue than ever before. To learn how you can increase your profits with effective website design, contact Xcellimark today.
Free Consultation
Get your free consultation with digital marketing & sales experts.
Get Started