Digital Content Marketing Tips for 2022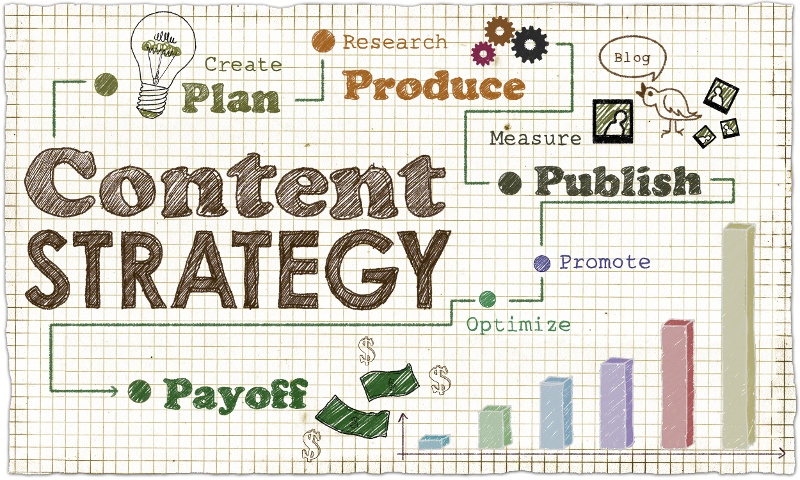 One of the most important keys to achieving your business goals through digital marketing is the effectiveness of your content marketing activities. That's because today's buyers want to educate themselves first before engaging with your sales team.
Consider these stats:
Only 29% of people want to talk to a salesperson to learn about a product, while 62% will consult a search engine like Google. (HubSpot)
47% of buyers viewed 3-5 pieces of content before engaging with a salesperson. (Demand Gen Report)
57% of B2B purchase processes are completed before buyers reach out to vendors. (Harvard Business Review)
Most marketers understand that publishing content digitally is important for business growth. But it is also one of the most challenging aspects of marketing that many businesses face.
Here are some tips on how to improve your content marketing to help you generate the type of content that will help move potential customers closer to engaging with you.
1. Align Your Digital Content Strategy to Your Business Goals
It is essential to tie your content marketing strategy to your business goals to help form a digital content plan that is effective for your business.
For example, your goals may be to:
Create awareness of your company and solutions for your target audience in a specific geographic region.


Generate leads and qualify them to create more sales opportunities.


Increase your sales closure rate to close more sales and create more customers.


Increase your customer retention rate and NPS scores to drive more repeat business and customer referrals.
2. Align Your Content Strategy with Your Buyer Personas
Your content plan should include discernments about your buyer personas based on 5 key insights:
What are the priority initiatives that trigger your ideal buyers to invest in your type of solution? It's important to understand the trigger events or circumstances that motivate your ideal buyers to allocate their time, budget, and resources to solve their problems with a solution that you provide.


What does success look like to your buyers? What are the results they are trying to achieve or challenges they want to overcome?


What are the perceived barriers that cause your buyers to believe you are not the best solution for them?


What does their buyers' journey look like, and who else is involved in making the decision or having a significant influence in the decision?


What factors, criteria, or capabilities have the most impact when your buyers choose your solution.
3. Map Your Content to the Stages of Your Buyer's Journey
Your buyers go through different stages in their journey to buy. Therefore, your content needs to connect and engage with them in each stage.
Understand the information and content types needed to attract, engage, convert, and close your ideal buyer throughout their evaluation journey across key digital marketing channels.
Your buyers' stages include the following:
Awareness Stage
This is where the potential buyer realizes they have a problem or challenge that needs to be resolved. This is when they start researching and looking for a solution.

In this stage, focus on content about your buyers' pain points, challenges, or opportunities they seek.

Create and publish educational and inspirational content like blog articles, social media posts, online press releases, and videos that motivate them to engage with you further. This gives them the chance to learn more about how you can meet their needs.


Consideration Stage
The potential buyer in the consideration stage defines the solution they can use to achieve their goals and overcome their challenges. Content in this stage should introduce solutions that you provide that will meet your buyers' needs.

Examples include content offers such as eBooks, guides, white papers, and lists that are hyper-focused on your buyers' pain points, challenges, and goals.

Your content should include a call-to-action (CTA) introducing a course of action to solve and achieve their desired result. Typically, this content is gated with a form so you can better qualify them as a lead for your solutions.


Decision Stage
This is where your potential buyer generates a list of companies or solution options that might help them achieve their goal. The content in this stage should be specific to your brand, product, services, and solutions with details on how you meet your ideal buyers' needs.

The content can include the benefits of your solution, an overview of your processes, case studies, customer testimonials, referrals, and reviews.

It should also include a CTA to engage with your sales team (if they have not already), sign up for a consultation or trial offer, request a quote, or get more detailed information to make their final decision.
4. Align Your Revenue Operations (RevOps) Methodology with Your Buyers' Journey
Over the past few years, the Inbound Methodology, which has proven to be the most effective approach for Revenue Operations Teams, has evolved from a sales funnel approach to a flywheel approach, driving business growth and customer delight.
Through this methodology, your marketing, sales, and customer service teams, i.e., your RevOps team, aligns their focus with the stages of your customers' buyers' journey.
It's a way to grow better.
The flywheel approach highlights how you delight your customers as they experience success. In addition, it helps you scale your company more effectively.
The flywheel is a circle that depicts how your customers' success helps you grow by not only attracting new customers but retaining and delighting existing ones. The flywheel also helps eliminate friction and reduces poor handoffs between your teams, leading to a poor customer experience.
With the flywheel approach, every team (Marketing, Sales, Customer Service) is focused on attracting, engaging, and delighting customers, driving more revenue for your business.
The Attract stage in the flywheel corresponds with your customers' Awareness stage. You are attracting your target audience through your content, helping them to better define their pain points and solutions that may help.


The Engage stage of the flywheel corresponds to the Consideration and Decision stage of the buyer's journey. In this stage, you want to engage your target audience with insights into achieving their goals and overcoming their challenges and pain points through your products and services.

You can convert them into customers by making it easy to shop and buy from you on their preferred timeline and channels. This opens up a new relationship, not just a sale.

Your content in this stage should be personalized specifically to them using a CRM database with segmentation and multi-channel communication (chat, phone, messaging, email), personalized marketing, and sales automation.


In the Delight stage of the flywheel, your customers have effectively implemented your solution with the necessary help and support needed from you to generate their success. In this stage, you continue to help, support, and empower your customers to reach their goals.

Their success stimulates your success.

Your content in this stage is tailored to allow them to self-service if they want through knowledge base (help) articles and a chatbot. In addition, it includes proactive customer service through multichannel communication incorporating chat, phone, messaging, and email.

A ticketing system helps resolve issues quickly, ensuring no problem falls through the cracks. It can also include automated onboarding, customer feedback polls, surveys, reviews, and ultimately, referrals.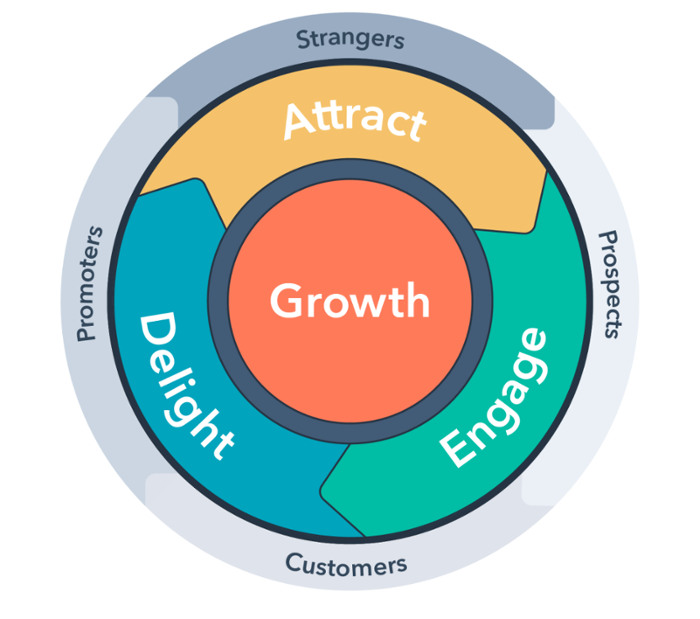 Source
5. Align Your Tech Stack to Make it Easier to Achieve Your Goals
Your technology stack, or tech stack, is the collection of tools, platforms, apps, and software that your RevOps team uses to create, publish, promote, and share your content across a wide range of digital channels and platforms.
Your tech stack should be designed to create awareness, engage your leads, close sales, and service your customers.
The volume of tools or apps used in a company's tech stack can be staggering. Increasingly, the technology is being placed in the cloud as Software-as-a-Service (SaaS).
Productiv, a SaaS management platform (SMP), published a report on The State of SaaS Sprawl in 2021. Since Productiv's software manages tech stacks, or "app portfolios," of hundreds of organizations, the data in their report is based on objective facts of app adoption instead of merely surveyed opinions.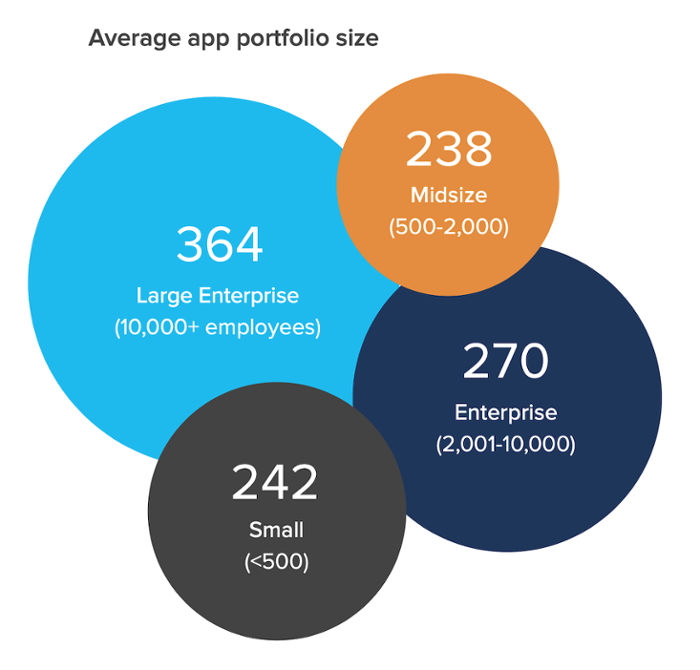 Source
Marketers alone use 12 different tools on average, and some use more than 31 tools to manage campaigns and data. (HubSpot)
For most companies, this extensive collection of tech silos has become a Frankensystem.
This Frankensystem is born from a collection of disparate software that either refuses to connect to other apps or cannot function with the other tools in your tech stack. It eventually becomes a management nightmare, requiring spreadsheet gymnastics to try to pull data together from disparate systems to make sense of your performance and determine what is working and not working.
Frankensystems also emerge because most companies purchase their technology according to the specific needs of their individual marketing, sales, and customer service teams. They are typically purchased in hopes that the data from each unique group can provide insights that will help that group do their specific job better.
However, these decisions rarely consider how all the data needs to come together to gain insights into your customers' journey across your different company departments.
That's when you realize all your data needs to be consolidated into one database and one system, not 10, 20, 30, or more individual tech silos.
Frakensystems have become so deficient for a vast number of organizations that a Forbes Insights survey revealed that leaders are now looking for ways to integrate their extensive number of data silos.
By integrating their tech silos, they can get deeper business insights, save valuable time and money, and more effectively and efficiently achieve their goals.
In fact, according to the survey, only 13% of organizations express a high degree of confidence that they are making the most of their available data across their tech stack.
Bringing It All Together
So, how does all of this come together to align your content with your customers' buyers' journey, your RevOps stages, and your tech stack?
What if you could run your RevOps out of one robust CRM platform, where you can create, publish, and promote all of your content for digital marketing, sales, and customer service in one platform? That one platform then collects all your data throughout your customers' buyers' journey while managing your RevOps processes, giving you the key insights you need all in one place.
From attracting visitors and closing customers to supporting clients post-sale, HubSpot brings your entire marketing, sales, and service teams together. The result? Less hassle, more control, and an inbound marketing and sales strategy that actually works to grow your business.
The infographic below lays out a customer's buyer journey, the marketing and sales stages that correspond to the buyer's journey, how the all-in-one HubSpot CRM system manages all of the different stages, and the content you need for each stage.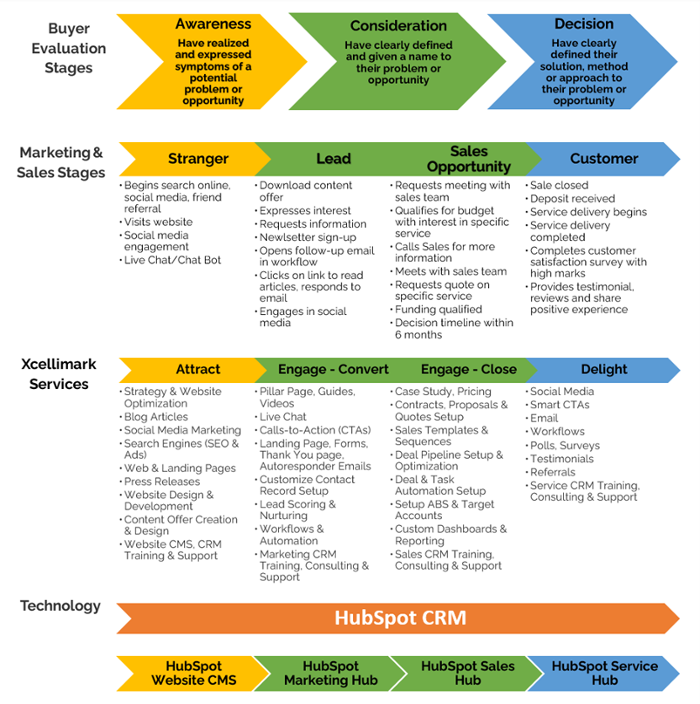 Get a HubSpot Demo
For over 20 years and 19 industry awards, Xcellimark has been helping businesses and organizations achieve their goals. We are a Certified HubSpot Partner Agency, Certified HubSpot Trainers, and Leaders of the Central Florida HubSpot User Group (HUG). We provide custom HubSpot onboarding, training, and consulting services to help you achieve your goals faster, more effectively, and efficiently.
Get a demo of HubSpot and how Xcellimark can pull it all together to help you achieve your goals.
Free Consultation
Get your free consultation with digital marketing & sales experts.
Get Started