What are HubSpot Workflows and Why Do You Need Them?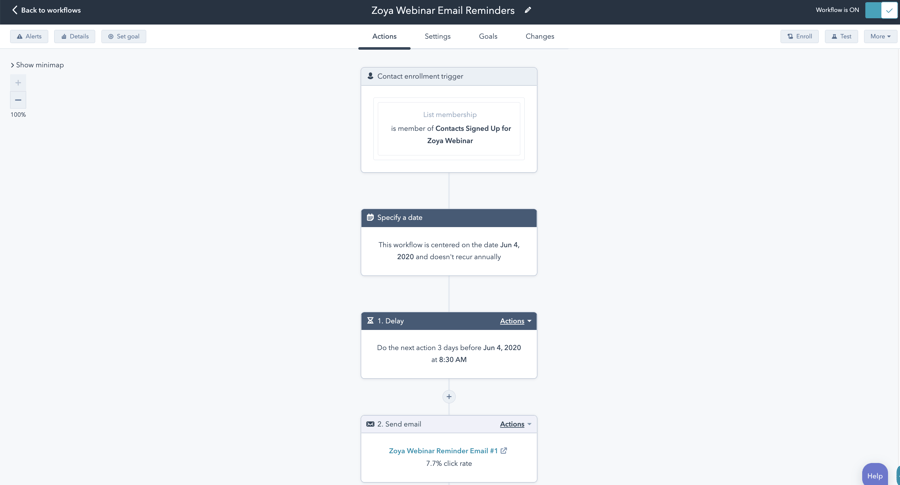 The need to manage a customer database, plan marketing campaigns, and juggle the various demands of customer relationship management can be daunting for small and medium-sized businesses. It can be especially difficult if you're trying to grow a business, expand your marketing efforts, and enrich the customer journey.
Luckily, help is available through online marketing, sales, customer service, and operations automation software.
HubSpot is a powerful tool with a superb menu of options and tools to assist businesses that want to scale while unifying marketing, sales, and customer service efforts. By utilizing a shared database of prospects, leads, and customers, HubSpot helps with marketing, sales, and customer service team alignment, also known as Revenue Operations (RevOps).
Because HubSpot can be customized to individual needs and later updated to reflect changing conditions, it is an invaluable tool that provides a single source of up-to-date information. It is also easy to master and uniquely adaptable.
What Are Workflows in HubSpot?
The concept of a workflow is simple. A workflow is the automation of a sequence of tasks or actions triggered based on a person's behaviors. This data can be used in various ways to integrate and improve the effectiveness of your business initiative.
Many different factors can trigger a workflow. HubSpot workflows can be triggered by contacts, companies, sales deals, tickets, quotes, conversations, and even customer feedback from questionnaires.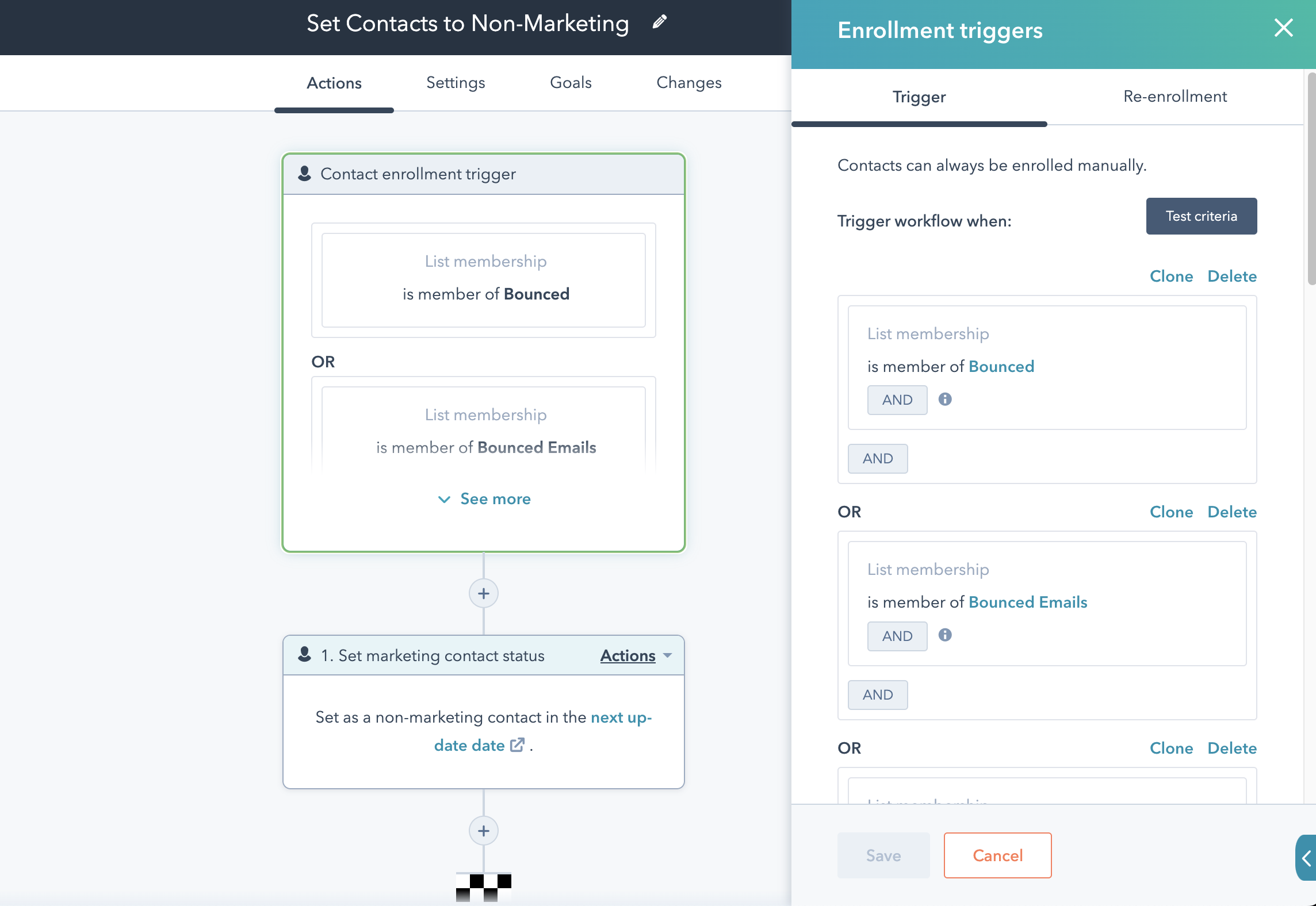 Using workflows helps your business improve marketing initiatives and productivity. Workflows also simplify inbound lead generation and processing, saving valuable time for your teams and employees.
What are the Benefits of HubSpot Workflows?
No doubt automating marketing and sales information saves time and improves processes, but the benefits generated by HubSpot's workflows go far beyond time savings. Workflows can also help create fans through enhanced customer service.
The data gleaned by your workflows will add new layers of efficiency and insight into your RevOps.
In terms of growth and development, HubSpot workflows may be the catalyst for expansion or point the way to increased profitability. At the very least, informed use of workflows helps you:


Identify and qualify leads
Boost customer interest and engagement
Shorten your team's response time
Improve the performance of your marketing, sales, and customer service personnel
Create campaigns more quickly
Improve campaign conversion rates
Generate better forecasts
Reduce costs
Achieve greater customer satisfaction
Generate more fans
Gain more insights into what is and isn't working in one place
Enjoy a single source of truth in one CRM
Our experience has also been that HubSpot's workflows are among the best tools to qualify your leads, create more sales opportunities, close more sales, improve customer service, and improve your organization's overall ROI.
Are you interested in learning more?
Get a free consultation and demonstration.
Workflow Examples in HubSpot
HubSpot workflow options allow you the flexibility to design the workflows that will work best to give your business the insights or outcomes you desire.
Whether you want to boost your marketing efforts, better understand your ideal customer journey, or align your in-house initiatives to better reflect your growth and development goals, it's possible to design a workflow to assist you.
Marketing Workflows
With a simple visual interface on the HubSpot platform, you can automate email campaigns with little effort to generate the kinds of responses that you desire. Move prospects quickly and easily down the sales funnel, generate new interest with minimal effort, and track your database automatically.
You will no longer need to chase leads that do not develop. With marketing automation workflows, you will be able to grow and replenish your leads efficiently and personalize your messaging.
HubSpot's workflows allow you to build simple campaigns or devise multi-stage, complex journeys with multiple branches. Workflows also help boost your productivity by automating tasks and updating contact records.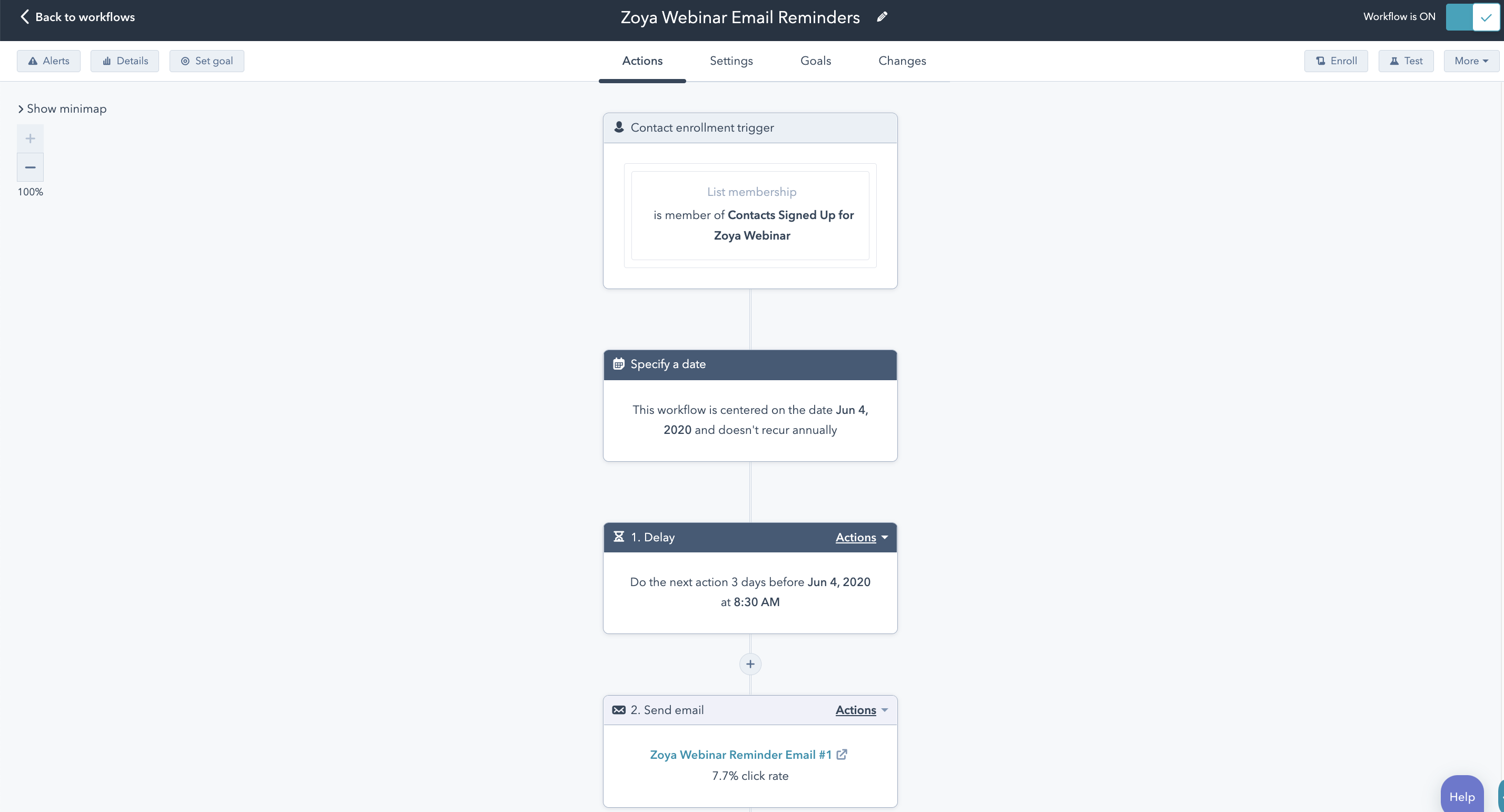 And we'll assist you every step of the way to help get your workflows set up.
Some examples of marketing automation workflows include:
Sending welcome emails when someone signs up for your blog or newsletter.
Sending lead nurturing emails to help further engage a contact after they download one of your content offers (such as an eBook, guide, white paper, case study, etc.).
Ensuring that people get reminder emails after signing up for an event or conference.
Re-engaging people who may have become inactive by encouraging them to once again engage in your newsletters or events.
Reminding a subscriber that their subscription is coming due.
Thanking customers for their ongoing support on their anniversary with your company.
Updating property fields automatically, such as lifecycle stage and lead scoring based on lead interactions with your website, content, emails, and form submissions.
Syncing contacts to Zoom webinars when hosting virtual events.
Updating email subscriptions based on the opt-in types a lead has chosen.
Enrolling a contact into another workflow that specifically nurtures the lead with more content related to the content topics he or she is consuming or downloading.
As we mentioned, it's not all about email. Use HubSpot workflows to build webhooks, score leads, transform leads into sales, and manage your bulk data in easy-to-understand segments.
You can utilize a workflow to trigger internal notifications, add tasks to the HubSpot CRM for future follow-up, or for a wide array of functions that will benefit your organization.
Sales Workflows
Using workflows in HubSpot can help your sales staff by giving them more time to service leads and develop relationships with your customers. Instead of spending valuable time on data entry and administrative tasks, their time will be better utilized to do what they do best -- sell!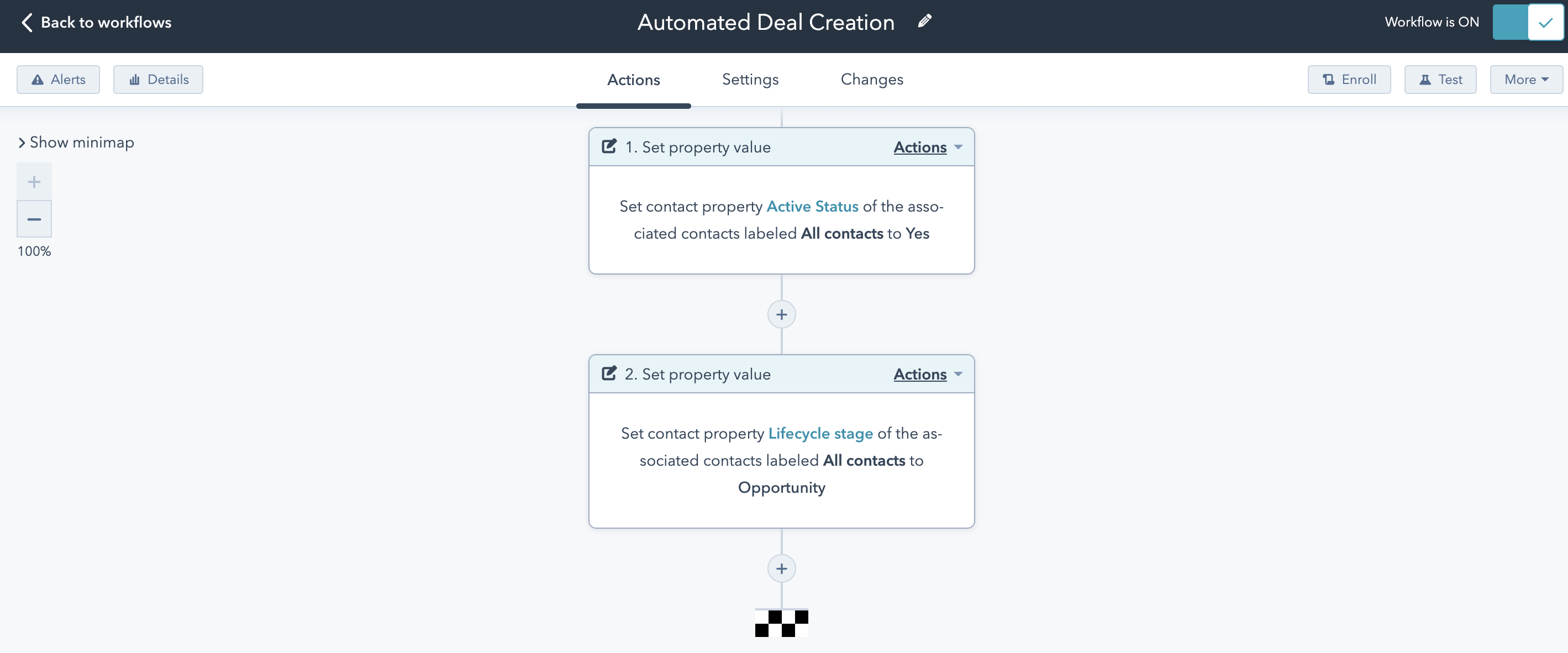 Some examples of sales automation workflows include:
Assign and rotate leads
Assign tasks automatically to sales reps, ranked by priority and organized in Task Queues.
Enroll sales qualified leads into a sequence after the leads convert on a highly-qualified form. For example, if you have a request for pricing, automatically assign a sales rep, enroll them into a sequence to get a meeting booked, and send an internal task to the sales rep to contact the prospect.
Create customer service tickets when a sales deal is marked as won.
Send a notification to a sales rep when a Quote approval status is marked as "Approved," and create a task for the sales rep to send the approved quote.
Update Lead Status if a sales deal is created, a meeting is booked, or a call is connected.
Update the Lifecycle Stage to Customer when a sales deal is marked as "Won."
Create a task for the sales rep to update close dates and forecast percentages for sales deals that were expected to close last month but did not.
Mark sales deals as high priority for those expected to close at the end of the month and assign a task to your sales rep to follow up with the lead if "next activity date" is unknown to avoid deals slipping through the cracks.
Move a sales deal to the next stage in the sales deal pipeline and notify the rep when eSign is completed on a quote or payment is completed on a quote.
If you're already familiar with HubSpot, you undoubtedly know about the innovative features introduced during the final months of 2021.
If you're new to the platform or still considering its benefits for your organization, now is the time to investigate the advantages that can be yours.
These advantages include team-focused workflows, conversation-based workflows, advanced analytics tools, custom surveys, additional data sync apps, and a plethora of other new features.
Customer Service Workflows
Automation is your friend when you use HubSpot workflows. You can automatically categorize your customers into different classes. For example, you can create separate lists of advocates, those who respond favorably to your company in most cases, and detractors, those whose comments and reactions are negative. You can then respond differently to each class.
By reaching out to those who offer negative feedback, you might be able to initiate some changes that will improve their entire customer experience. This is only a single example of the automated experience with HubSpot, but it is an important one.
Other examples of customer service automation workflows include:
Customer welcome workflows when customers purchase your product, services, trial offers, subscriptions, and renewals.
Customer onboarding workflows tied to your training, consulting, and service delivery process.


Customer resolution workflows tied to customer requests, ticketing, and assigning customer service representatives to help with customer requests.
Customer updates for new product and service announcements.
Customer polls and surveys that trigger emails to your biggest fans with links to provide reviews, testimonials, and referrals for your business.
Customer feedback surveys asking how you did after a ticket is closed.
Escalation procedures notifying a manager when a ticket is marked as a high priority.
Task notification for follow-up by ticket owner after a certain amount of time has passed for an open ticket.
Automated ticket rotation assignments based on capacity.
Set recurring task or ticket assignments to connect with customers every three (3) months.
Create a new ticket to start the onboarding process once a sales deal is closed/won.
Automated workflows are also designed to assist your team with prioritizing certain classes and with individualized responses that will automatically trigger based on your input.
Operations Workflows
The Operations Hub is powerful, designed to "supercharge" the HubSpot CRM platform with a variety of tools that empower operations teams in a new way. Companies are aligned with effective methods to collect and examine data.
HubSpot Chairman Brian Halligan is credited with noting that "starting a business has never been easier. But scaling a business is harder than ever."
As the emerging market leaders and businesses adopt a Revenue Operations model, you need the capability to have a single source of truth to merge your RevOps team, processes, and technology to scale your business more effectively.
This hub was developed to provide the strategy, effective tools, and processes to empower your revenue operations professionals. It will allow your RevOps team to become a key partner in your efforts to scale up your company.
The Operations Hub has five key features:
Data Sync
Programmable Automation
Data Quality Automation
Datasets
Snowflake Integration
Some examples of operations workflows include:
Reformatting first names and last names in your contacts database, so when you personalize emails, they are appropriately reformatted regardless of how the names were entered into your CRM, such as "nancy jones" or "NANCY JONES" or "NANcy joneS," etc.


Eliminating time-consuming data cleanup with data imported from various sources.
Syncing data automatically from multiple sources and platforms into your HubSpot CRM and updating other 3rd party platforms.
Reporting and customizing dashboards, so you and your team know exactly where, when, and how customer handovers occur from marketing leads through your sales cycle. This reduces friction and speeds up the onboarding process to ensure that customers are the number one priority to achieving your business success.
Scheduling recurring internal or external emails to go out based on a weekly, monthly, or yearly basis.



Internal example: Weekly email that links to dashboards and reports and has other status updates sent out to the internal team every Monday morning without the need to schedule it each time.
External example: End of month recap of products/services purchased using personalization tokens of deal and quote property fields.
Running advanced calculations, such as by pulling information from sales deals, products, line items, and custom objects, to calculate commission for sales reps or partners.
Triggering a webhook to send POST or GET requests from workflows. Some examples include:
Sending deal data to a shipment-handling system to complete the order and shipment process.
Getting information/data from an ERP system to automatically update HubSpot properties and records.
Fetching data from your other business tools or your own application when a record is created in your system. Add context to that record for your sales team from tools they don't have access to without leaving HubSpot.
Customizing API code to other systems, such as inputting custom code in workflows, to validate if an email address is fake or real.
Adding a Date Suffix, such as a custom code action, to increase the level of personalization in your automated emails. When sending emails that include a date property, for instance, for a trial expiry or a contract renewal, you can use this code snippet to attach the appropriate date suffix. Meaning "May 1" turns into "May 1st," and "November 5" becomes "November 5th."
Creating a new sales deal automatically with a new close date, deal amount, and deal discount for a renewal deal when the original deal is set as closed.
Managing capacity-based ticket assignment. For example, when a new ticket is created, check the current workload of logged-in agents and assign the ticket based on who has the greatest capacity.
The key benefit of the HubSpot Operations Hub workflows is that it brings all your separate silos of technology into one place through data syncing, cleaning, and quality control. You will have automated insights into how to achieve business success in one CRM.
How to Create Workflows in HubSpot
Creating a workflow in HubSpot may not be as easy as "1-2-3." Still, with a working knowledge of the basics of the HubSpot platform, even new users should be able to navigate the basics of creating workflows easily.
HubSpot even includes workflow templates to start automating your marketing, sales, and service processes and to help energize your team and add efficiency to your operations.
To create a new workflow, navigate to Automation > Workflows in your HubSpot account and click Create workflow. You can also edit or clone existing workflows by hovering over the workflow and clicking Clone or Edit.
How to Get HubSpot Workflows
If you want to jumpstart your marketing, sales, and customer service efforts, Xcellimark can help you get started with HubSpot workflows. Let our experienced team help transform your marketing and sales capabilities.
We offer onboarding, advanced HubSpot training, consulting, and support services designed specifically to allow your company to achieve your desired goals faster and more effectively. Our team will work with you to develop a personalized approach to streamline your efforts, get you up to speed with HubSpot workflows' unique advantages, and lead you to new levels of competence and efficiency.
Don't have HubSpot now, but want to learn more? Are you ready to set your sights on the extraordinary?
Contact us now for a free consultation and HubSpot demo…and let's get the ball rolling!
Free Consultation
Get your free consultation with digital marketing & sales experts.
Get Started