Legend-wait for it-DARY!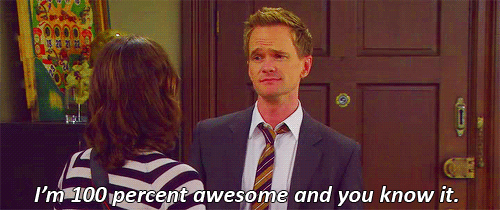 You know you're awesome. Your customers know you're awesome. Barney Stensin from How I Met Your Mother knows he's awesome.
But do your website visitors and leads know you're awesome?
Just to show you that even the most experienced marketing agencies still struggle with providing a value proposition that actually catches a potential customer's eye, builds credibility, and screams you're different from the rest, let me let you in on a little secret of my own.
It wasn't until Alexi Lambert, our Director of Inbound Marketing at Xcellimark, dragged me into the conference room, pulled up our home page, and said, "Would you stay on our site if you first saw this? Would you be convinced of our expertise at first glance, in the first 8 seconds, above the fold? I wouldn't. And I know we're awesome and incredible at what we do, but we don't show it where it matters most."
I stared in disbelief that we had not nailed our own value proposition. We help our clients develop their killer value proposition all day long, for years, yet we forget to take a look in the mirror sometimes.
To be fair, we have found that most companies have a very difficult time articulating their own value proposition because they are too close to it to clearly state it. Many times it takes an outsider to pull out your stats and accomplishments and open your eyes to the clarity of your value prop.
And it takes a little help to be able to state it in a clear but succinct manner. You have 8 seconds to pull it off, not 5 minutes.
It's a lot of pressure to portray your entire credibility and experience in 8 seconds, with very few words, limited space, while appealing to the reader's eye. But that doesn't mean it's not critical to your success in generating more leads from your website and increasing your sales.
What did I do after Alexi told me the ugly truth?
I pulled our best team together and we spent our entire afternoon breaking down what makes us different from the rest of the thousands of marketing agencies out there.
We then immediately changed our home page and are proud to stand behind what our value proposition tells our visitors.
Now, it's your turn.
Set Aside or Step Aside
If you didn't understand the need to set your company apart from its competitors, you probably wouldn't still be in business. However, there's a big difference between intuitively understanding the need to communicate your company's value proposition and actually creating a compelling statement that captures your brand and clearly differentiates it from your competition.
In order to bolster the ability of your digital marketing strategy to convert your website visitors into customers, a concise and compelling company value proposition is critical.
What Is a Company Value Proposition Anyway?
Simply put, your company's value proposition, also known as a unique selling proposition, aims to convince prospects why they should do business with you instead of one of your competitors.
This sounds simple enough, but far too many business owners and marketers do not develop or effectively communicate a compelling value proposition.
Developing Your Value Proposition
Crafting a value proposition that compliments all other aspects of your digital marketing strategy requires several well thought-out steps. So let's break them down.
1. Identify your highest-value prospects and group them into "buyer personas."
Using historical sales and lead generation data, group your company's ideal prospects and customers into cohesive segments whose members have the same needs, goals and pain points.
For example, our ideal buyer persona is broken down like this:
Position In Company: A marketing or sales executive, CEO or C-Suite marketing or sales employee
Position Needs: Needs to generate more qualified leads for their sales team, increase sales opportunities and closing rates, and increase the overall revenue for their company.
Persona's Prospects: Their prospects conduct research online for their product or service. As a result, they need to attract these prospects to their website in order to engage with them, convert them to a qualified lead and nurture a relationship with them to hopefully one day become a valuable customer.
Company Revenue: Our ideal buyer persona's annual company revenue is at least $3 million a year.
2. Zero in on the specific objectives and pain points of each group.
Although the members of each buyer persona group have some obvious similarities, it's still essential to list out what makes their needs, goals and pain points unique.
For instance, a company owner or marketing executive:
lacks a significant volume of leads in order to give their sales team more opportunities to close more business.
needs to significantly increase their organic website traffic through search engines such as Google, Bing and Yahoo in order to convert more leads for their sales team. The organic search engine visitors typically have much higher conversion rates to leads than other forms of advertising.
3. Present a tailored solution to each group's needs.
Make each buyer persona feel as if you're directly addressing their needs, goals and pain points.
For instance, our buyer persona needs a proven marketing system for:
Putting It All Together
These steps require you to collect and synthesize a lot of information. However, your value proposition always needs to be short and punchy.
Ideally, it should fit into one or two sentences with an outside maximum of 40 words.
If you can't break down the high-level solutions your company offers your prospects, it might not be a bad idea to take another look at this process and see if you can't isolate your core areas of appeal even further.
You can bet that your competitors are doing the same.
To help you get started, here is what our team came up with by the end of that meeting mentioned at the beginning of this blog:
For 15 years, and over 15 awards, we have increased client leads by an average of 93% within 12 months. Our digital marketing expertise provides the people, methodology and technology to help you grow.
Now go be the Barney Stensin of your industry because, well lets face it. You're awesome.
Editor's note: This post was originally published in Sept 2014 and has been updated for accuracy and freshness.