The Shockingly Simple Steps to Creating Great Content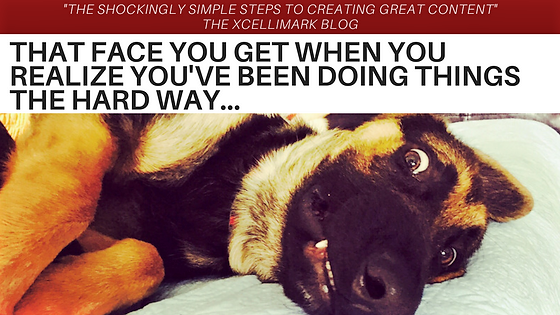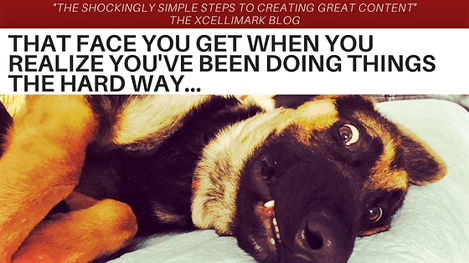 Content is King. We've all heard it a million times. If you haven't, I'm honored to be the first one you hear it from.
Everyone talks about content. Everyone loves content. Everyone pushes content.
But why is it still the biggest pain point in everyone's work life?
Let me first say that Xcellimark is not the only company to compile the research and statistics confirming that content creation is one of the biggest marketing challenges for most companies.
The majority of digital marketers and CMO's are finding that content creation is one of the most effective ways of marketing, but they are also finding that it is one of the hardest.[1]
So why is it so great if it's so hard?
So glad you asked. I'm here to help make your life (and content creation) a little easier.

What's So Great About Content Creation Anyway?
A lot actually.
I'll start with a reminder to us all about why we are here reading and writing about content creation and marketing. Let's start with some stats.
Content marketing costs 62% less than traditional marketing and generates about 3 times as many leads.[2]
Now let me ask you a question.
When's the last time you consumed a piece of work-related content from search engines, social media, websites, vendors, blogs or any other forum (aside from this piece of content right now)?
Probably recently right?
You're not alone.
People thirst for information that will help them in their professional, personal, financial and educational lives. And the person or company they get their information from is the one who they will trust. Who they trust is who they will return to for more information. Who they repeatedly return to will be considered the expert, and will be top of mind for that person.
When they need your expertise, trust me, they will return.
So let's go on to solving this "content" challenge that is giving everyone a headache.
Have a Strategy, Not Online Tragedies
Be a man or woman with a plan.
The number one reason why online marketing efforts fail is because they did not have an effective strategy. That also goes for content creation and marketing strategies as well.
In fact, 70% of marketers lack a consistent or integrated content strategy.[9]
A strategy sounds like an obvious thing to have but when you think about building a detailed and effective content strategy, it's a lot of work. And I mean a lot.
So let's talk about the most effective content marketing strategies.
The top three things that make content effective are:
What is Important to Your Buyer?
We find the most effective and efficient way to find out what is most important to your target customers is to develop buyer personas.
Buyer personas help you understand your current (and potential customer's) wants, needs, and buyer's journey.
Every persona is driven by different factors. You need to dive deep into each persona to understand: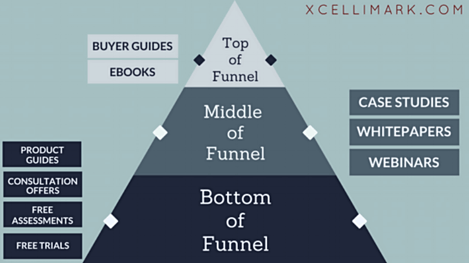 Only then do you publish content according to their wants, needs and values.
Not yours.
Otherwise, your content is irrelevant and unhelpful to them. In fact, it will be like any other typical advertisement they skip over.
Pull Out Your Creative Storytelling Flair
Creating an engaging and compelling story is honestly quite a gift. Have you ever known someone that was just awful at storytelling? They may not be the best one to choose as your writer...
But do you know someone who's fantastic at it? Well, then you have a writer on your hands!
Storytelling is most effective when it creates an emotional response. That can include a humorous response, a shocking response or even a sad response. Nevertheless, a response.
For Those Who Are Not So Emotional...
So what if you're the writer but you're not good at channeling your emotions?
That's ok, because it's about your buyer persona, not you.
Tell a story that relates to your developed buyer persona and share a challenge they face in their business that you have had success in fixing while helping another client. (Hint hint. Do I see an opportunity for a case study here as well?)
Or use a success story that was done by a competitor in your industry.
Don't freak out yet - just hear me out.
You don't have to say their company name. You can say "So and So hired an inbound marketing agency to help them solve XYZ problems. These were the results: (Bullets with statistics)."
It just gives proof that what you do does work and you can do the same for your potential customer.
For Those Who Have An Easier Time With...Emotions
For those of you who relate to other people's feelings easily or have a great sense of humor - you have a gift.
Use it.
Honestly, I'm one of those people who cracks up laughing at my own jokes (whether other people think I'm funny or not) and I don't know embarrassment to save my career, so I try to use my sense of humor to relate to other people. It helps put people at ease when talking to me. Or at least that's what they tell me...
If you know your buyer persona's pains and frustrations, (which you should after developing the persona in detail), mention a pain point, then confirm that you get it, understand it, and that you actually helped a client of yours in the same situation. (Of course, don't lie here. You have to have actually solved that problem before or be able to solve the problem!)
Next, you'll be fielding questions from potential customers such as:
"What happened to that client?"
"How did you help them?"
"How did you solve their problem?"
"Can you do the same for my business?"
It's a great segue into your business. (Catch my drift?)


Think of it this way:
Each pain or challenge is a blog article.
Each success story is a case study.
Each light bulb idea you have in your brain is an eBook.
Each interview you have or each time someone asks you a question about your business - that is another blog article where you can elaborate on your answers.
The relevant content is out there people. You just have to listen to the questions people are asking you to realize you're surrounded by the most relevant content ideas.
You get that and you will get people responding to your content.
The Inside Scoop on Content Types and Channels
So what types of content can you publish and what channels should you publish on?
It seems like a simple question but returning to the basics is never a bad idea.
The types of content used in the past 12 months to make B2B purchasing decisions were:[11]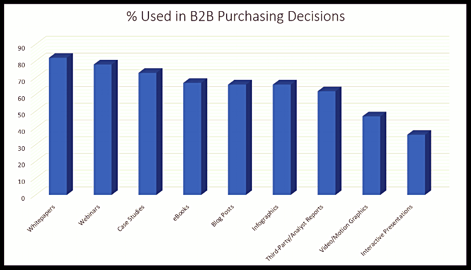 I would say we have some pretty good options here. You need to figure out which channels work best for your buyer persona.
For example, if you have a buyer persona that is not into YouTube, you probably shouldn't focus all your content creation efforts on video. If they are avid blog followers, definitely focus on producing content for the blog.
That is not to say that you should not consider video as part of your content creation strategy because 51.9% of marketing professionals worldwide name video as the type of content with the best ROI.[12]
Case studies are great and forgotten way too often in my opinion. Not only do you have something that is better than a review online, (which are really great to have by the way), but it literally proves your business' self-worth. It's facts about how you solved a problem. It's the go-to any time someone is questioning your abilities.
And let's not forget to mention repurposed content and curated content.
Repurposed content let's you create more relevant content without reinventing the wheel. It provides additional helpful information for the engaged users of your existing content. If you need ideas for lead nurturing, this is one of them.
Curated content helps expand your brand awareness and expertise in your industry. In fact, over 50% of marketers that curate content indicate that it has increased their brand visibility, thought leadership, SEO, web traffic and buyer engagement.[13] If one of your priorities is to increase your social media reach or awareness, curated content is definitely something you should consider using as an addition to your content creation and marketing strategy.
Time For An Example
If you create and publish an eBook, then you can repurpose it with the following content to not only promote the eBook, but hit on the hot topics of your eBook again and again and again:
Webinar of you going over more detailed elements of your eBook with interactive polls throughout to create statistics
Blog posts of the different chapters and points of your eBook that emphasize your expertise on the matter
Social media posts promoting your eBook that include quotes or topics that are in the eBook
Infographic of the solution to the challenge your eBook solves
PowerPoint slides that go along with the webinar series that can become gated after the live webinar for the people who did not attend the series
Timing and Location is Vital
Once you create all this epic content, you have to know where and when to publish the content to make it the most effective.
There are really awesome resources out there that tell you the best time and days to post on every social media platform.
There are also resources out there, such as HubSpot, that help you know what time and day is best for sending out a blog or newsletter to your subscribers.
However, the top five most effective social media platforms to deliver content and engage B2B audiences are:[14]
LinkedIn (82% effective)
Twitter (66% effective)
YouTube (64% effective)
Facebook (41% effective)
SlideShare (38% effective).
The HubSpot software helps you determine your most effective content marketing campaigns and where you can improve.
You can also use Buzzsumo to see what is trending and post curated content across your social media channels.
But once again, I want to emphasize the importance of your buyer persona. Until you really develop the persona of your ideal buyer, you'll be playing the guessing game (or estimating game). Sometimes you'll be right and sometimes you'll be way off.
So, why not make this whole process easier and more effective by implementing that missing piece of the puzzle?
Promote. Forever. Forever. Forever.
So here's the ugly truth: content creation doesn't end. It's not a one and done thing. It's forever. It has to be consistently published and optimized for both desktop and mobile users.
Once your content drives traffic to your website, you need additional content on your website to create an effective process for converting your traffic into qualified leads.
Then, you need to have an effective process to qualify your leads into sales opportunities. Basicalle, lead nurturing at its best.
Once you know your buyer, you know how to nurture them through the buying cycle much faster.
One of my favorite bloggers, Jon Morrow, said,
"If you take 10 hours to write a post, you should spend at least 10 hours on outreach. Minimum."[15]
One of the main mistakes marketers make is pushing the importance of content volume while losing sight of the relevance and quality of the content.
The content starts sounding salesy because they are desperate to simply convert leads and create more traffic. They forget that the reason they were writing the article was to solve someone's problem.
Lose sight of that and you lose the quality of the content.
It begins to sound like an advertisement then and you get readers who simply skim or worse, they leave and read something else.
So if it is more practical for you to have an epic, quality content piece published less often, then that is okay. That is because you need to be spending at least the amount of time it took you to write it to promote it.
You can apply this principle to the eBook example I mentioned earlier in this blog article. Promote it on the right channels at the right time and you're golden.
Challenge Schm-allenge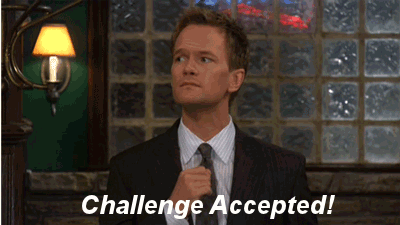 A challenge is really simply a competition in my head. (I do come from an extremely competitive family, so I wasraised to think that way.) I relate to Barney on How I Met Your Mother with the "Challenge Accepted" mentality.
So content creation isn't one of your greatest challenges anymore. It is just a challenge you have decided to accept and conquer through this new perspective.
It's a lot of work and it's a lot of ROI.
But in this case, the work pays off in the end. Both financially, professionally and personally.
Because at the end of the day, you did that. You solved someone's problem. You affected someone's work life or personal life and made it easier. You're a life saver. You're an expert.
And you, my friend, are the thought-leader.
Editor's note: This post was originally published in July 2016 and has been updated for accuracy and freshness.
[1] http://www.business2community.com/content-marketing/publish-perish-01189686#T3kBRDLYDFSPK5Pz.97
[2] https://www.demandmetric.com/content/content-marketing-infographic
[3] http://www.business2community.com/content-marketing/22-tantalizing-content-marketing-stats-facts-01476623#w2yL2IJAB5pVqESI.99
[4] http://www.lenati.com/blog/2015/09/the-death-of-the-sales-funnel-infographic/?utm_content=buffer01f6b&utm_medium=social&utm_source=Webbiquity.com
[5] http://stratabeat.com/roi-of-blogging/
[6] http://www.hubspot.com/marketing-statistics
[7] http://www.demandgenreport.com/resources/research/2016-content-preferences-survey-b2b-buyers-value-content-that-offers-data-and-analysis
[8] http://www.curata.com/resources/ebooks/2016-CMStaffing-Tactics-Study
[9] http://www2.prophet.com/content-marketing-software-landscape
[10] http://www.slideshare.net/hschulze/b2b-content-marketing-report-40688285
[11] http://www.demandgenreport.com/resources/research/2016-content-preferences-survey-b2b-buyers-value-content-that-offers-data-and-analysis
[12] http://blog.hubspot.com/marketing/visual-content-marketing-strategy#sm.00004c3t7467nd0zvpn2lkd4dquaw
[13] http://www.curata.com/resources/ebooks/content-marketing-tactics-technology-planner
[14] http://www.slideshare.net/hschulze/b2b-content-marketing-report-40688285
[15] https://smartblogger.com/website-traffic/
Free Consultation
Get your free consultation with digital marketing & sales experts.
Get Started